Participates in Madison Academy Cross Country Race
BY DEVON BARDO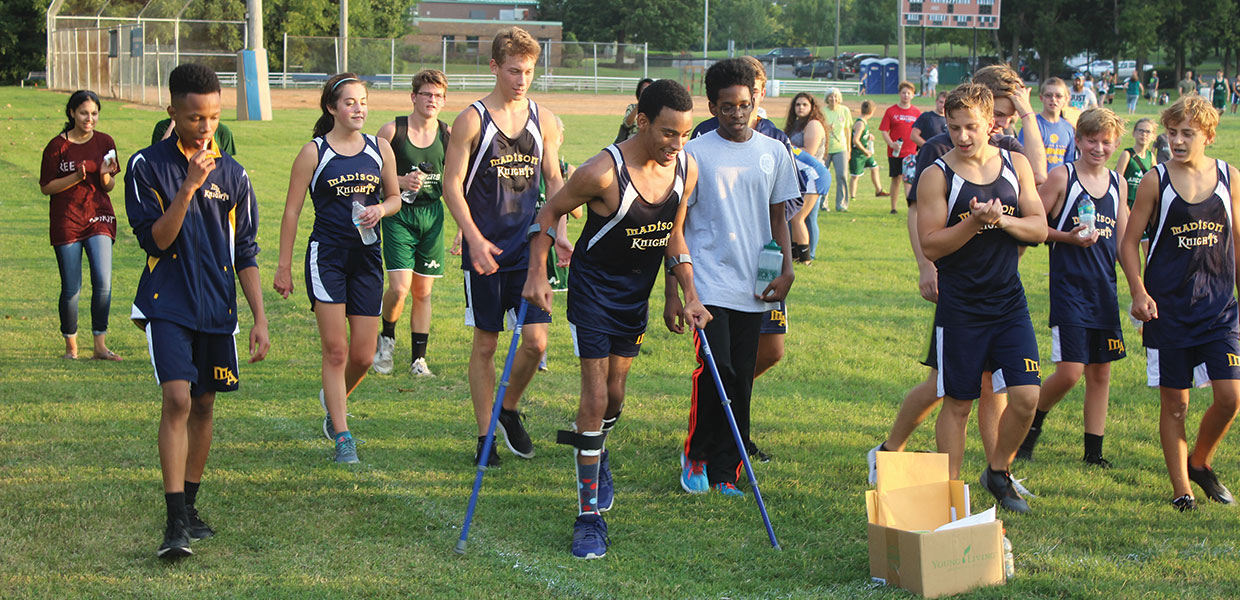 Devon surrounded by other runners
The Apostle Paul describes the Christian journey as a race. During this race you face obstacles of temptation. Thankfully, Jesus has overcome them already, and now guides through them.
Madison Academy (MA) encourages their students as they run this spiritual race in and out of the classroom. This year, out on the field the MA students have learned important lessons in how to be a contender in cross country. Running is more than pushing the pace; it is about perseverance, confidence and focus. It's these characteristics that are instilled in Madison's runners. Take it from Devon Bardo, an MA senior.
Born with cerebral palsy (CP), Devon knew that his life was going to be very different. And, he was right … for the most part. He had no faith in himself because he felt limited by CP. Coach Raphan Ley, MA's Acro coach and science teacher, saw something in Devon that he hadn't seen in himself. He was resilient. Ley pushed Devon to get out of his comfort zone, mostly in school and then out on the field. After many refusals, Devon hesitantly agreed to do a race with Madison's cross country team.
Instantly, regret washed over Devon, and he tried to back out. But Ley wouldn't let him break his promise. Devon realized that a man is only as good as his word, so he followed through with the race.
Race day came, and teams from five schools filled the Madison field. The heats started with the K-2 runners, then third- and fourth-graders, middle school, and finally the high school heat. The whistle blew and off went the runners, including Devon. It was a tight 5K race with two of MA's runners taking first and second place at 20:44 minutes and 21:29 minutes. Twenty minutes later, Devon was still trekking and making his way toward the finish line. His teammates and several runners from other teams joined him on the last stretch. As Devoncrossed the finish line, he had a new sense of accomplishment. He describes his race like this: "It was very humbling for me to see all the runners from other teams come together in community, one of the goals of Madison Academy's athletic program. Everyone kept cheering me on, even when they weren't part of our school. To have so many finish the race with me … now, THAT was powerful. I am so glad to be part of this school."
Empowering the students with confidence, compassion, and collaboration is something we strive for at Madison Academy. Devon Bardo directly experienced this, not just with his teammates, but with the other runners as well. That is what God has tasked us to do — come together as a community of believers and help one another finish the race.
Kentucky-Tennessee | December 2016