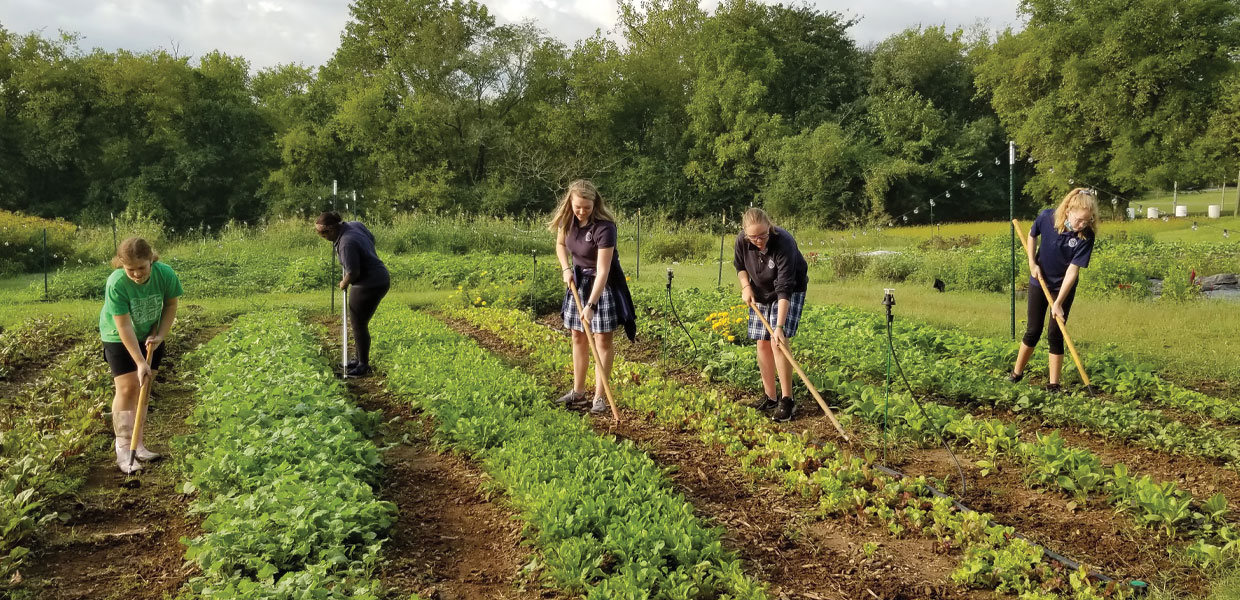 Madison Academy students Lily Gustafson (left), Georgette Valdespino, Taylor Bell, Alexandra Diede, and Lola Crecelius work in the garden.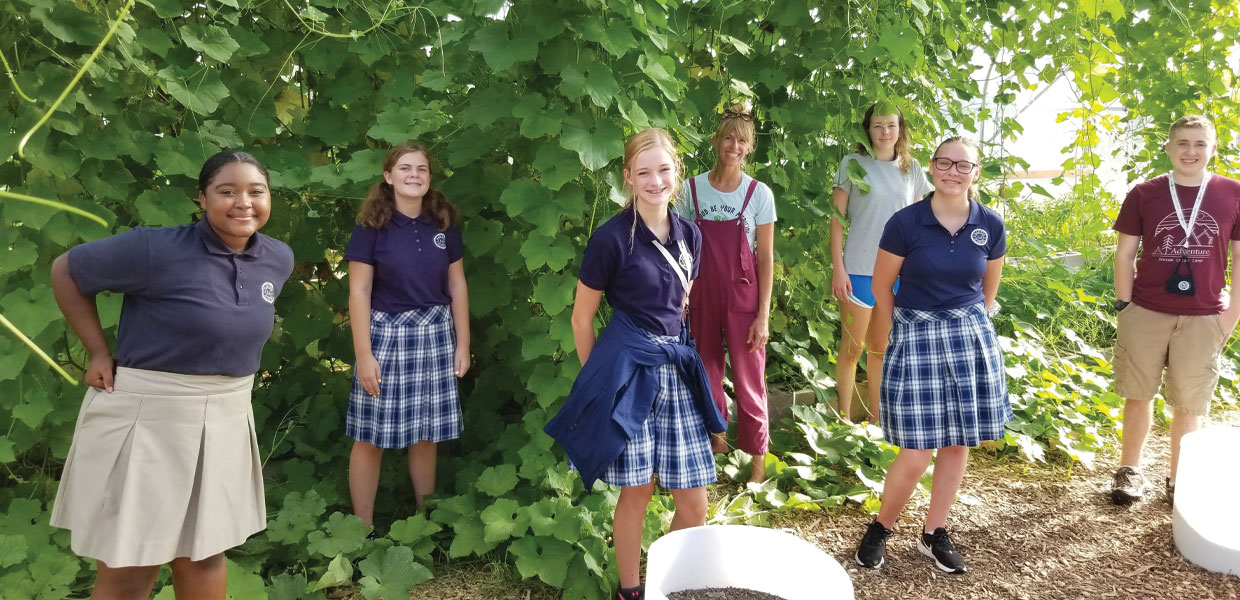 Georgette Valdespino (left), Lola Crecelius, Alexandra Diede, Chase Gustafson, Lily Gustafson (second row, left), Jennie Adams, and Molly Alsip
In Madison, Tennessee, tucked away on the campus of Madison Academy, you will find The Madison Farm. The original farm, founded in 1904, was surrounded by 440 acres of agricultural land and was known as Madison College. In time, much of that original land shifted and changed into what is now the campus of Madison Academy, serving grades 9 through 12.
In 2018, two teachers, Jenni Adams and Shannon Wilhelm, began a dream of creating an agricultural revolution for the surrounding schools and community. That year, they broke ground and began the journey of revitalizing the land to its original purpose. The Madison Farm is now a non-profit organization operating a one-acre, year-round, bio-intensive produce farm following sustainable and organic practices.
The Madison Farm works in partnership with Madison Academy and Madison Campus Elementary to integrate agriculture with education through experiential learning, field trips, service projects, and the application of practical skills in God's creation. The Madison Farm is blessed to work alongside Madison Academy, under the leadership of Kris Fuentes, providing an agricultural/gardening class to academy students. The gardening curriculum, developed by the Adventist Agriculture Association, envelops students in the mental, physical, and spiritual applications that gardening and farming entail. Students learn while working alongside Jenni Adams, who connects students to the natural world through a specialized curriculum, Acquainting Agriculture, developed to apply academic standards to God's first educational design of a garden. Students such as Molly Alsip have described the class as "a place where I don't only learn new things, but I learn them in new and deeper ways." The Madison Farm believes, as stewards of God's creation, we were designed to care for the Earth and one another. The opportunity to connect students to that knowledge is vital to our future. Kris Fuentes, principal of Madison Academy, states, "The Madison Farm is a vibrant reminder of our historical purpose. The vision of these women mirrors the Madison design and prepares a new generation to be seekers, scholars, and servants."
For more information about the new agriculture curriculum developed by the Adventist Agriculture Association (AdAgrA), you can visit acquaintingagriculture.org or email curriculum@adventistag.org.
For more information regarding The Madison Farm and Madison Academy, please visit www.themadisonfarm.com and www.madisonacademy.com.
Kentucky-Tennessee | June 2021