BY SAMUEL NGALA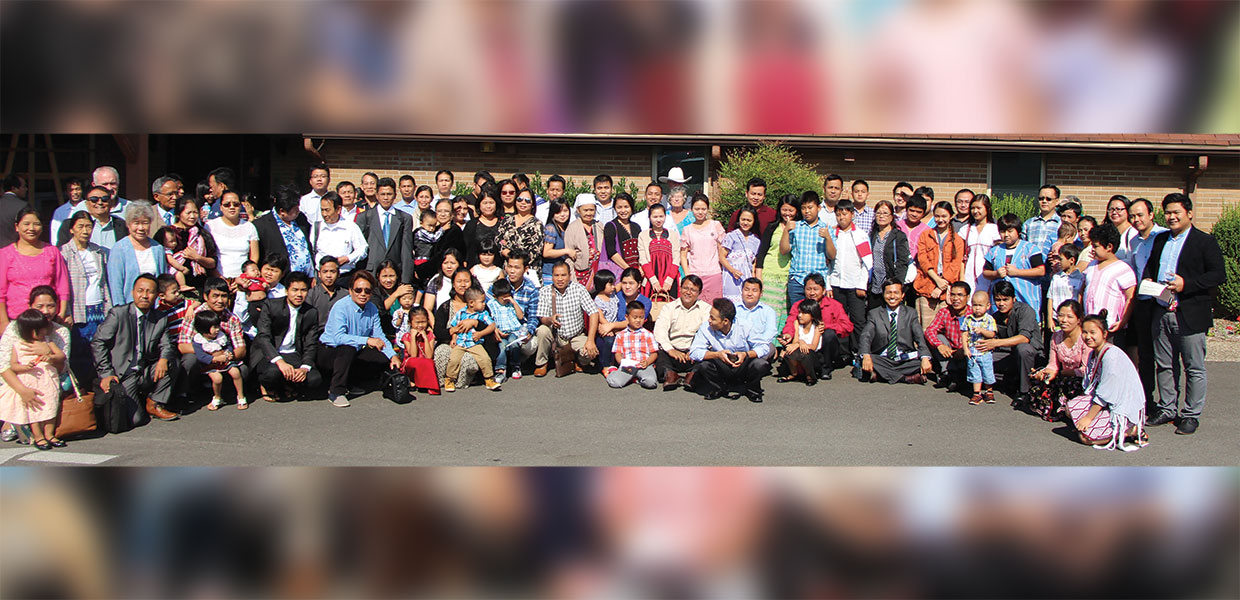 Zomi attendees
All I can do is give God the glory as I listen to how two young adults, Kimpu and Lam Nu, were impressed to help start a church plant with only eight people. Now, three years later, it has grown to a Sabbath School attendance of 92, with 55 baptized members.
As I witnessed 55 people sign to be a charter member of the Bowling Green, Kentucky, Zomi Company, I praised God for using lay people and lay pastors to grow this church. Here is the story in their own words.

Led by a Lay Member

My name is Kimpu, and my wife is Lam Nu. I now serve as the head elder of the Bowling Green Zomi Company.
We left our home country of Myanmar (Burma), together with my sibling and parents, and were resettled as refugees by the United States government in Grand Rapids, Michigan. When we arrived we were warmly welcomed, encouraged, and supported by the pastor, his wife, and the church members of the Wyoming Church in Wyoming, Michigan.
In August of 2014, Lam Nu and I arrived in Bowling Green, Kentucky, to help Lam Nu's uncle with his small business. Here we found the Bowling Green Church.
Zomi is one of the languages spoken in Myanmar, and the Bowling Green Church provided a room for a Zomi Sabbath School class, which consisted of 10 to 20 Adventists. Within three months, our class had grown in attendance to between 30 and 40.

Zomi Preaching Service

With growth in Sabbath School class attendance and potential for more growth, we invited Pastor Lian Pau to be our lay leader and to have sermons in Zomi. It was almost a year after Pastor Pau left before another pastor was found. In March 2016, Pastor Khan Mang and his family moved to Bowling Green and Pastor Mang became our lay leader.

Prayers Answered

My name is Pastor Thang Khan Mang. My family and I came to Bowling Green so that I could work at a tent company. I work at the company full-time during the week, and am the lay leader of the growing Zomi Company.
Growth has taken place because we care for one another, both our church members and those that are in our community. We help when people are in trouble. We help find jobs for those who have none. We help those that are in financial difficulty. We visit, pray for, and look after those in the hospital. We encourage and support those that have no support. God blesses our efforts and increases our congregation.
On June 20, 2017, the Kentucky-Tennessee Conference organized our group as the Bowling Green Zomi Company. We continue to celebrate what God has done through our English-speaking brothers and sisters of the Bowling Green Church, and through the dedication of Pastor Pau, my family, and all our Zomi Adventists here.
I pray that we continue to grow and to soon be recognized as a full-fledged church. The work has just started. May God keep us faithful until He comes.
Kentucky-Tennessee | November 2017