BY Jeffrey Thompson, PH.D.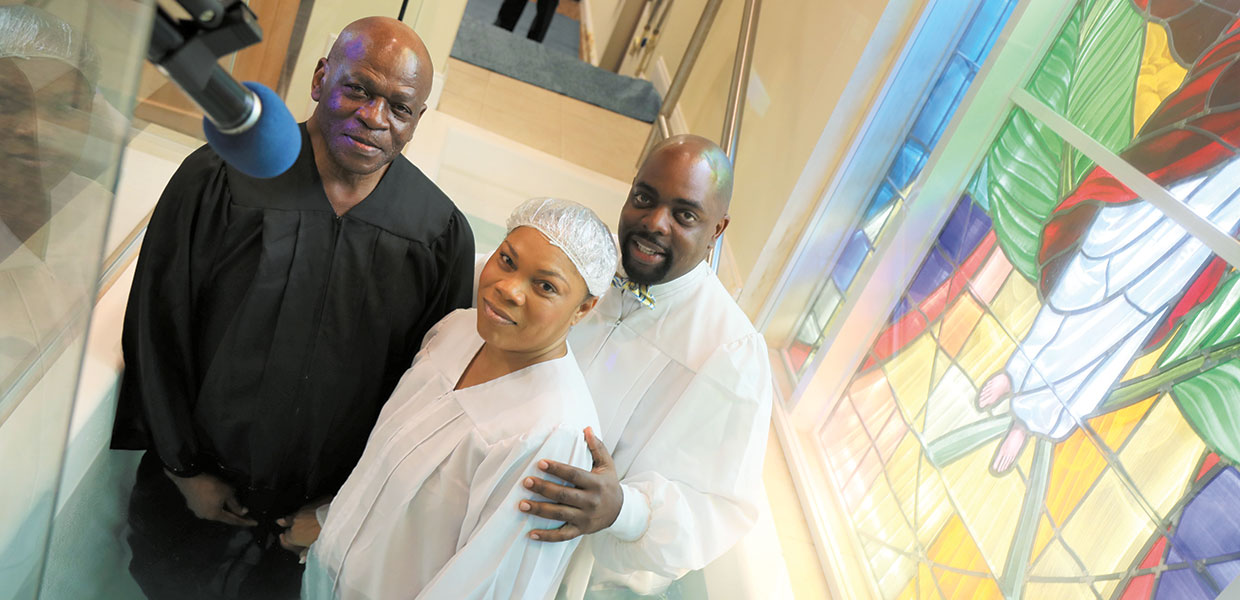 Levi and Claudette Stewart are shown being baptized by Omar A. Palmer, pastor.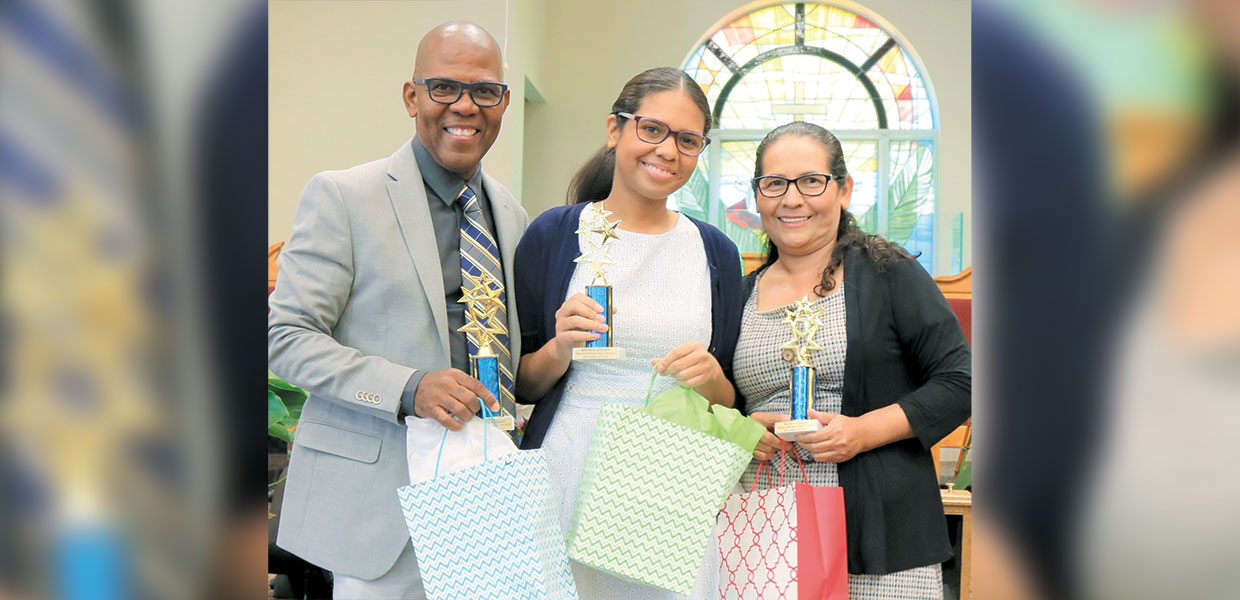 The Gough family displays their trophies.
Palm Springs, Fla., Church has grown exponentially by adding 55 new members since July 2018. Sabbath, December 14, 2019, Omar A. Palmer, senior pastor, gave an engraved trophy to each new parishioner. He challenged the new adherents to become disciples for Christ.
Evangelism is alive at Palm Springs Church. For instance, Palmer led out in the Life of Victory Evangelistic Series, October 5-26, 2019, which brought 15 individuals to Christ. However, Levi and Claudette Stewart, who attended the series, didn't get baptized, because they first wanted to be joined in holy matrimony. They were married December 8, 2019, and baptized December 14, 2019. Collectively, 31 new converts joined via baptism, and 24 by transfers since July 2018.
One of the unique features of the service was a spontaneous testimony slot. Palmer interviewed families about their spiritual journey. Jorge Gough recounted the tragic story of his 14-year-old "A" student son, Jaime Rodrigo Gough. He was killed 14 years ago by one of his classmates at the Southwood Middle School in Florida. The family was, however, able to forgive the assailant.
Another feature of the church service was the dedication of Nathan and Jacqueline Anderson's baby.
To culminate the activities for the day, the Pathfinder club, which has experienced a 100% growth, from 9 to 19 in one year, led out in a unique program.
"Pastor Palmer and his leadership team must be highly commended for their remarkable evangelistic initiatives," said Jeffrey Thompson, Ph.D., who attended the service while on vacation. "As I watched the service unfold, I thought of 2 Corinthians 2:14-16, 'But thanks be to God, Who in Christ always leads us in triumph [as trophies of Christ's victory] and through us spreads and makes evident everywhere the sweet fragrance of the knowledge of Him.'"
Florida | March 2020