BY lisa marie esser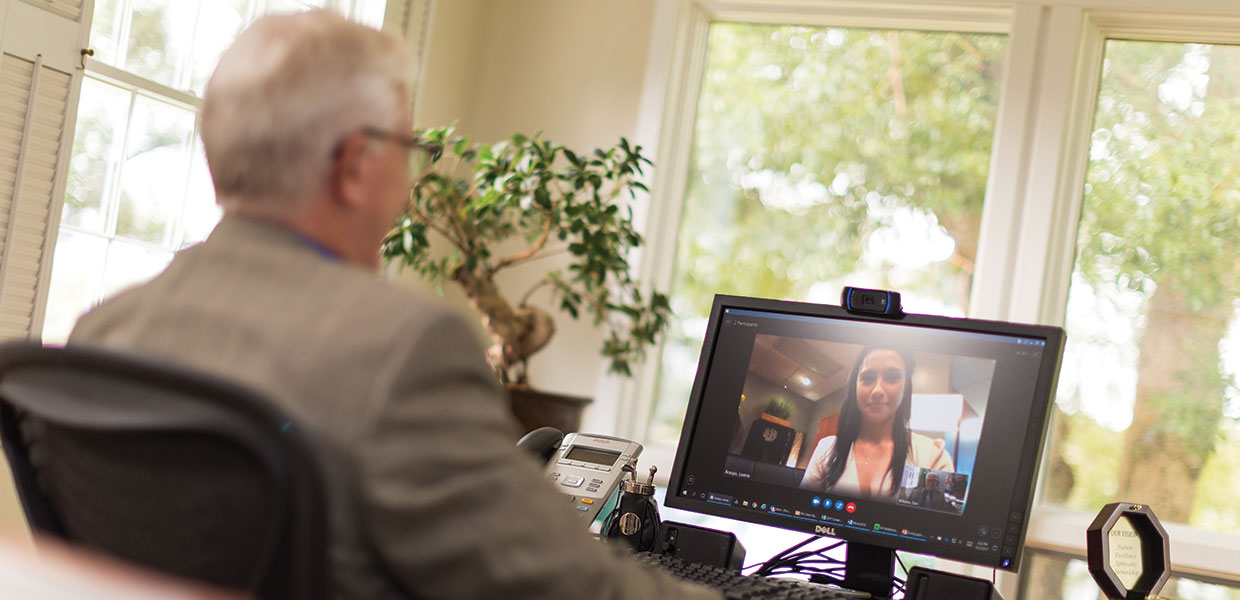 A professor corresponds with a distance learning student via live video chat.
As a faith-based healthcare University, Adventist University of Health Sciences' (ADU) mission is to develop skilled professionals who live the healing values of Christ. And, for students who will be future healthcare providers, it's essential they are comfortable caring for people of other faiths, as well as engaging with coworkers and supervisors with different cultures and belief systems. ADU students enjoy a diverse campus with many religions represented, and the omnipresent feeling of faith and worship is reinforced in everything from campus ministries' activities to the Garden of Miracles art installation.
ADU Online is the school's distance learning extension with programs designed for working healthcare professionals, including nurses, sonographers, and radiographers. This poses a challenge: How do students who may never step onto ADU's campus experience the same mission-focused culture as those who do? Three ADU professors with online religion courses, Andy Lampkin, Ph.D., Zdravko Stefanovic, Ph.D., and Ernie Bursey, Ph.D., shared their methods on incorporating mission.
Bursey, who teaches world religions for healthcare professionals, expressed the importance of students becoming "respectful, sensitive, and aware" of other religions if they are meant to extend the healing ministry of Christ. One of his projects asks students to interview someone of another faith tradition on how they find spiritual strength in their religion. In this way, online students can still engage directly with other beliefs while re-examining how they practice their own religion.
"Biblical Perspectives: Lessons on Living" is the course led by Stefanovic, who emphasized its purpose to be an intense immersion into biblical material in a practical way. He forgoes a traditional written final exam for what he calls an "Exploration Project." Students are required to attend one addiction recovery meeting of their choice, such as drug or alcohol abuse, gambling, or eating disorders, among others. Then, the students reflect on their experience and connect it to their course learning. This project allows even an online student to engage with the course material in a personal, intimate way, bringing the experience away from their computer and into their life.
Lampkin teaches two biomedical ethics courses, and his online students are largely working professionals, leading to a unique dynamic. The ethical issues discussed in class are often ones they've already confronted in their job. "They may have had an experience that week that led to debate in their clinic about what should be done," he said. For those students, the discussion boards become a much-needed forum to talk about that situation in an academic context.
In the classroom, there is a benefit to the immediacy of discussions — they're more spontaneous as issues come to the table fresh. But, online discussion boards allow students more time to reflect before posting. They can dive more deeply into each post to continue conversations that limited classroom time would not allow.
The courses have been successful, according to surveys taken by ADU Online alumni. Graduates agree that the courses have positively impacted their interactions with patients, helping them grow as healthcare professionals to become better leaders, co-workers, and care providers.
Adventist University of Health Sciences | December 2017