Angela Baerg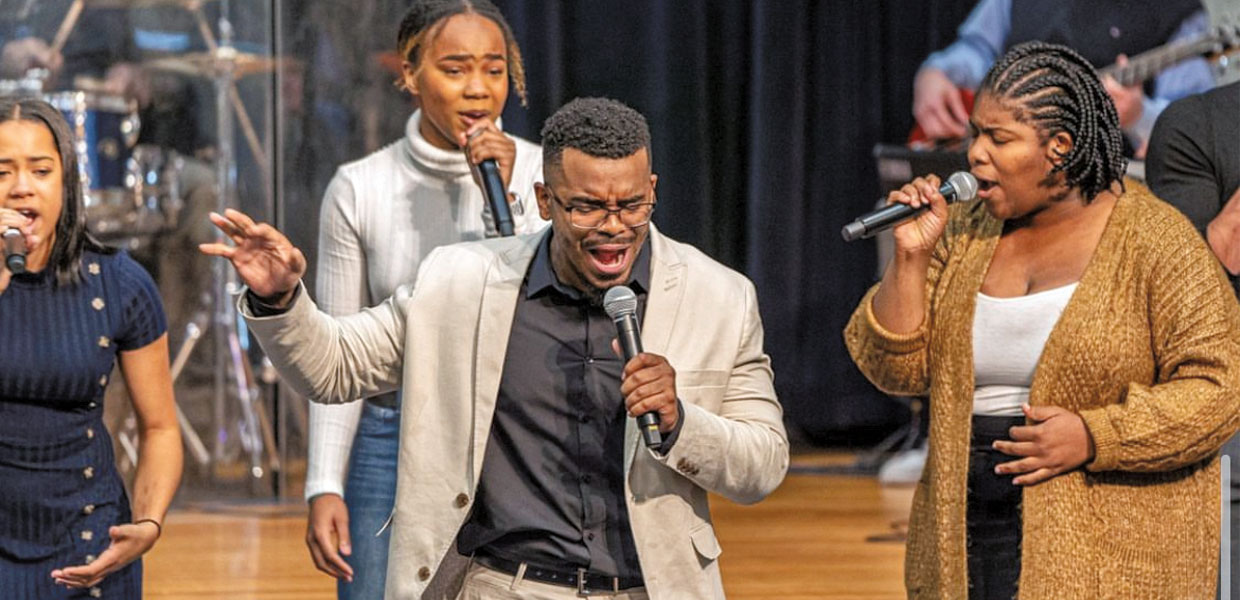 Josh Callwood, new Merge Church praise team leader, leads music at Southern Adventist University, Collegedale, Tenn. Triniti Evans (standing behind Callwood) is also part of Merge praise team.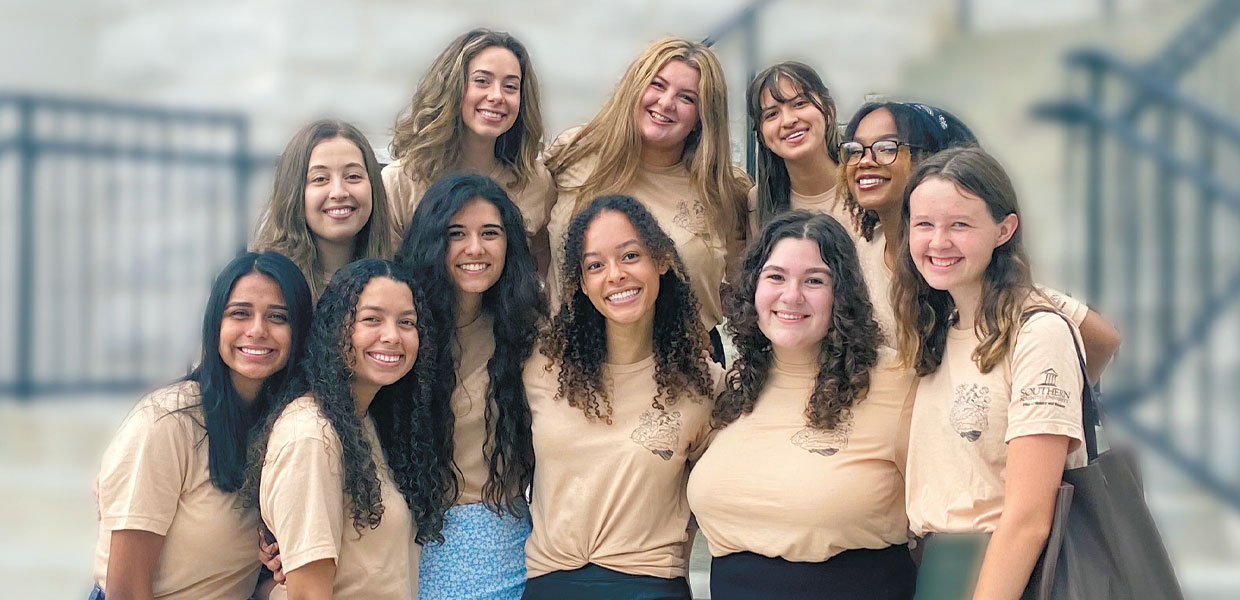 Triniti Evans (girl on right with glasses) is shown with her Life Group coaches on the campus of Southern Adventist University in Collegedale, Tenn.
Josh Callwood started playing his parents' pots and pans when he was 3 years old.
"By the time I was 5, my dad said, 'That's it. We're getting you a drum set,'" remembers Callwood, member of Plantation Church in Fla.
By 13, he was playing professional gigs. When Callwood transferred from public school to Greater Miami Adventist Academy, he became the praise and worship leader. He was elected class pastor and loved participating in school sports since Sabbath scheduling conflicts were no longer an issue.
Triniti Evans, member of Tampa First Church, discovered her gift for public speaking during week of prayer at Forest Lake Academy. She also enjoyed playing soccer and singing with the school's praise teams and honor choir. Evans' parents divorced when she was in fifth grade, and her father passed away a few years later. As she struggled to process her emotions, she looked for validation in all the wrong places. Evans felt increasingly hopeless and attempted to take her own life. In the end, she found hope in Christ and decided to become a pastor to support others who are struggling.
Callwood and Evans both became part of a welcoming community on the campus of Southern Adventist University. Within days of Callwood's arrival on Southern's campus, he was recruited by the Merge Church Praise Team. "I believe services like Merge allow students to break out of their shells and see what God has in store for them," says Callwood, now the praise team leader. "Whatever your circumstances, God has the victory for you."
Evans sings with Callwood on the praise team. She deeply values Merge's emphasis on the importance of mental health. They regularly check in on their members, offering therapy and Bible studies. Evans is also a co-director of Southern's LifeGroups program and helps manage the more than 80 student-led small groups.
"Small groups are one of the best places to talk to fellow students who are struggling with mental health and address it with a Christian perspective," says Evans. "I love seeing others transformed at the thought of hope."
Florida | January 2023