BY Kae Borrero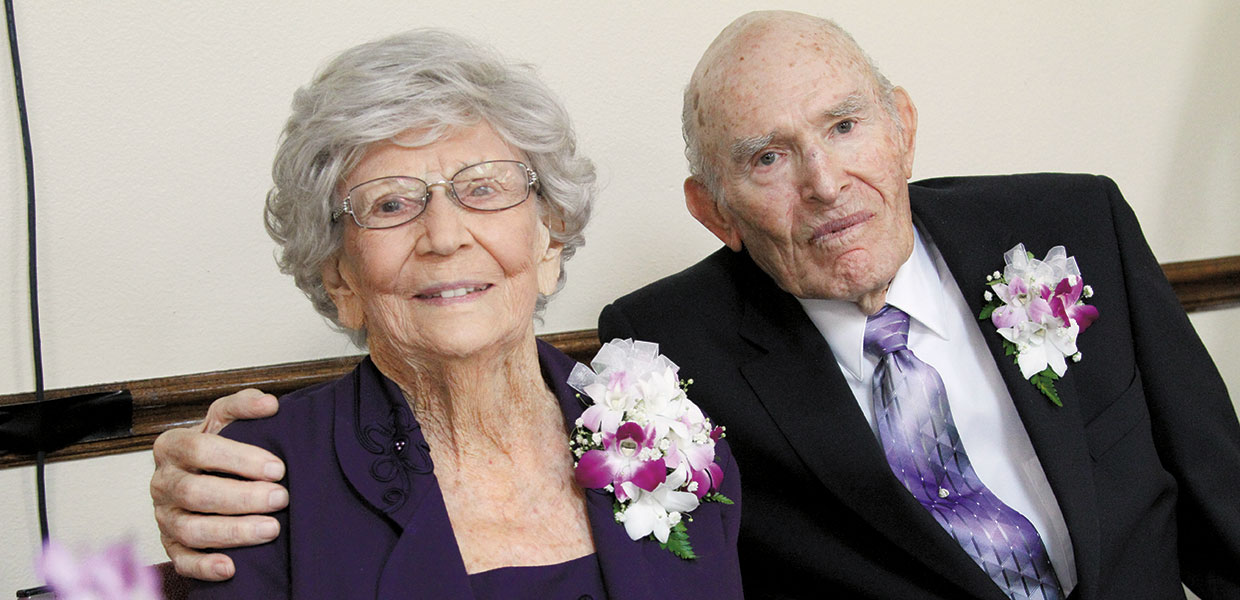 Josephine and Alger Oster
Alger and Josephine Oster, warmly known as Al and Jo, celebrated their 70th anniversary on June 12, 2019. Both were born in Colorado, and went to Campion Academy in Loveland, Colo., where they met and married one year after graduation.
After working on a family farm for two years, Al became assistant manager at the broom factory at Campion Academy, and Jo was secretary for two principals and the registrar. A denominational call came from Newbury Park Academy in California, to manage the broom factory there, which they accepted and moved to in 1956 with their three preschool children. Jo became the academy nurse for 400 boarding students, with mentoring from the local Adventist doctor. She also was the secretary for the broom factory.
Seven years later a denominational call came from Atlantic Union College in South Lancaster, Mass., to manage the broom factory there. After only being there a couple of months, the factory burned to the ground. Al temporarily found a way to keep production up while designing and building a new factory, which also housed a bindery. Sales grew, and for several years they ran three shifts to give ample opportunity for students to work to pay for their school fees.
They served faithfully from 1963 to1994, and owned the factory for 20 years. During this time, Jo worked for the Atlantic Union Conference in Lancaster as executive secretary for the education department and three presidents. In 1972 she teamed up with her husband to manage the factory office.
The Osters retired to The Villages in Florida in 1994. They attended Lady Lake Church, serving as elder, head deacon, plant manager, assistant treasurer, head greeter, and on the decorating committee.
They have three children, Larry (Darlene) Oster of Washington, Terry (Kelly) Oster from Texas, and Kae Borrero who lives with her parents and assists them; 12 grandchildren; and nine great-grandchildren.
Florida | November 2019