BY Robert Broome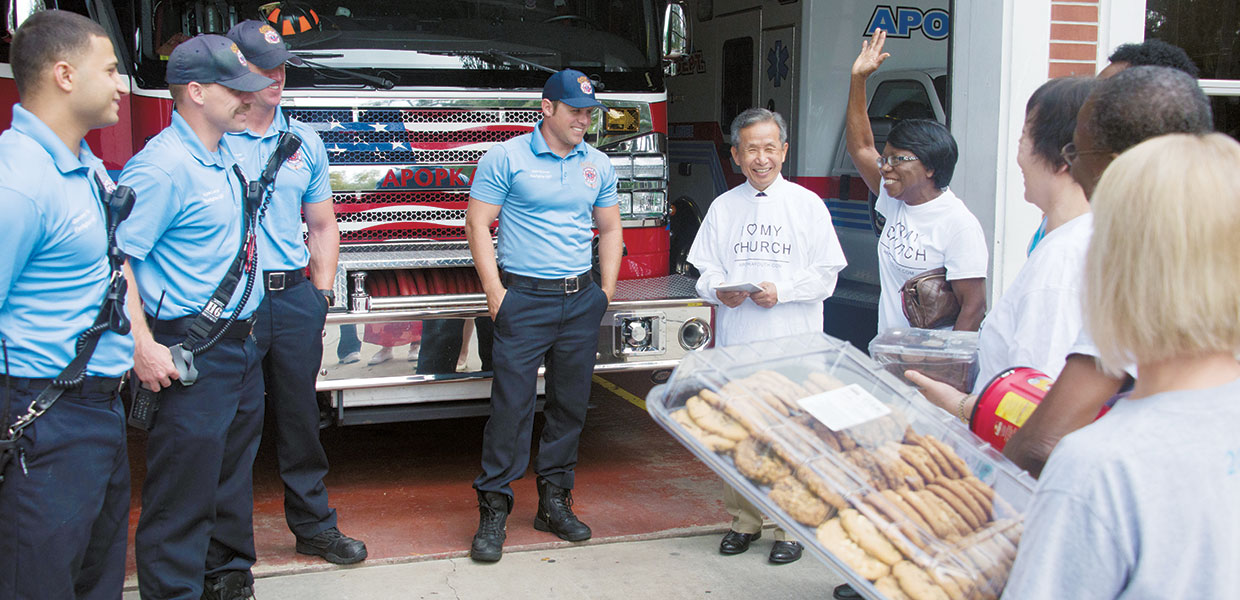 Apopka church members visited area fire stations to give firefighters food, literature, and a prayer for their safety.
Thomas Broome
Sue Tao attended an outreach project at Apopka Church at the invitation of a member. She participated in the hygiene project, and then enjoyed the fellowship dinner at the end of the day's events.
Robert Broome
The vision of the Apopka, Fla., Church is to "Live for others, that others may live." It is not simply a motto to print in the bulletin; it is a call for action. The call was reflected in the actions of the church's second Outreach Project Sabbath on September 30, 2017.
The Sabbath began with a special Vesper service on Friday evening by Sergio Torres, pastor. His inspired words were a reminder that love originates with God, and it becomes fully evident in hearts when love for others is expressed through service.
On Sabbath, members participated in one of four mission outreach activities:
Low income apartment community in the Apopka area — provided lunch, activities for children, a clothing give away, and inspirational literature.
Area fire stations — offered food, literature, and special prayer for the safety and work of the firefighters.
Inner city communities of Orlando — reached out to underprivileged children, by going where they lived, to teach them of the love of Jesus.
Hygiene kits — assembled kits to be distributed by the Apopka Church Thrift Store, The Good Neighbor Place, to the homeless living in the surrounding areas.
In addition to these outreach activities, the church became a collection site for members to bring items to aide those recovering from the devastation of Hurricane Irma.
The success of all these activities can also be seen in the individuals who participate in these events. Members of all ages had the opportunity to serve in a capacity that reflected their unique spiritual gifts.
The Apopka Church is committed to share the Gospel, not only by words, but also through service to the community.
Florida | February 2018