BY AARON RAINES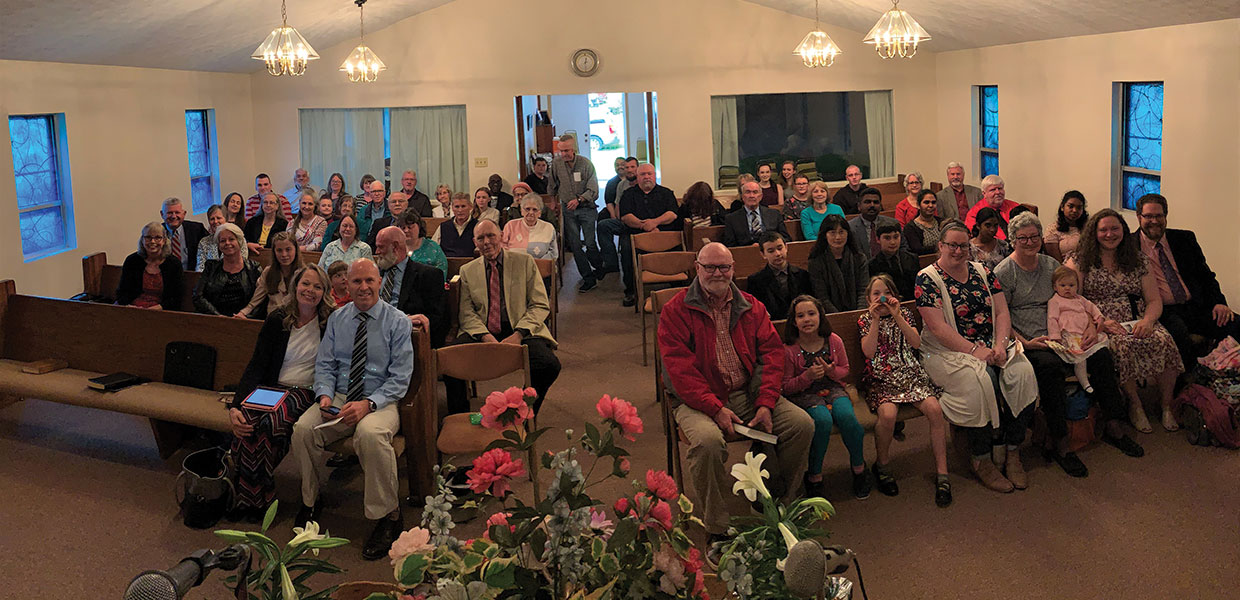 Attendees who celebrated the centennial service at Belcher Church and the baptism of Ethan Demaree
The year was 1919. The First World War had just ended. In Europe, President Woodrow Wilson was leading the American delegation to the Versailles Peace Conference. Henry Ford left the presidency of the Ford Motor Company and was succeeded by his son, Edsel. American suffragists were protesting in favor of giving women the right to vote. In addition, on the banks of Ferrells Creek in Pike County, Ky., the Belcher Church was officially organized.
It was a high Sabbath in eastern Kentucky on April 20, 2019, as members and guests from all across the Kentucky- Tennessee Conference gathered to celebrate the centennial of Belcher Church. The Belcher Church traces its beginnings to the evangelistic work of Andy and George Taylor, Seventh-day Adventists from Minnesota who visited Pike County and developed a relationship with the family of Matt Hackney. Some time later, the area was visited by Felie Pierce, Adventist literature evangelist, who found the Hackney family faithfully observing the Sabbath. John Brownlee held evangelistic meetings, and the church was officially organized in 1919, with the Hackney family and 10 additional members in attendance.
During the last 100 years, the church family has been housed in four different structures. At first, the members met in a local school before constructing a building of their own. After that building was destroyed by flood, a new building was built in 1946 on land donated by Matt Hackney. When that structure no longer met the church's needs, the current facility was constructed in 1976.
A special highlight of the day was the baptism of Ethan Demaree by Steve Rose, Conference vice-president for administration, who also presided at Ethan's baby dedication 15 years ago.
Michael Ringstaff, who pastors the Belcher and Prestonsburg churches, organized the centennial celebration, and taught the lesson study. The Sabbath message was given by Paul Hoover, who recently retired as president of the Upper Columbia Conference. Hoover's call to pastoral ministry began at Belcher Church nearly 40 years ago. The members thanked God for His blessings during the past century, and continue to place their trust in Him for the future.
Kentucky-Tennessee | June 2019