BY Shanell Foster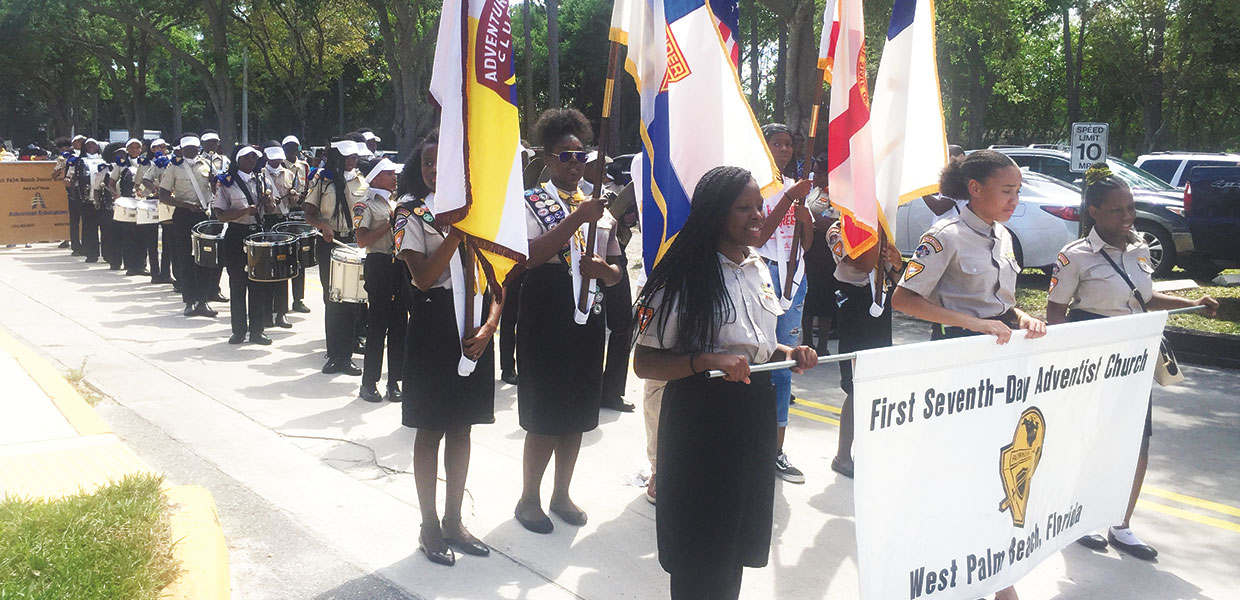 Young people from West Palm Beach First Church marched and played their instruments in the Breaking Free Rally.
Summit Boulevard in West Palm Beach, Fla., was covered by more than a thousand people from as many as 20 faith groups and churches, marching against gun violence, drugs, and other crimes. This grand event, this Breaking Free Rally, aimed at rallying the community around a common cause while pointing them to Jesus, was spearheaded by West Palm Beach First Church, in partnership with the Florida Conference Pathfinder and Youth departments and Southeastern Conference Youth Federation. The vision of such an undertaking, from Shane Vidal, Ph.D., West Palm Beach pastor, was born out of his desire to see the Adventist Church take a more visible role in leading the West Palm Beach community to Christ.
News media channels NBC, CBS, and FOX's local affiliates ran live coverage of the march. News coverage highlighted the fact that never before has a faith group in the Palm Beach County organized and executed an event of this magnitude. The recent school shootings in Florida, and other states, also made the event relevant and impactful for the community. Businesses, non-profits, state and local organizations, the Sheriff's office, and even first-day congregations were present and participated in the march. County Mayor Mack Bernard endorsed the event and also attended worship that day with his family.
Following the march, the community was invited back to the church grounds for a rally which showcased great singers and other talents. Samantha Grady, student survivor of the Stoneman Douglas High School shooting, shared her testimony of how God spared her life and continues to heal her emotional scars. The guest speaker for the rally, who was led by God to join the initiative, was world-renowned preacher and evangelist José Rojas. He encouraged the community to seek hope, not in man, but in the mighty God, Savior, and soon coming King.
After the close of Sabbath, the fellowship continued with food and lots of fun. Playground Ministries out of Miami hosted life-size games such as bouncing basketball, a bouncy house, an obstacle course, and much more.
A two-week crusade was strategically scheduled to follow the rally. Rojas delivered an astounding week of Bible truth. The subsequent week, New York-based evangelist David Newton picked up the baton. Many people were baptized into a life anew in Christ! West Palm Beach and surrounding communities will never be the same again. The members plan to continue this event every year in an effort to reach one of the most unchurched cities in the United States, according to Barna Research's 2017 study.
Florida | May 2020