By Paul Goodridge
Paul Goodridge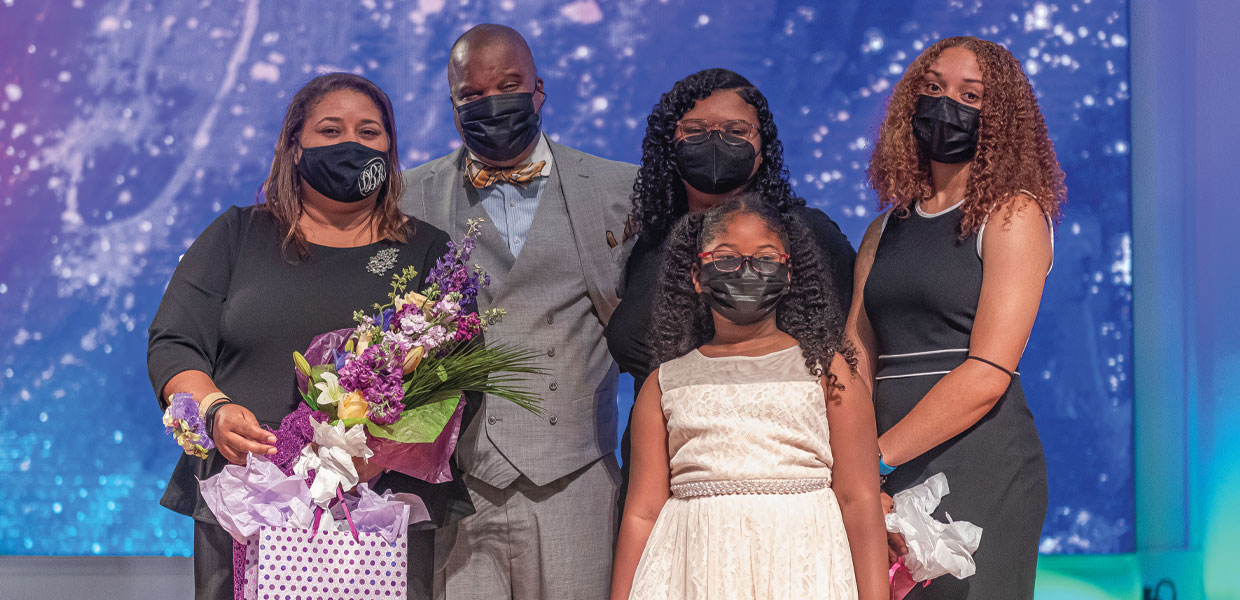 Carlton Byrd, D.Min., and family
OU Church Media Team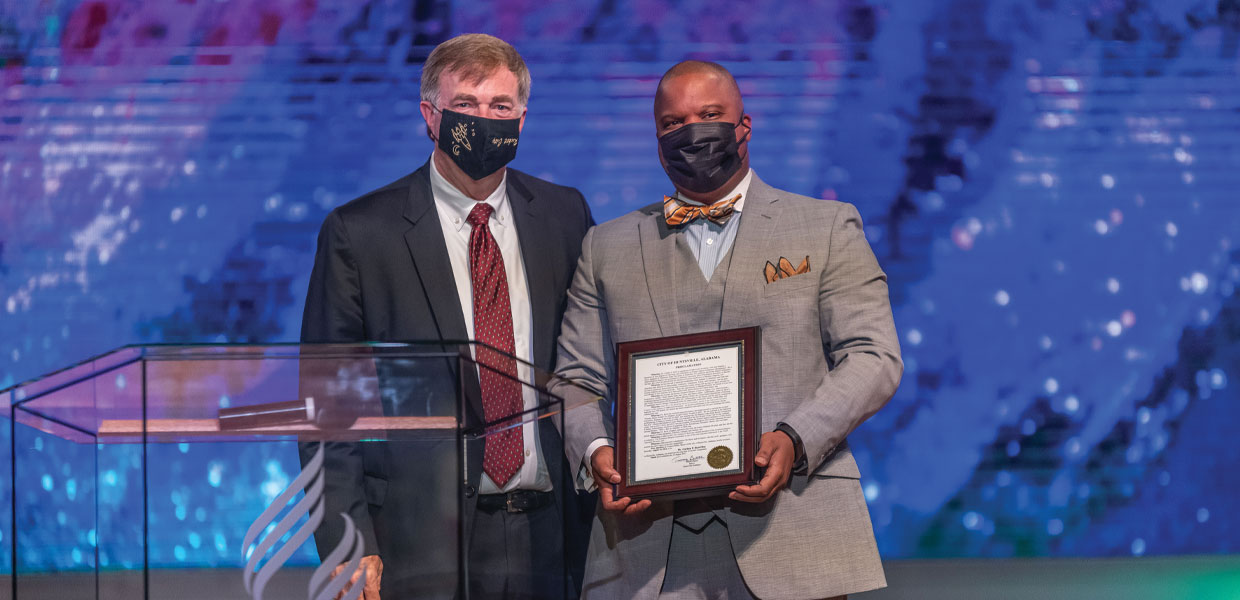 Tommy Battles, Huntsville's mayor, honors Carlton Byrd, D.Min.
OU Church Media Team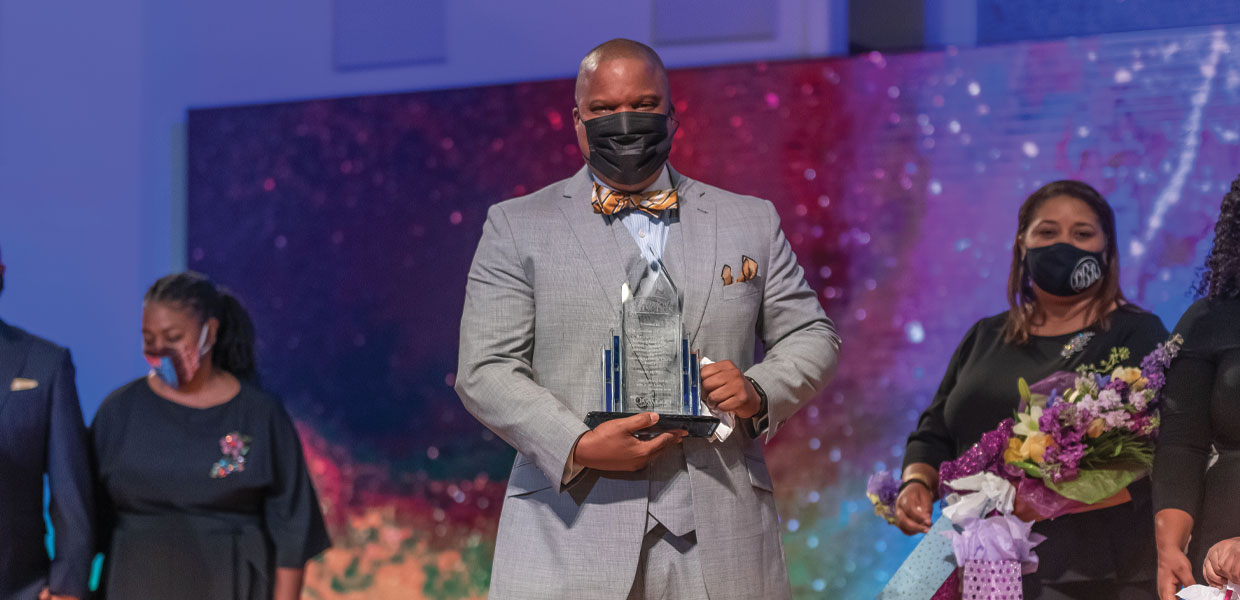 Carlton Byrd, D.Min., was honored by the Oakwood University Church members.
OU Church Media Team
Oakwood University Church (OUC) officially closed the chapter on a decade of distinction on August 14, 2021. The church said goodbye to its senior pastor of 9½ years, Carlton P. Byrd, D.Min., and family.
Byrd began his ministry at OUC on January 14, 2012. He served the church with distinction until he was appointed president of the Southwest Region Conference in Dallas, Tex., on May 23, 2021.
Upon coming to Oakwood in 2012, Dana Edmond, then president of South Central Conference, gave Byrd a three-fold mandate: grow the church financially and numerically, engage the Oakwood University students, and build a high school for Oakwood Adventist Academy (OAA). Byrd far exceeded expectations. During his tenure, more than 800 persons joined the Church through baptism or profession of faith, and he increased the church's tithe revenue from $2.6 million annually to $4 million annually. He also gave opportunities for students to preach and participate at church. Additionally, he built a high school, middle school, gym, and cafeteria; renovated the elementary school for OAA; and built a family life center, including a gym, health clinic, classrooms, health food store, barbershop, and community services warehouse for the church.
The farewell service began with the OUC Christian Crusaders Pathfinder Drum Corps and Color Guards posting the flags and colors. Byrd's final pastoral duties started with conducting a baby blessing for five babies. His duties continued as he baptized nine individuals, including his daughter, Carissa.
The church and special guests took the time to recognize Byrd and his family. These guests included Tommy Battle, mayor of Huntsville, Ala., who declared August 14, 2021 "Dr. Carlton P. Byrd Day" in the City of Huntsville; Benjamin Jones Jr., South Central Conference president, and other Conference administrators; Dana Edmond, Office of Regional Conference Ministries director; and the shepherdesses in the Huntsville area, who gave special recognition to Danielle Byrd for her dedicated service as a minister's wife. During his acceptance remarks, Byrd was overcome with emotion as he expressed his thanks to the church, the church officers, and the pastoral team. He also remarked how much he loved the church, and how it was hard for him to leave.
The Aeolians of Oakwood University, along with an orchestra, shared their music. Special musical guest Donnie McClurkin sang "Stand" to Byrd as encouragement in his new assignment. Byrd's farewell message, entitled, "It's a Marathon, Not a Sprint," was taken from Hebrews 12:1-2. He admonished the church to continue working for the Lord while getting rid of excess baggage, training over time, and enduring to the end.
Following the service, the church held a COVID-19 compliant "drive-by" opportunity for members to say goodbye to Byrd and his family. While Byrd will be missed, his legacy will not be forgotten. To read more about Byrd's legacy at OUC, visit www.oucsda.org/news.
South Central | November 2021