Michael Bernard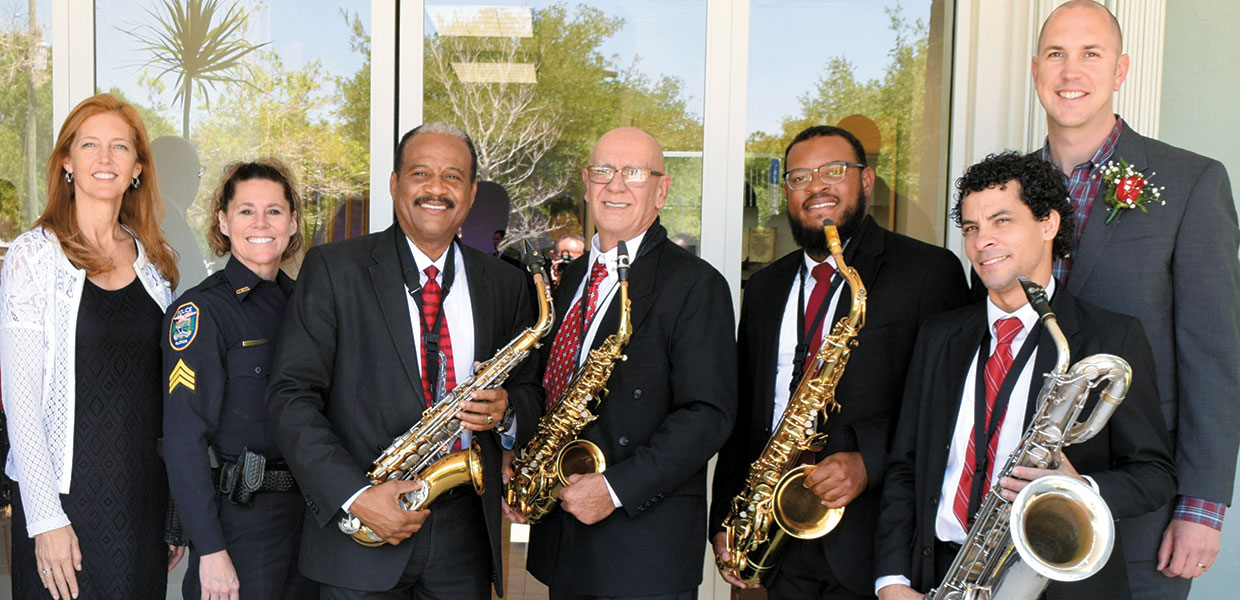 Community service award winners and guests attending Casselberry Spanish Church include Tina Stafstrom (left), development manager, who accepted an award on behalf of The Sharing Center; Sergeant Jennifer Chapman, community coordinator for the city of Casselberry Police Department; the Four Winds Saxophone Quartet composed of award recipient Samuel Johnson, José Aguero, Antonio Smith, and Gimel Gonzalez; and Kyle Becker, Apopka city commissioner.
Abdiel Merino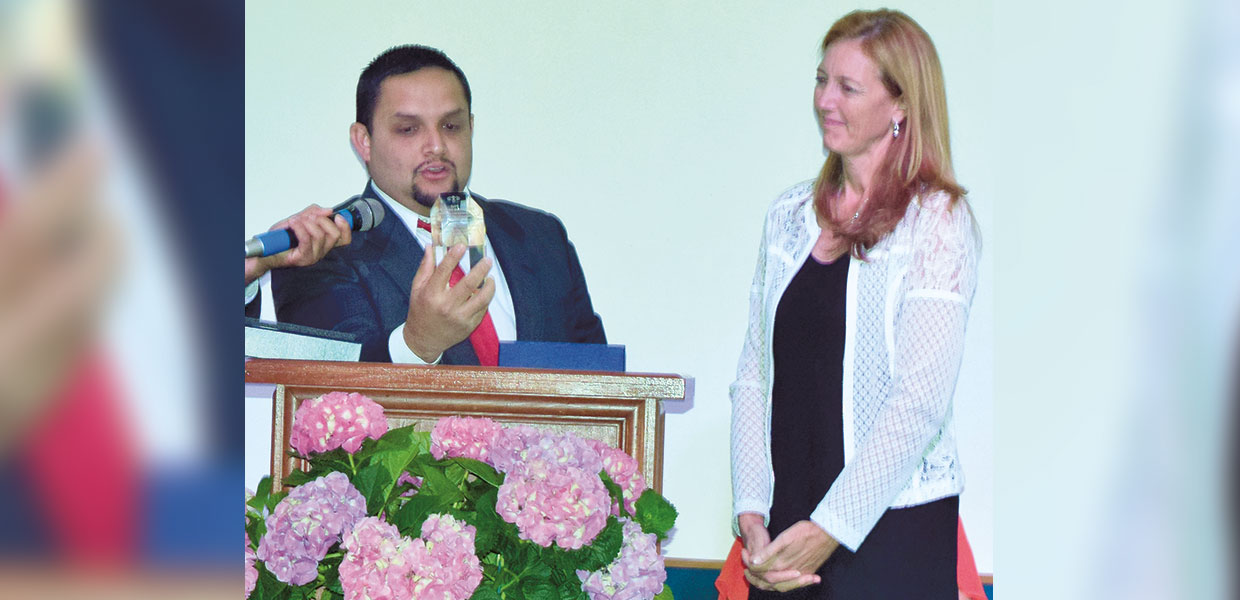 Karel Perez (left), pastor, presented a community service award to The Sharing Center, which was accepted by Tina Stafstrom.
Abdiel Merino
The Casselberry, Fla., Spanish Church recognizes its presence as a vital member of the community. In a special Sabbath celebration, community service awards were presented and a Christmas in June program was launched.
Among the guests attending the service were Sergeant Jennifer Chapman, community coordinator for the City of Casselberry Police Department; the Four Winds Saxophone Quartet as musical guests; and Kyle Becker, Apopka, Fla., City commissioner, who was also an award presenter.
Community Service Awards were presented to the following:
Professor Samuel Johnson, minister of music, Cuban American — For more than 20 years, he has dedicated his talents ministering to thousands in the United States and Cuba with instruments and an extraordinary voice. His passion is visiting the aged in nursing homes and hospital patients in need of companionship, and bringing hope to the terminally ill and their grieving families.
The Sharing Center of Longwood, Fla., accepted by Tina Stafstrom, development manager — For more than 30 years, the Sharing Center has brought hope and dignity to those in a season of need. The Thrift Center Program has donated $600,000 worth of clothing, household goods, and furniture to its clients annually. Each year, the center distributes more than 35,000 bags of food valued at close to $1 million. Homeless families can wash and dry clothing, shower, and receive professional haircuts and shaves. Using computer stations, the approximately 3,000 homeless visitors have the opportunity to redirect their lives through counseling and networking. Poverty is a cruel reality in many communities. Most pitiable of all are the children. The Sharing Center provides heartfelt attention to children. One of their offerings is the Bless Our Soles project. Three times each year, more than 1,200 children are given new shoes.
Since November 2016, the Casselberry Spanish Church has been involved with The Sharing Center's Food Pantry Ministry. Its latest collaboration is a project the church proclaimed as Christmas in June, launched on community service award Sabbath. The center's greatest need for food is during the summer months. Partnering with the congregation was Emmanuel Church of Pine Hills, Fla. (Claude Hardcastle, pastor, and Erica Aiken, community service director); Rock Springs Community in Apopka; and Taverna Italian Restaurant, Apopka. At the project's end, food was provided for 25 families.
Florida | August 2017