Rachel Beaver and Neil Reid, D.Min.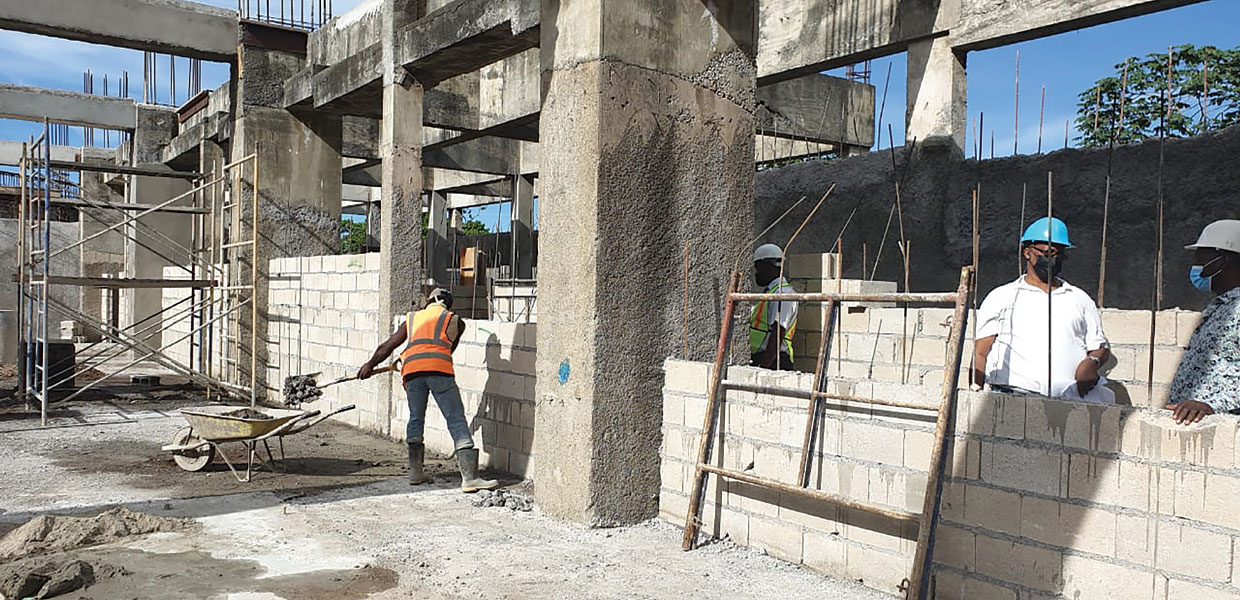 Workers at Northern Caribbean University Church lay bricks for the new building. Georgia-Cumberland Conference provided a grant to help fund this project, recognizing how important NCU is to Conference pastors and members.
The Georgia-Cumberland Conference (GCC) Administrative Committee (ADCOM) voted to support the building project for the Northern Caribbean University Church (NCU) complex in Mandeville, Jamaica, by funding a $75,000 grant. The University has had a need for new and updated facilities for quite some time. Neil Reid, D.Min., central region ministerial director and former NCU pastor, wrote an email on behalf of GCC pastors of Caribbean descent. The email expressed concern for the work "back home." This work was particularly important to these Conference pastors since many of them can trace their own conversions back to the work of missionaries in the Caribbean more than 100 years ago.
NCU is the oldest private tertiary institution in Jamaica. Reid first experienced NCU in 1994. He described it as "thriving," but unfortunately they had no home building.
"In 2003, when I returned [to NCU] as pastor," says Reid, "the congregation was still utilizing borrowed spaces. The dream for a fixed worship space started to materialize when the congregation broke ground in 2005. However, one year later, work ceased and remained dormant for 15 years. It appears that the island-wide COVID shutdown was God's moment of destiny to restart the project."
The appeal made to the Conference made ADCOM realize the importance of NCU to GCC pastors and members. The grant will go to the completion of the sanctuary, School of Religion, and community complex at NCU.
"We appreciate the NCU Church for how it has contributed to growth in our Conference," says Kurt Allen, vice president for finance. "They have had such an impact and influence on so many of our pastors in Georgia-Cumberland. This grant is just a small way we can give back and say thank you." Ellen White wrote in 1901, "Not all are called to personal labor in foreign fields, but all can do something by their prayers and their gifts to aid the missionary work." The grant from the Conference represents a clarion appeal to the alumni of NCU whose lives were transformed and livelihoods established on the foundation of the education they received. The Conference's decision was another investment in alignment with Ellen White's counsel that, "the prosperity of the home work depends largely, under God, upon the reflex influence of the evangelical work done in countries afar off." Part of the Conference's mission is to "share the everlasting Gospel through personal and public evangelism." The grant will help provide NCU with the facilities and resources needed to fulfill that mission.
Georgia-Cumberland | January 2022