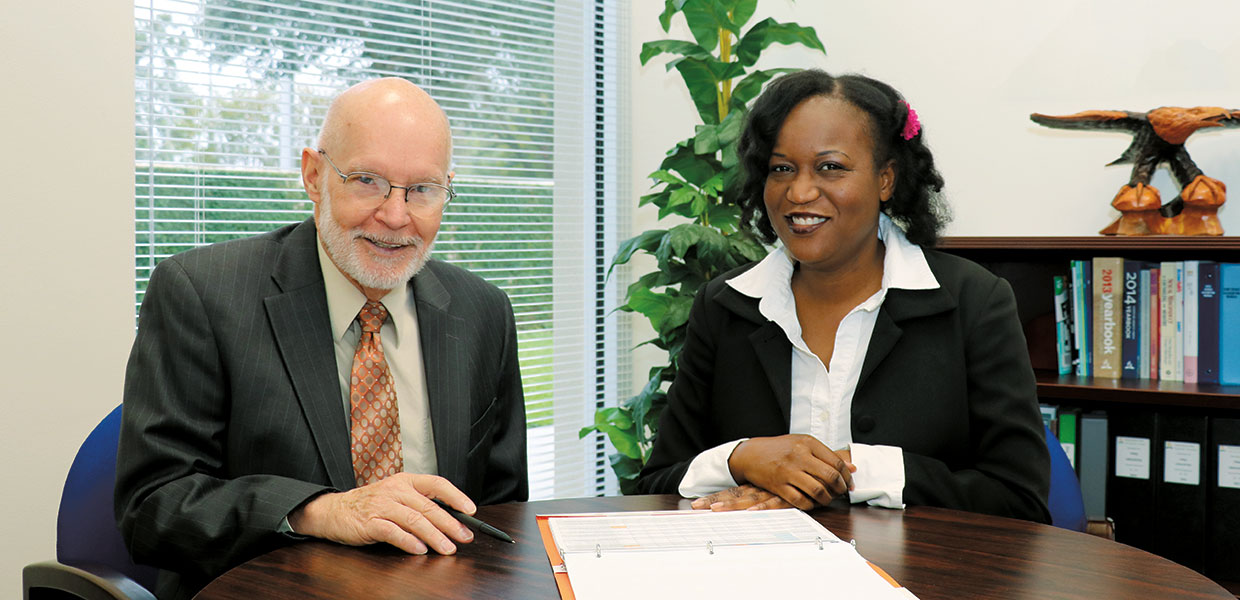 Duane Rollins, retiring CFO of Florida Conference, and Elisa Rahming, new CFO of Florida Conference
Lee Bennett
Elisa Rahming was voted chief financial officer (CFO) on December 5, 2017, by the Executive Committee of Florida Conference. As she begins her new responsibilities on January 1, Rahming's goal is "to maintain and improve upon the level of excellent service and firm financial foundation throughout Florida Conference and its various institutions."
Rahming is a certified public accountant (CPA) who has served as undertreasurer since July 20, 2010. She began working for the Conference in May 2007 as an assistant treasurer, followed by a stint as associate treasurer. Prior to denomination employment, she had six years of accounting experience in the private sector in Atlanta, Ga.
A native of Nassau, Bahamas, Rahming is a product of Christian education. She received her B.A. in business administration with a concentration in accounting from Southern Adventist University in Collegedale, Tenn. She has a master of business administration (MBA) degree from Georgia State University in Atlanta, Ga.
Rahming has a passion for what she refers to as a "mix of ministry and numbers." She enjoys "encouraging people with their relationship with God and others, encouraging dreams, and sharing biblically-based financial principles." Mission trips, especially evangelistic, are meaningful to her. She has taken trips to Brazil and Peru in South America, Malawi in Africa, and Guam.
Duane Rollins is retiring as chief financial officer (CFO) of Florida Conference after a life-long career of service spanning several continents in positions from pastor, departmental director, and treasurer in three conferences in the United States, to treasurer of the Guam Micronesia Mission and Southern Asia Pacific Division in the Philippines.
Rollins came to the Florida Conference in 2008. Those who worked closely with him have described him as possessing "credibility, authenticity, and unmatched integrity."
During his tenure, he helped stabilize financial foundations for the Conference and institutions; changed financial reporting to enable effective global overview of all entity finances, with the assistance of Conference & Association Investment and Finance Committee; took part in planning the new lodges at Camp Kulaqua; and witnessed creation of a well-structured endowment program that has nearly doubled in endowments, while deposits/investments have increased approximately 40 percent.
He leaves a legacy of practices put in place, and lessons learned about financial management to create and maintain strong financial foundations in all entities of the Conference, with the hope they be valued and enlarged.
Rollins' Christian approach to handling financial affairs of the Conference has been much appreciated. He and his wife, Marilyn, are wished God's blessing as they move to Indiana to be near family.
Florida | January 2018