BY Robert Henley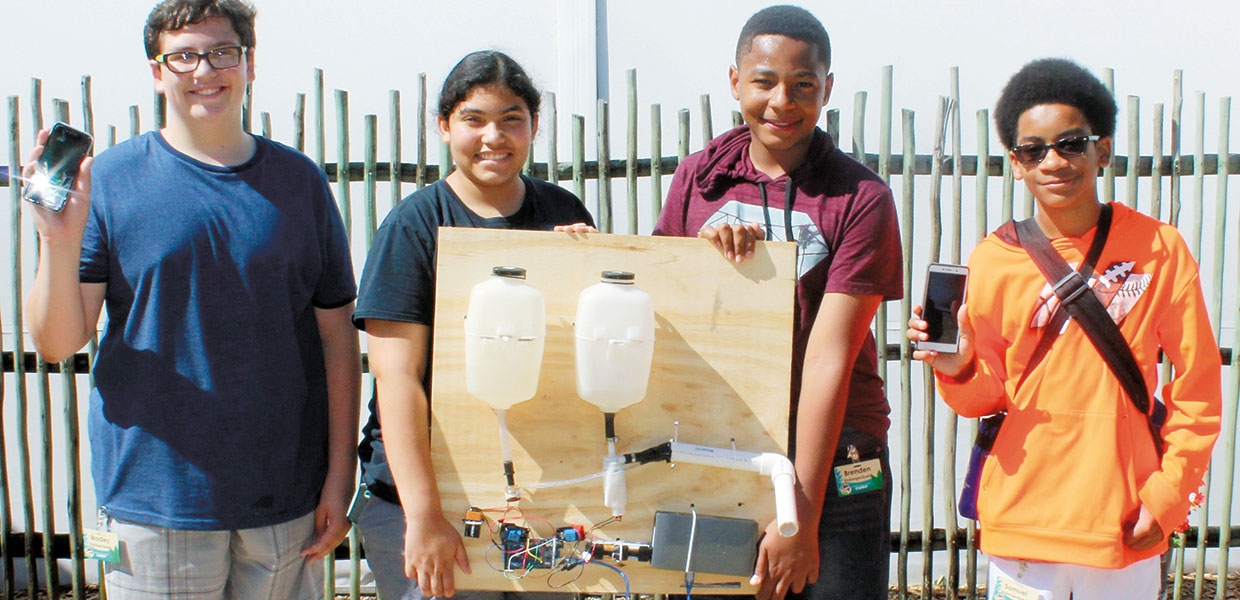 The Forest Lake Education Center Robotics Team developed an app to communicate via Bluetooth to an Arduino microcontroller to manage flow of water through the Smart Faucet. Team Hydro was named tournament champion: Bradley Figueroa (left), Leyla Martinez, Brenden Henley, and Sam Alves. Not pictured: Taylor Shellhammer, Emma Goddard, and Amelia Alvarez.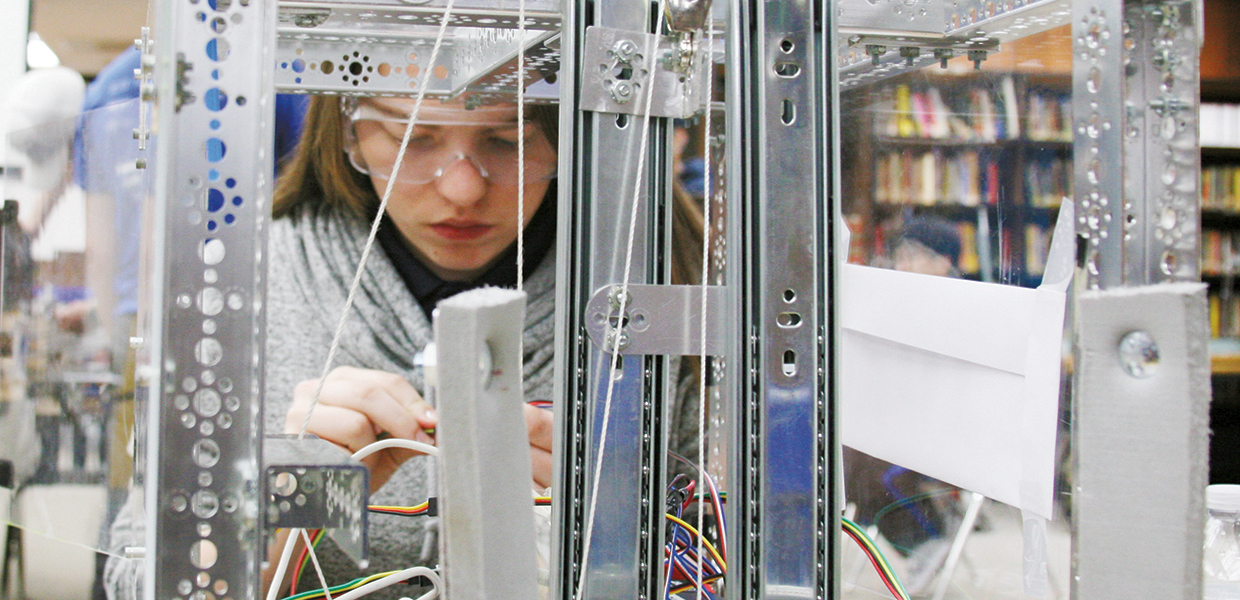 Christina Nickless, member of the Forest Lake Academy Applied Robotics Group, is making adjustments to her team's robot. Team Terminator finished in second place at the Adventist Robotics League FIRST Tech Challenge Championship on April 29, 2018, at Sacramento Adventist Academy in Sacramento, Calif.
Twenty innovation and robotics teams participated in the Annual FIRST® (For Inspiration and Recognition of Science and Technology) Innovation and Robotics Competition held on March 26, 2018, at Forest Lake Education Center, Longwood, Fla.
This competition, a cross between CNBC's Shark Tank and the DARPA Challenge (Defense Advanced Research Projects Agency), is composed of two distinct tracks:
Innovation track requires students to research a real-world problem, design an innovative solution to that problem, and prototype the solution.
Robotics engineering track requires students to design, build, and program an autonomous robot capable of completing a series of tasks in two minutes and 30 seconds.
The program is a component of Florida Conference Office of Education (FLOE) Innovation and Robotics initiative, with a goal of bringing project-based learning, STEM (science, technology, engineering, and mathematics) education, innovation, and design thinking to each of its schools, thereby producing a workforce that is well versed in STEM and possesses 21st century skills (collaboration, critical thinking, creativity, and communication).
"We need workers that are critical thinkers and that can solve problems in innovative ways," states Doug Hilliard, CFO of Florida Hospital.
The initiative will seek to enhance the learner experience by engaging him/her through their learning profile (learning style, multiple intelligences preference, and passion/interests), the use of compelling and relevant STEM curricula, the use of the latest educational technologies, and the creation of dynamic learning environments that support and encourage student-led innovation.
"The ultimate goal is for each school to become an innovation hub that will impact its local community through dynamic social entrepreneurial integration and implementation," states Frank Runnels, Florida Conference vice president for education.
FLCOE has partnered with STEM organizations and professionals to assist in developing learning experiences such as internships, coops, and educational events.
One such event was the Adventist Education in the 21st Century STEMposium, which was held on May 4, 2018 at the Florida Hospital Creation Conference Center. The mission of this annual event, which was a joint endeavor between Florida Hospital Innovation Lab and FLCOE, was to bring together students, educators, and leaders from across multiple STEM industries to examine issues impacting STEM education in the Adventist educational system.
An outcome of the STEMposium is the Florida Conference STEM Professionals Summit to be held in the fall of 2018. The purpose of the summit is to engage every STEM professional in the Florida Conference and invite them to join in this journey.
Other components of the initiative include the Innovation and Robotics Academy Program, Innovation and Robotics Lab, Virtual STEM School, and the Social Innovator Program. It has been successfully piloted in several Conference schools with tremendous success. Over the next three years, it will be deployed throughout the Conference.
Florida | July 2018