BY Gladys Neigel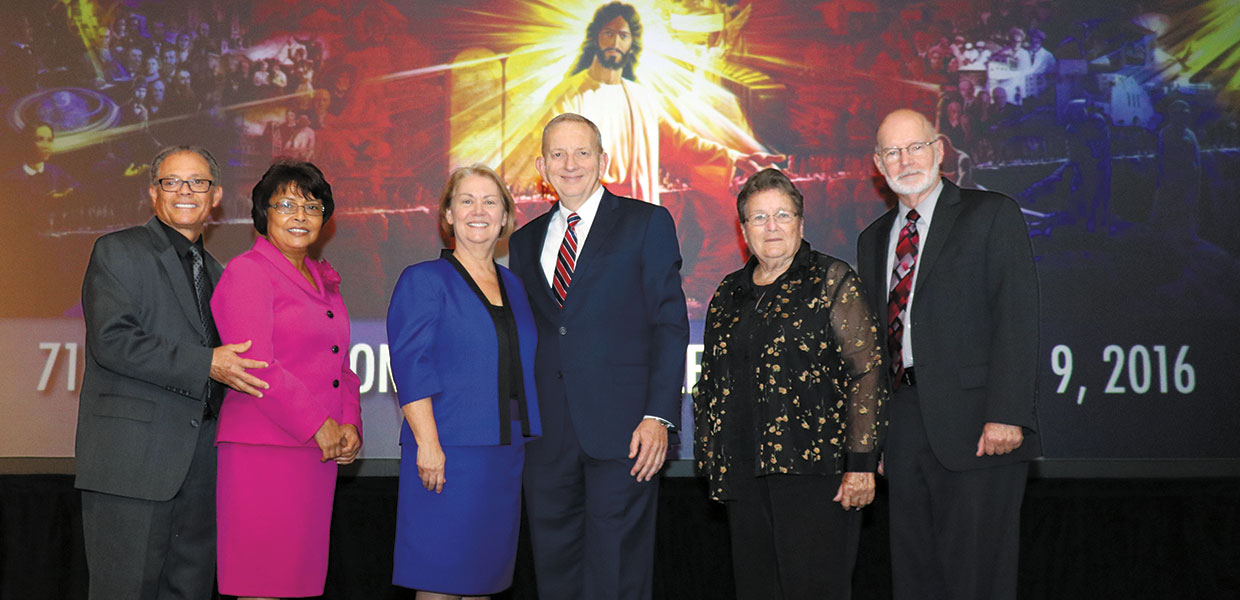 Florida Conference officers were re-elected at the 71st Regular Constituency Session on October 9, 2016. Victor Rodríguez (left), Executive Secretary M. Carmen Rodríguez, Dottie Cauley, President Michael F. Cauley, Marilyn Rollins, and Treasurer Duane C. Rollins.
Lee Bennett
Michael F. Cauley was re-elected president of Florida Conference on October 9, 2016, at the 71st Regular Constituency Session held on the campus of Forest Lake Academy, Apopka, Fla. He has served in this position since 2003.
Cauley began his President's Report by saying, "Over the last four years, God has blessed Florida Conference in remarkable ways. It is really humbling to see how God continues to advance His kingdom throughout the entire state. God is at work. We give Him the praise."
M. Carmen Rodríguez, part of the administrative team since 2006, was re-elected as executive secretary. "God gave me a renewed appreciation for how He has led us during the past 122 years. In 1893, Florida Conference's membership was 139," said Rodríguez. "We are happy to report that, as of December 31, 2015, our membership stood at 63,628. There were 206 organized churches, 56 companies, and 34 mission groups."
Re-elected as treasurer was Duane C. Rollins, who has served in this capacity since 2008. "There was a good passage in both tithe income and operating results, with a minor operating decrease in only one year of the quadrennium," said Rollins. He received accolades from Tom Evans, North American Division treasurer; Randy Robinson, Southern Union treasurer; and Michael Bond, General Conference auditor, for his fiscal responsibility and accountability.
The Constitution and Bylaws Committee, under the direction of Mark Buller, attorney, worked tirelessly on updating the contents of these two documents, and the amendments were voted as presented.
The theme, "How God Has Led Us," was introduced this past summer in a special Florida Focus Quadrennial Report given to delegates at regional meetings and mailed to Conference members. The theme was carried into the Session in the officers' reports.
Special guests of the Constituency Session included Dan Jackson, North American Division president, who presented the devotional, and Ron Smith, D.Min., Ph.D., Southern Union Conference president, who brought the Nominating Committee report to the floor.
Florida | December 2016