By SHARRYN MAHORNEY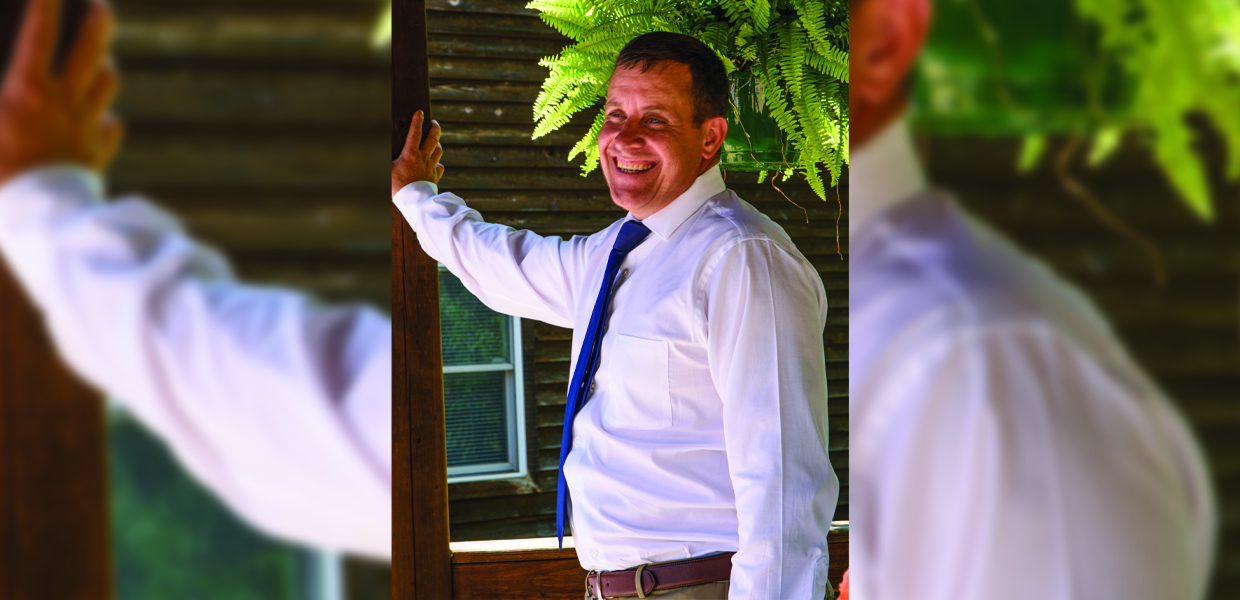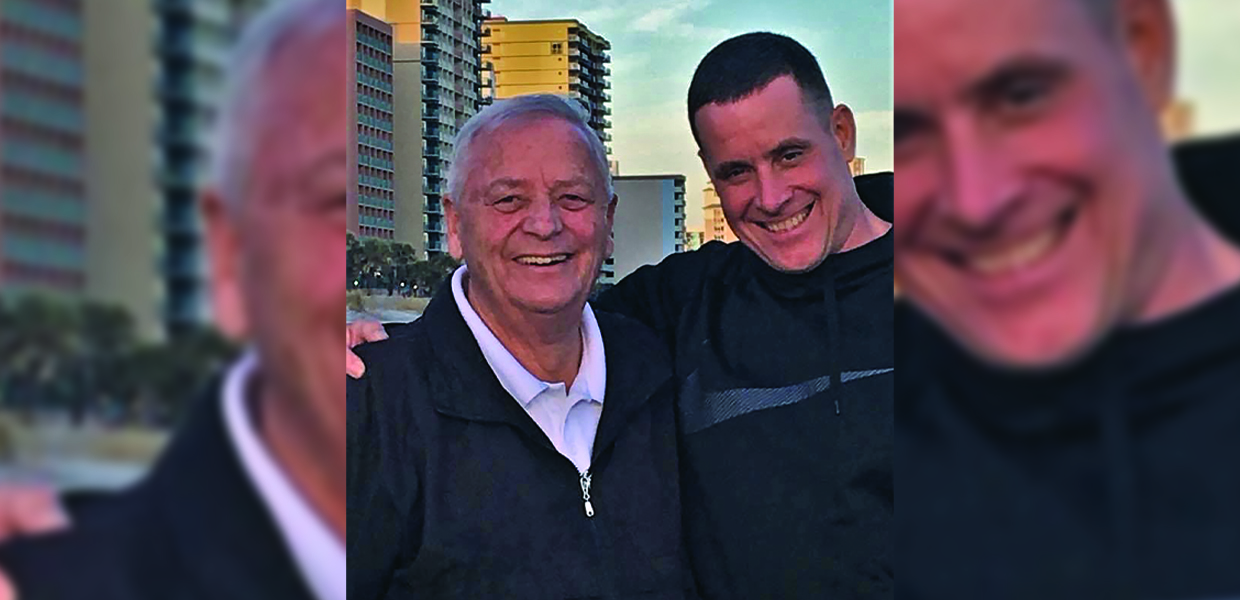 Robbie Parker was privileged to go with Ted Brackett (left), prison ministries leader of the Morganton Church, to Evangelism Impact in Myrtle Beach, S.C.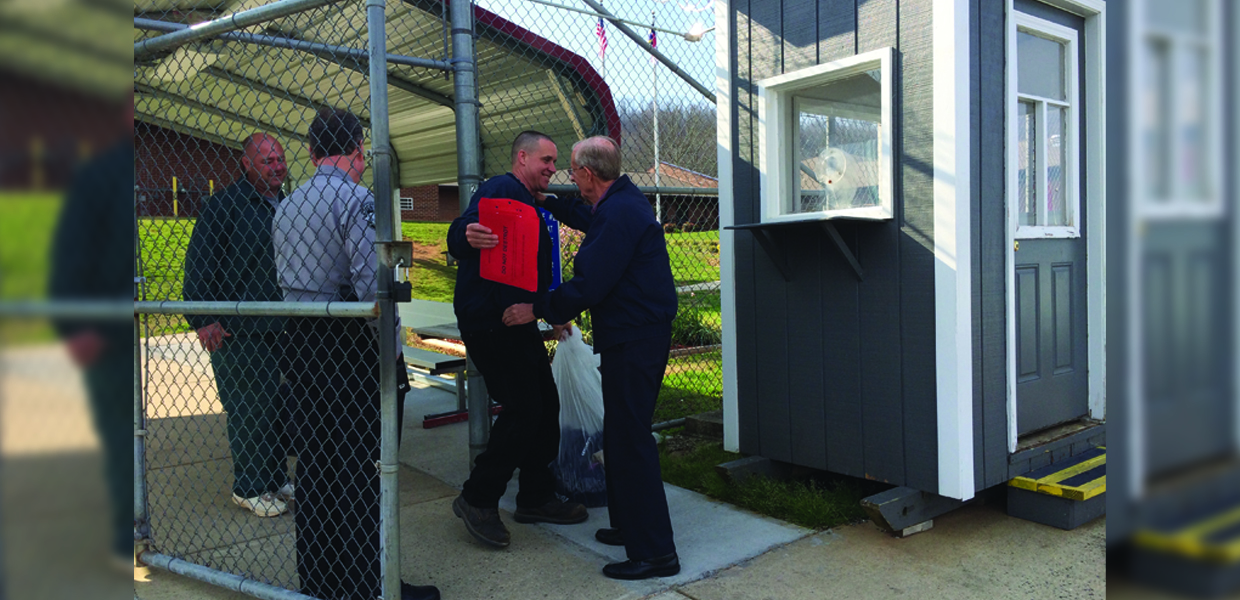 Robbie Parker is hugged by Barry Mahorney, retired pastor, just outside the prison gate as he is released.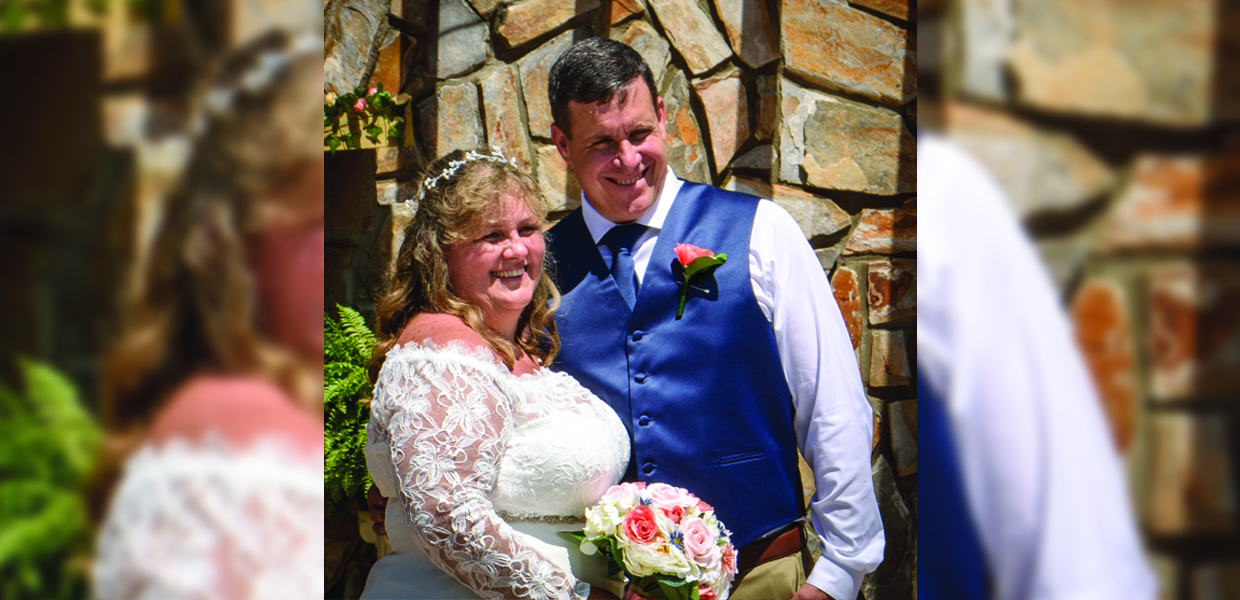 Angela and Robbie Parker's wedding day
Robbie Parker is a forklift driver at a water bottling plant, and yes, he has a great big smile. But, that is not what is most important. If you were to see him at work, chances are great that you would catch him singing energetically, "I have decided to follow Jesus." He loves Jesus with all his heart, though his story has not always been this way.
Parker's mom abandoned their home when he was a young child; his dad was into drugs and alcohol, and soon led his son into the same path. Parker was active in playing baseball and swimming competition. He had grandparents who loved and cared for him. But, Parker was making his own choices.
When Parker was 16, he was given his driver's license, but it was taken from him by the state after only three months because of driving while intoxicated. His life continued in a downward spiral as he accumulated six DUI tickets and 36 tickets for driving without a license. He was in jail for short stints several times through the next 20-plus years, but there was no change.
In 2014 Parker was given a prison sen- tence of three years. However, he was still a hard-working young man; as he earned the appropriate level, he was given an opportunity to go out on work assignment to a water bottling plant where he earned respect and appreciation for his hard work.
It was about that time that the Morganton, N.C., Church began going to the local minimum-security prison on Friday evenings for Bible studies, which many young men attended. Parker decided this would be a good class to join to enrich his life. He faithfully attended the Bible studies conducted by local members Ted Brackett; Barry Mahorney, retired pastor; and Walter Moore. The Morganton Church has a low wattage FM radio station, but the prisoners can hear it. In fact, it is basically the only radio station they can pick up. Parker listened to the music and truth-filled sermons on the 3ABN radio station.
After a year or so, he was allowed to attend the Morganton Church each week, and Barry and Sharryn Mahorney were the ones assigned by the prison for this responsibility. The Mahorneys found the trips to and from the prison to be precious times of visiting together as Parker was growing in his love for Jesus.
His big smiles and big hugs were for everyone at church as he made his way from person to person, young and old. Everyone looked forward to seeing Parker. He now had a church family to encourage, love, and support him. Parker was eagerly baptized on April 23, 2016, and became a member, showing his whole-hearted commitment to follow Jesus. He was soon asked to serve as a deacon at the church.
It was an exciting day for Parker and his church family when he walked out of prison a free man on March 21, 2017. He was on probation for four months, but he was free to go and come. Many of his friends from his new church family met together at a local Mexican restaurant to celebrate his release from prison. At the end of his probation, he chuckled as he said, "This is the first probation (there had been 10 probations) that I have successfully completed."
Of course, he still did not have a driver's license, so the Mahorneys, who adopted him as a part of their family, continued to drive to his grandmother's home where he was living, to take him to church — followed by the fellowship dinners which were a great love of his.
Driving to and from church for nearly a year, the visiting continued and Bible truths and promises were shared. Parker was growing in his walk with Jesus. He re- alized life had more to offer, and he felt his loneliness and desire for companionship. The Mahorneys shared God's promise of Psalm 37:4, "Delight thyself also in the Lord; and he shall give thee the desires of thine heart," and prayed with him, claim- ing this promise.
It was a beautiful day, May 24, 2020, as Parker married his love, Angela Brackett, in a lovely family wedding with Barry Mahorney officiating. Brackett, an active and much-loved youth lead- er and choir director, truly is the "desire of his heart."
More blessings awaited. Parker thought it impossible that he would ever again be given his driver's license, but he plugged away, paying off all his many court costs, and God blessed him with a renewed license.
God found a man in prison and gave him a great big smile, and an incredible testimony and passion for sharing the love of Jesus! Parker shared, "I am so glad God allowed me to go to prison, so I would have the time to sit and think about my life and my need for God."
He has now been invited to return to that same prison, where he enthusiastically gives Bible studies to the current prisoners. And, Parker continues to sing energetically, "I have decided to follow Jesus … No turning back, no turning back."
Carolina | November 2020