BY Jeffrey Thompson, Ph.D.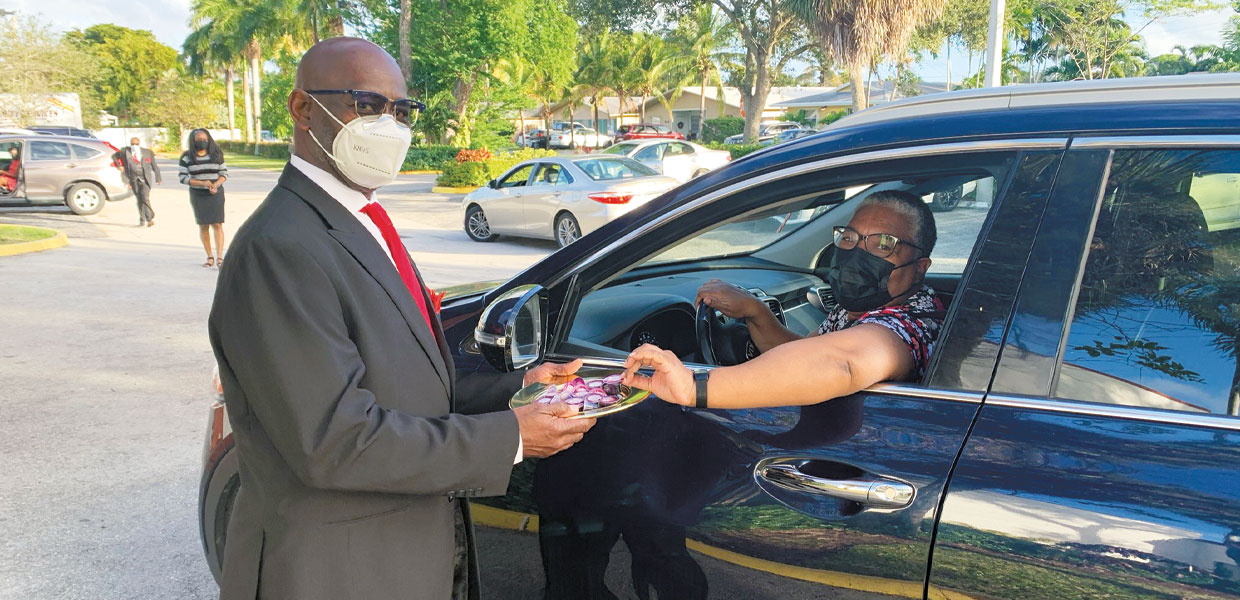 Al Hibbert, who is a Broward County Sheriff Deputy, is shown giving Eleanor Sanderson the communion grape juice and wafer.
Jeffrey Thompson, Ph.D.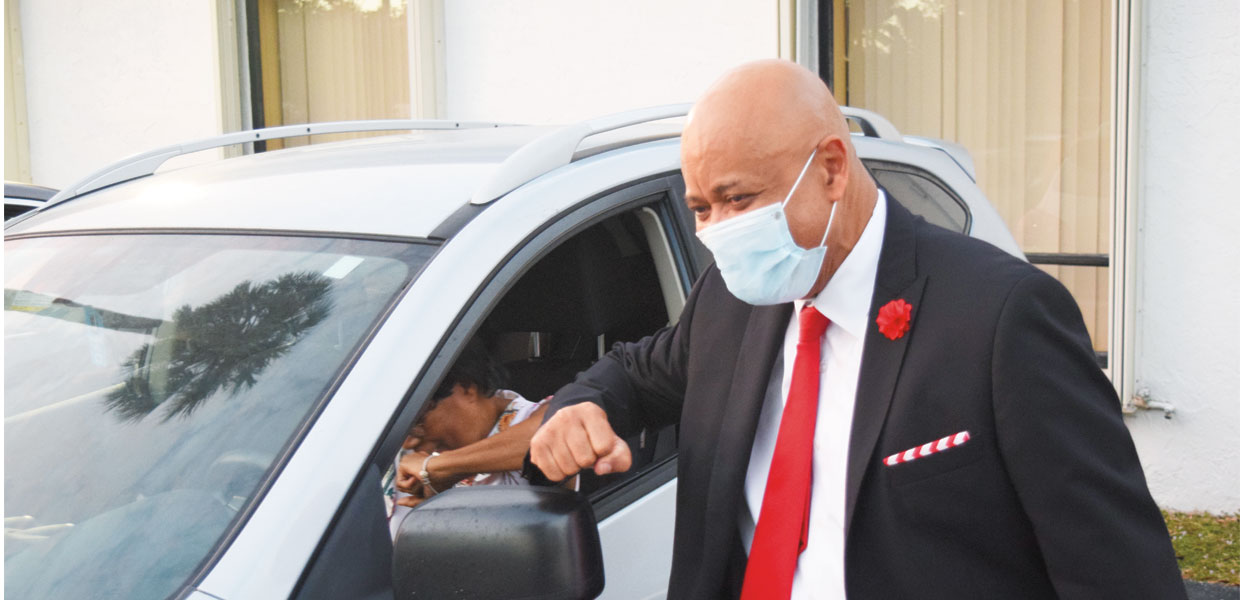 Jeffrey Thompson, Ph.D., pastor of Fort Lauderdale, Fla., Church, greets Veronica Allen with an elbow bump after the communion service.
James Cooke
One hour before the sun rolled down the western horizon on the last day of 2020, parishioners of Fort Lauderdale, Fla., Church drove into the church's parking lot and remained in their automobiles during a virtual communion service. A drive-thru approach was utilized because of COVID-19, and members accepted bread and grape juice from a deacon at the lot entrance.
Afterward, attendees logged onto Zoom to participate in a unique initiative involving prayer and testimonies to welcome the New Year 2021. Social distancing protocols were in vogue. Besides everyone remaining in their automobile during the service, there was no gathering in the church building or parking lot either. Each family was encouraged to participate in the ordinance of humility (washing of feet) at home in preparation for communion.
Before the service, the church pastor and church elders took bread and grape juice to the homes of the elderly, sick, and shut-in members.
"The communion service was beautiful," said Sylvia Spence, a local elder. "I was blessed."
"What a lovely communion service!" said Eleanor Sanderson, music ministries coordinator.
"Imagine, COVID-19 cannot prevent members of like precious faith from gathering to commemorate the death, burial, and resurrection of our Lord and Savior Jesus Christ and to welcome a new year," said Jeffrey Thompson, Ph.D., senior pastor of Fort Lauderdale Church. He added, "In times like these, we must be creative while practicing social distancing." Fort Lauderdale Church has not had Sabbath service in its sanctuary since March of 2020.
Florida | April 2021