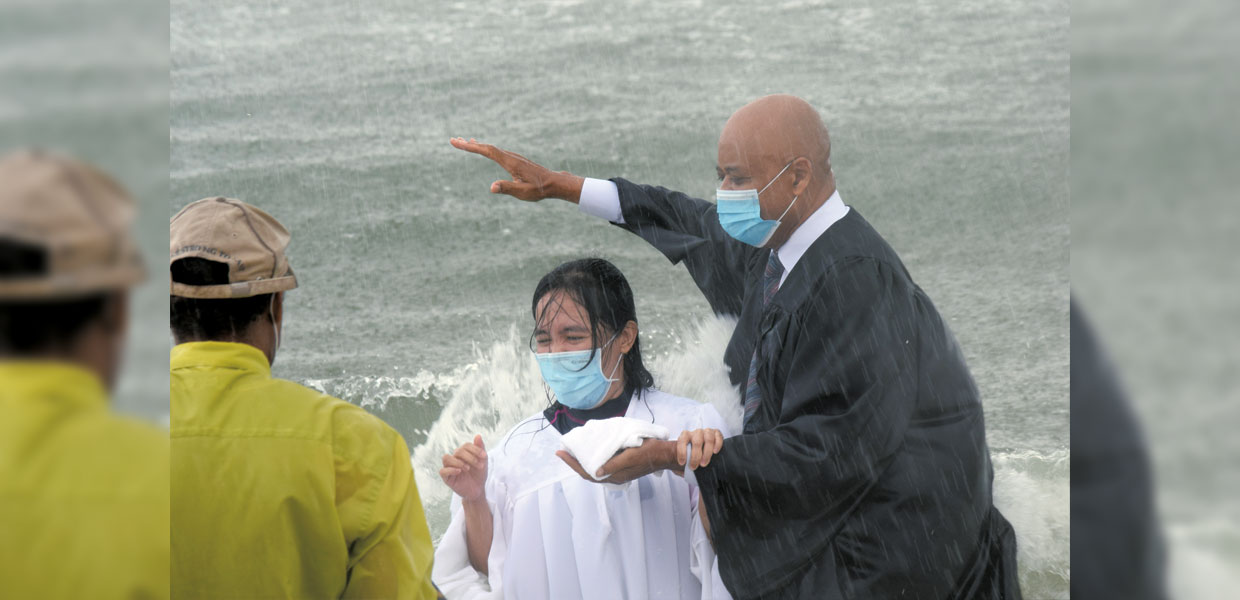 Jeffrey Thompson, Ph.D., pastor, baptizes Shirley Gooding while raindrops fall on their heads.
James Cooke
Fort Lauderdale Church, the oldest Adventist church in Broward County, Fla., observed its centennial services virtually, November 20-22, 2020. Willie Oliver, Ph.D., family ministries director for the Adventist World Church, was the keynote speaker.
The centennial celebration began Friday night with a preach-off. Seven preachers, mostly former pastors, preached one collaborative sermon which focused on the seven last sayings of Jesus from the cross. Five minutes was allocated for each speaker: Daniel Williams, Edward Richardson, V. Eric Kotter, Ken Burrill, Joel Honoré, Rob Stevenson, and Jeffrey Thompson. Infinite Praise Choir provided special music.
Pauline Smith chaired the Sabbath School program. Dan Woolf provided the mission spotlight and showed the connection his grandfather had with Ellen G. White. Afterward, a pictorial video showed the church's 100-year journey.
"Who Will Go?" was the title of Oliver's inspirational keynote address for the Sabbath worship service, shown on YouTube and Facebook. The sermon challenged members to continue focusing on the church's primary mission as the church celebrates what God has done in the past. Oliver and his wife, Elaine, who are specialists in family life, conducted a family strengthening seminar via Zoom video conferencing, entitled "Communicating with Grace," which received rave reviews.
Other highlights of the weekend included a centennial Adventist youth program, an international social coordinated by Beulah Shaw, and a gospel concert coordinated by Eleanor Sanderson. Meanwhile, Allan Machado, Ph.D., Florida Conference president, presented the final sermon for the historical weekend, entitled "God is Faithful."
Early Sunday morning, Shirley Gooding accepted Christ as her Savior and was baptized on Fort Lauderdale Beach. "Imagine not even the torrential rain can stop this baptism from taking place," said Jeffrey Thompson, senior pastor. "Our church began with baptisms in 1920, and I think we should observe our centennial with a baptism."
The new convert's husband is Rawle Gooding, one of two architects who designed the new sanctuary of the church dedicated in 2013. As a youngster, he worshiped at the church's first edifice on Andrews Avenue. Fort Lauderdale Church has given birth to five congregations in South Florida.
Florida | February 2021