BY Jeffrey Thompson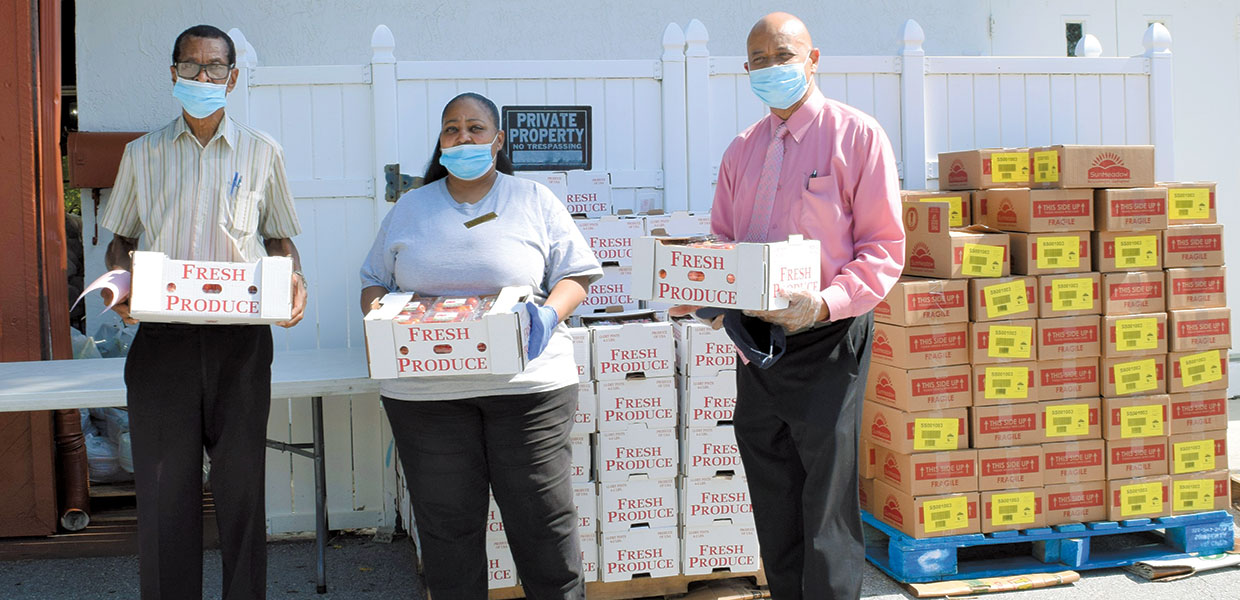 Broward County Judge Phoebee Francois (center) gave a helping hand at the Fort Lauderdale Church Food Pantry. She is shown with Roy Roberts (left), food pantry statistician, and Jeffrey Thompson, pastor.
Trevor Griffiths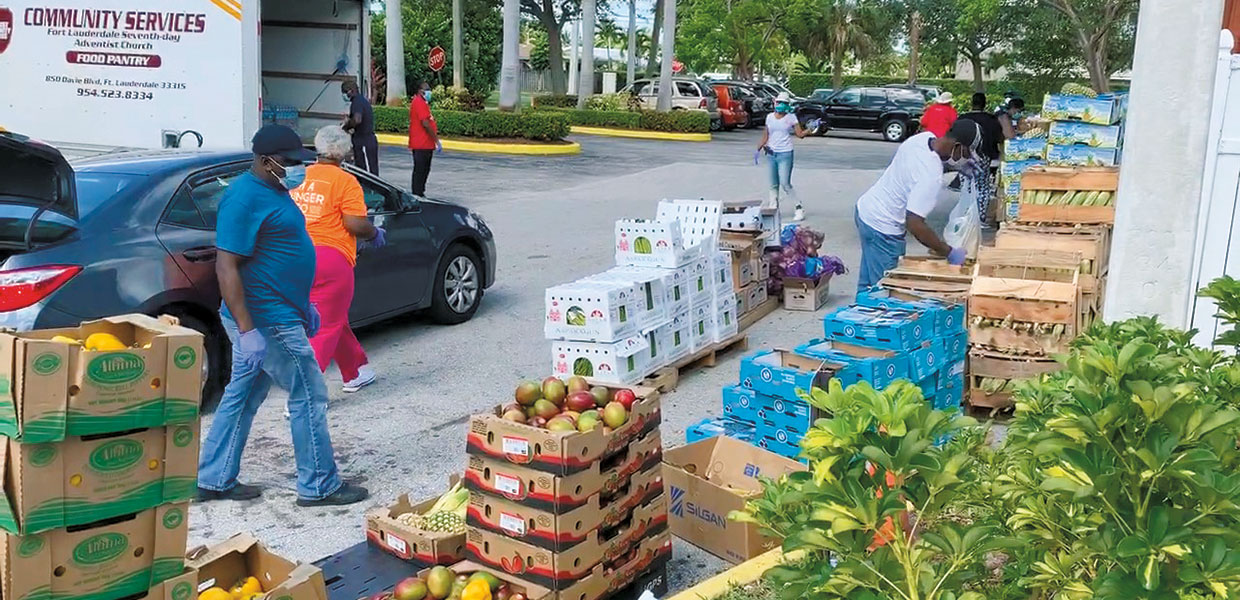 A busy day at the Fort Lauderdale Church food pantry
Jeffrey Thompson
The food pantry of the Fort Lauderdale, Fla., Church typically gives food and vegetables to an average of 1,000 people monthly. However, amid the COVID-19 pandemic, the pantry is experiencing a 300% increase in the number of people served.
For example, for the entire month of March 2020, a total of 1,021 people were recipients; however, for the first three weeks of May 2020, more than 4,030 people were recipients. People began the queuing process as early as 6 a.m. for the drive-thru pantry, which officially starts at 11 a.m. and continues until 1:30 p.m. or until the food runs out.
"I have never seen lines so long. Our church is on the corner of SW 9th Avenue and Davie Boulevard, but the cars in the queue extended beyond SW 4th Avenue," said Jeffrey Thompson, Ph.D., church pastor.
"I am planning to be here every Tuesday to lend a helping hand," said the Honorable Phoebee Francois, a Broward County judge, as she helped serve food to the community.
Roy Roberts, Fort Lauderdale Adventist Church food pantry statistician, reports 164,265 pounds of food given out from January to May 12, 2020. Fort Lauderdale Church receives its supplies from Feeding South Florida (FSF), Project Lifeline, and Farm Shares. Bread and pastries come from Publix. Meanwhile, WSVN Channel 7, which covers Fort Lauderdale, in a news segment recently showed volunteers from the church distributing food.
"I want to salute Sheila Flynn, community services director; Vernon Spence, her assistant; and her dynamic team for their herculean efforts in being first responders in providing food for the needy and unemployed people every week," said Thompson, church pastor.
The food pantry of the Fort Lauderdale Church received a 2019 Partner Agency of the Year Award for Broward County from the Feeding South Florida organization on July 10, 2019, during a special ceremony at the Signature Grand Hotel in Davie, Fla.
Florida | August 2020