Verna M. Travis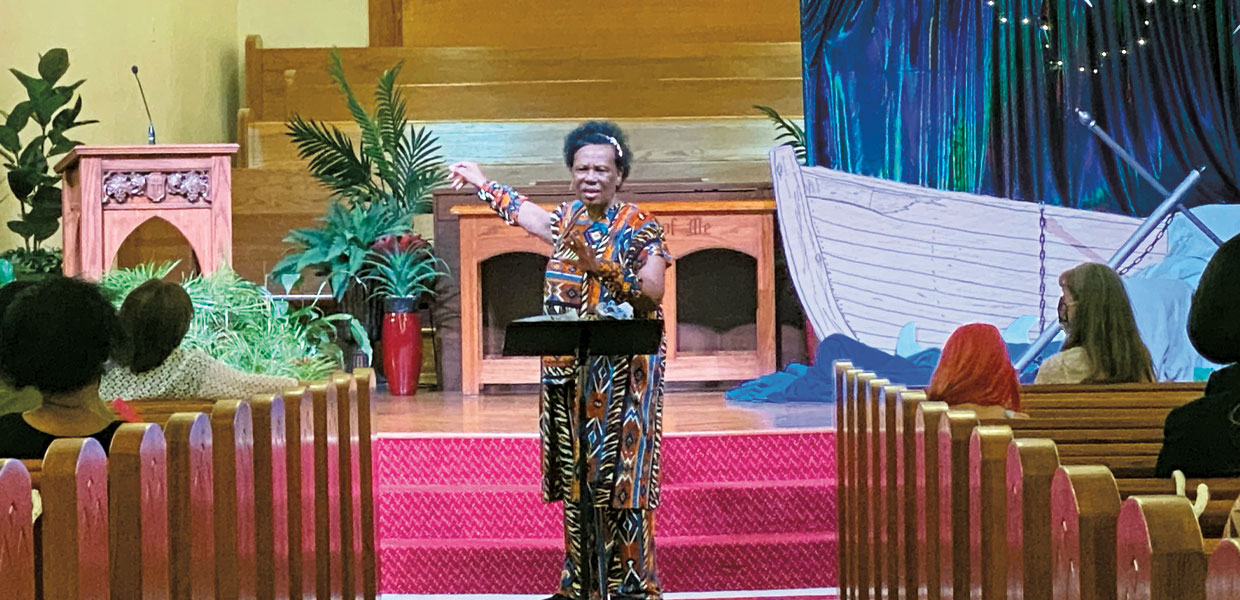 Wanda Davis, a senior chaplain at AdventHealth East Orlando, was the presenter for a Spring Women's Retreat at Kress Memorial Church in Winter Park, Fla.
Mary Ayuso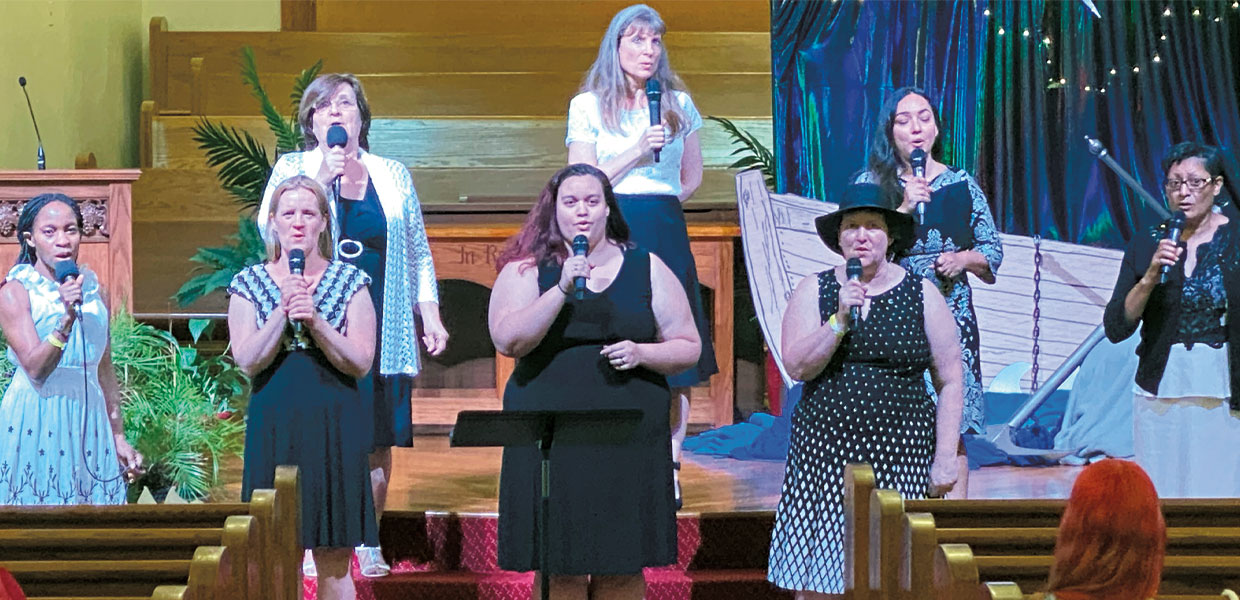 An eight-voice praise team which took requests consisted of Louise Sanders (back row, left), Karen Austin, Sonia Hernandez, Ann Mair, Suzi Ann Brown (front row, left), Ginny Jewell, Sarah Boada, and Carol Perez.
Mary Ayuso
The hymn, "Come Let Us Worship Our King," led by an eight-member praise team, greeted participants entering Kress Memorial Church in Winter Park, Fla., on the evening of April 23, 2021. Kress Memorial Church combined with the Northern New England Conference to plan this special women's retreat. "What is a favorite song this evening?" Oldies as well as more recent hymns were played from memory by pianist Rebecca Murphy.
A giant boat, tossed by angry waves, with lightning flashing, and thunder crashing, typified the theme for the women's ministries spring retreat. "Anchor in the Eye of the Storm" was prepared by Kress Church decorators Mike and Nancie Nickless.
Wanda Davis, a senior chaplain at AdventHealth East Orlando, was presenter for the retreat. Friday evening, Davis regaled everyone with an experience as a survivor on the Diamond Princess cruise ship in Japan at the beginning of the COVID-19 pandemic.
Sabbath evening, the great storm on the Sea of Galilee was the theme. When the disciples forgot Jesus' request to go to the other side of the lake, also forgotten was that Jesus was there in the boat. All anyone could see was the great storm, the boat filling with water, and the watery grave that awaited. It took a flash of lightning to see Jesus peacefully sleeping with the knowledge and confidence that nothing could happen unless the Father allowed it.
Her 37 years as a chaplain have given Davis spiritual insights everyone needs when experiencing storms. It is important to ask Jesus to be in control of the day-to-day challenges.
Snowbirds Louise (LuLu) and Wayne Sanders have been helping at Kress Church for the past three years. With the encouragement of LuLu Sanders, who is the women's ministries secretary for Northern New England Conference, members experienced the first ever women's ministries retreat for Kress Church.
Seven people came from Maine, including women's ministries leader Sanders and two assistant women's ministries leaders, Ginny Jewell and Kelly Chirnash. Watching online were women from Canada, Vermont, New Hampshire, and Maine.
"All of it was great," said Nola Anderson, one of the attendees. "I especially enjoyed the presenter and the opportunity to see other women that I had not seen recently."
Florida | August 2021