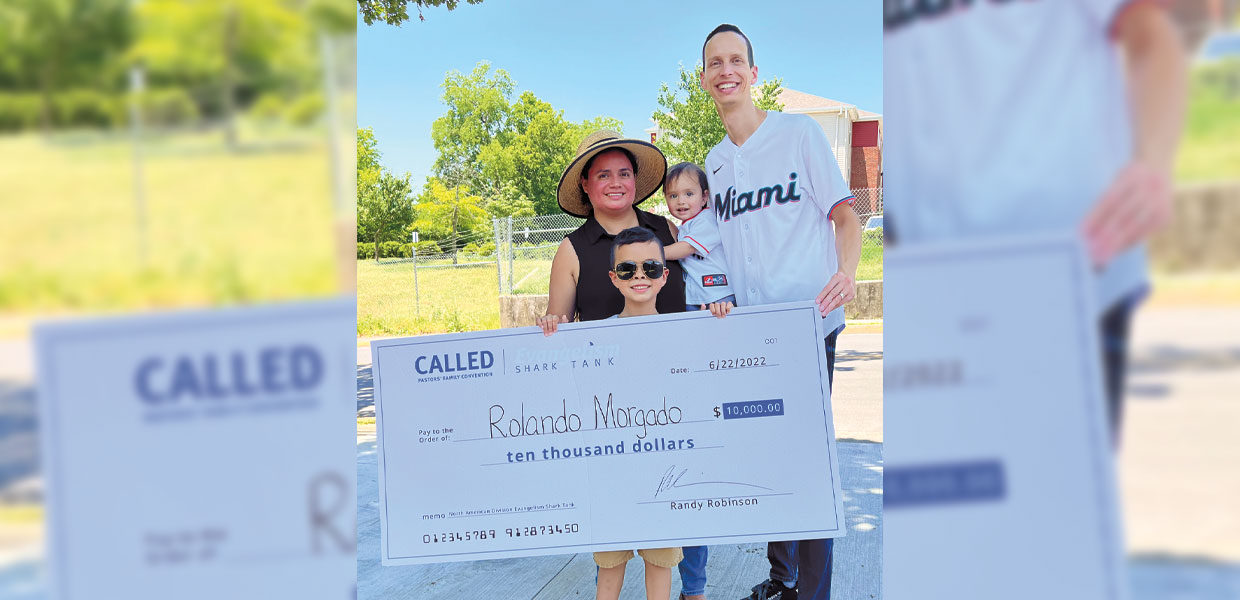 Celebrating an earned award for evangelism funding at the Called Pastors' Family Convention was the Rolando Morgado family: wife Nacira (left), oldest son Alejandro, youngest son Ethan, and Rolando Morgado.
Rolando Morgado, pastor of Lake Worth, Jupiter Spanish, and Northwood Spanish churches in the West Palm Beach, Fla., area, returned from the Called Pastors' Family Convention in Lexington, Ky., with a nice nest egg for his ideas for evangelism.
This second-place award of $10,000 was part of a North American Division (NAD) Ministerial Association evangelism shark tank competition for innovative soul-winning ideas from pastors. Morgado presented two ideas Lake Worth Church is putting into practice in order to reach the community.
Homeless Project: The church, along with another congregation in the community, serves a hot meal every Tuesday. A trailer also provides facilities for a shower and laundry. Hair cuts, personal items, and second-hand clothing are made available.
Soccer Academy: The church is converting a patio on church property into a small soccer field to have a home for the soccer academy run by church members for children 5-10 years of age.
"If a method doesn't work, you do away with that method, and you bring in a method that helps you reach people," said José Cortes Jr., associate director of evangelism for NAD Ministerial Association.
"The 15 presentations helped each person see the amazing things others are doing to reach souls for God," said Morgado. "Judges and NAD leaders also helped participants with comments and support to grow and do better with projects to impact the community."
Florida | October 2022