BY Shelly Pinnock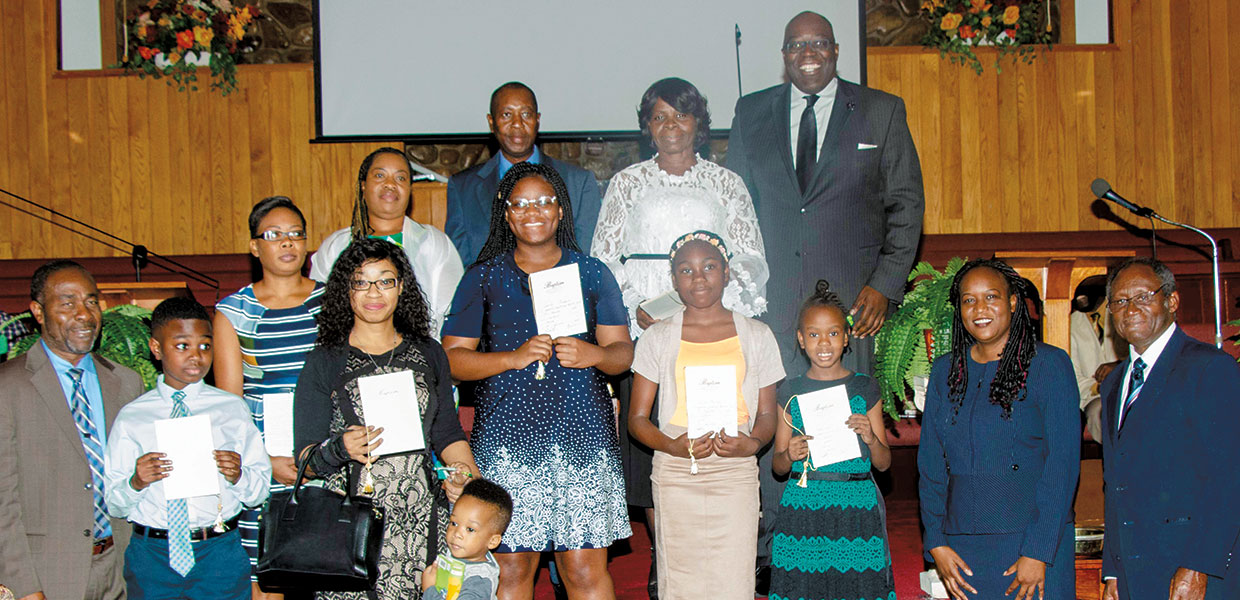 Baptismal candidates and those who participated in the service: Ezra Quarrie, head elder; Shane Michael Andrew; Latesha Reid; Michelle Allen with her son; Charmaine Thomas; Alvin Mitchell; Camille Philogene; Ena Smith; Leilani Mattison; Najhae Jones; Garry Gordon, senior pastor of Lauderhill Church; Elisa Rahming, CFO of Florida Conference; and Neville Williams, lead Bible worker. Not shown: Trevor Lopez Sr., Trevor Lopez Jr., Juliet Reid-Lopez, Opeyeme Oyelese, and Nicole Taylor.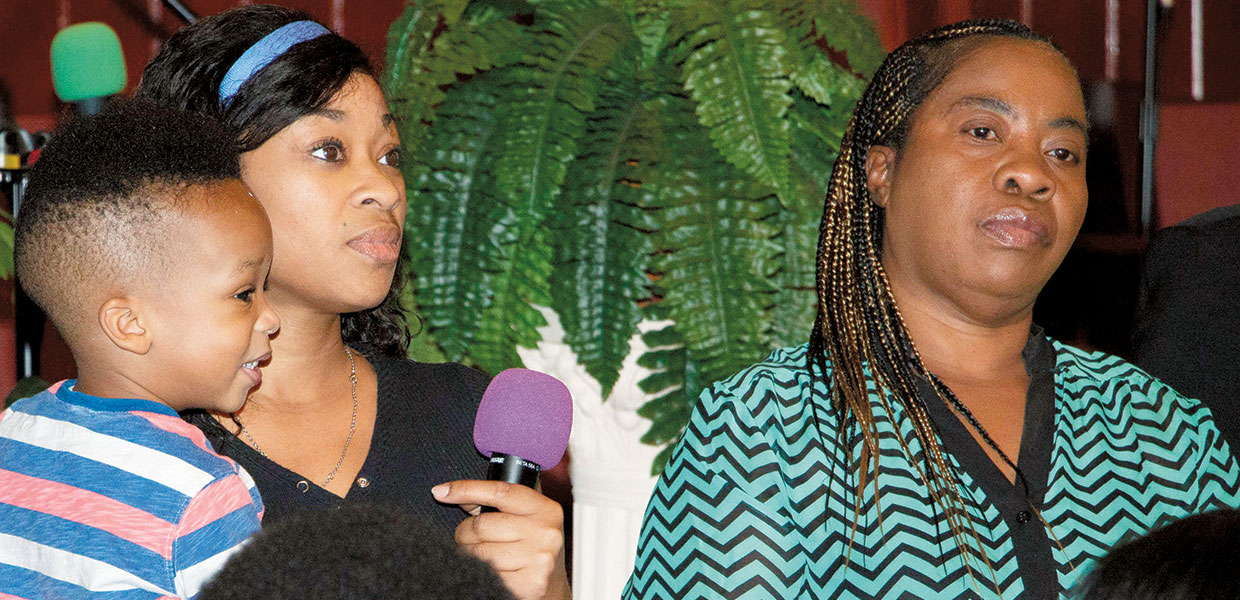 Michelle Allen (holding her son) and Charmaine Thomas share their conversion stories with the congregation before their baptism.
Nothing could have prepared the Lauderhill, Fla., Church, congregation for the blessings received from the Restoration Gospel Project. Nigel G. David, chaplain at Vacaville Kaiser Hospital, Vacaville, Calif., was the guest speaker for this fall evangelistic series.
His introductory sermon, "Scandal," was presented the morning of the start of the series. It made such an impact that on opening night the venue was packed with members and visitors alike. The series consisted of 13 sermons and two anointing services over the course of two weeks.
Although the services were streamed live, most people opted to attend in person for the full experience. Each night began with lively music and a special feature. Young and old came forward by the calling of the Holy Spirit. Sometimes through tears of recommitment, of joy, and of peace, people poured to the altar.
Michelle Allen was one of 14 who made a decision for baptism and to live for Christ. She felt spiritually pressed with the need to call out to God. He heard her cries. He removed habits from her life that were holding her back. He brought people into her life from whom she could learn, and He led her to the Restoration Project series through an online search for a church. "I felt a huge amount of repentance, a huge amount of love …. The Holy Spirit was inside this church," Allen shared after her baptism.
Charmaine Thomas, a survivor of stage four cancer, made an oath to God that if He would spare her life, she would give Him her all. She prayed to God to lead her to a church, especially one that was having an evangelistic series. He brought her to Lauderhill Church through the invitation of a family member. She admitted that, "I was so happy because I know once I come to church and a crusade is going on, I'm going to give my life to God." After baptism, Thomas has vowed to make good on her original promise to give the Lord her all and to never look back.
The series is over, but these lives and many others have been changed for the better.
Florida | April 2019