BY Michael Bernard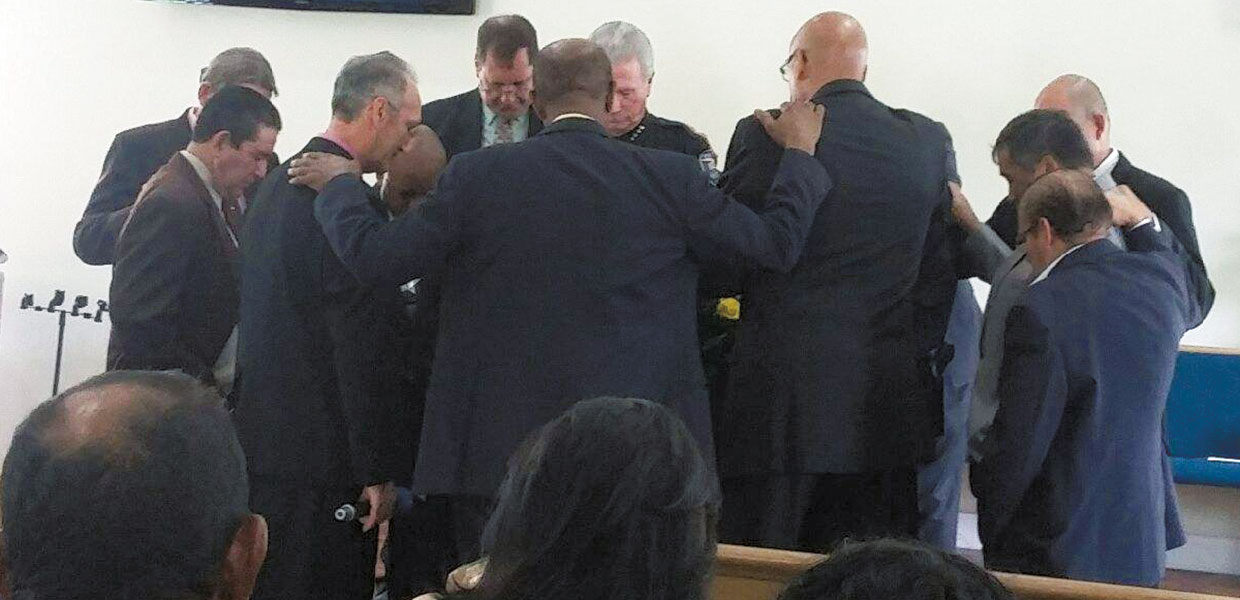 Casselberry Spanish Church elders laid their hands on each law enforcement guest and lifted them to God in prayer.
Reider Querol
For several months, Americans have been hearing about tragic events involving law enforcement agencies. Contributing to some of those fatal encounters was the lack of communication and trust sensed in certain communities. In an effort to support law enforcement and further establish trust and good will, Casselberry Spanish Church invited local police and Orange County Sheriff personnel to a Sabbath worship service.
The officers who attended this time of reflection and prayer included Casselberry's Chief of Police Larry Krantz, Community Relations Liaison Corporal James Hennessey, and Orange County Sheriff Public Information Officer Jeff Williamson. Leonides Montes de Oca, Casselberry Spanish first elder, warmly welcomed the guests, followed by remarks from Samuel Rodriquez, personal ministries director.
Krantz spoke to the congregation about his dependence on God's guidance, personally and professionally, as he provides leadership to his department. The chief's vision is to have law enforcement and the community working closely together. Williamson expressed appreciation to the church for being sensitive to the challenges of law enforcement, and for involving them in the church's worship service.
The church's elders encircled the special guests and placed their hands on each one as prayer was uplifted to God. The prayer emphasized the significance of badges worn, and the protection of those who wear those badges — wives, mothers, husbands, fathers, and children.
Twelve days after that Sabbath, two representatives of the church, Maribel Borgas and Michael Bernard, met with Hennessey to discuss specific ways the church can involve itself in the Casselberry community.
Florida | November 2016