BY Marvin Gerard Lowman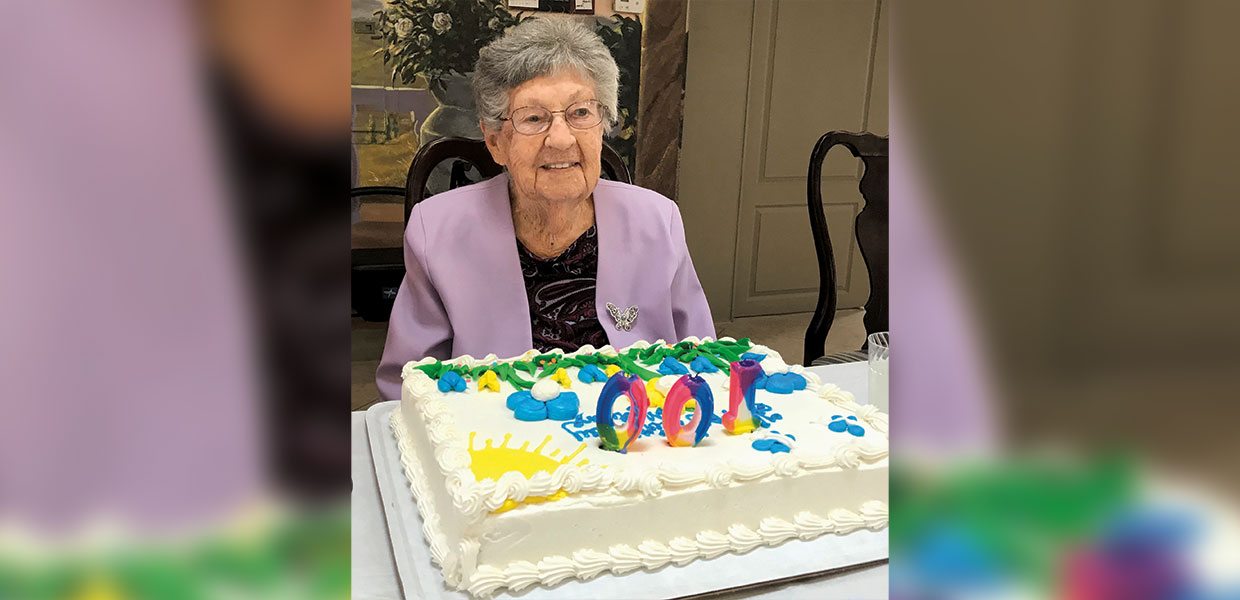 Marian Eloise Lowman celebrates her 100th birthday surrounded by friends and family at the Florida Living Retirement Community dining room.
Marian Eloise Thomas was born in Baltimore, Md., as the second child of Frank and Rose Thomas, on March 5, 1920. Childhood years were spent in the shadows of Fort McHenry, the birthplace of the Star Spangled Banner.
As Marian grew up in the Brooklyn area of Baltimore, she developed a friendship with a young man in the neighborhood. She married her friend, Walter Lowman, on June 11, 1937. Two children were born to this marriage, Marian Patricia (Pat) and Marvin Gerard.
In 1942, the couple purchased their first home a few miles away in Anne Arundel County. Shortly thereafter they were introduced to the Adventist Church by a colporteur. After attending a series of tent meetings, Marian was baptized and joined the local church. Ten years later, Walter also joined. The Lowmans were always actively involved in the work of the Adventist Church.
In 1985, they retired to Florida Living Retirement Community in Apopka, Fla. They enjoyed traveling, took several trips abroad, and enjoyed many cruises together.
Both were very active in the Florida Living Church. They also volunteered at the Florida Conference Office to facilitate sending out bulk mailings to churches. Upon Walter's death on March 9, 2005, Marian continued her volunteer work with the help of her friend, Janice Cohen.
In October 2011, Marian moved to Baltimore to live with her daughter. After little more than a year, she decided to move back to Florida Living where she lived until May 2019. She now resides at Brookdale Assisted Living in Altamonte Springs, Fla.
"Mom continues to have good health and a clear mind," says her son, Marvin. "There is definitely something to be said for the Adventist lifestyle and health message."
Florida | June 2020