BY nAncy patton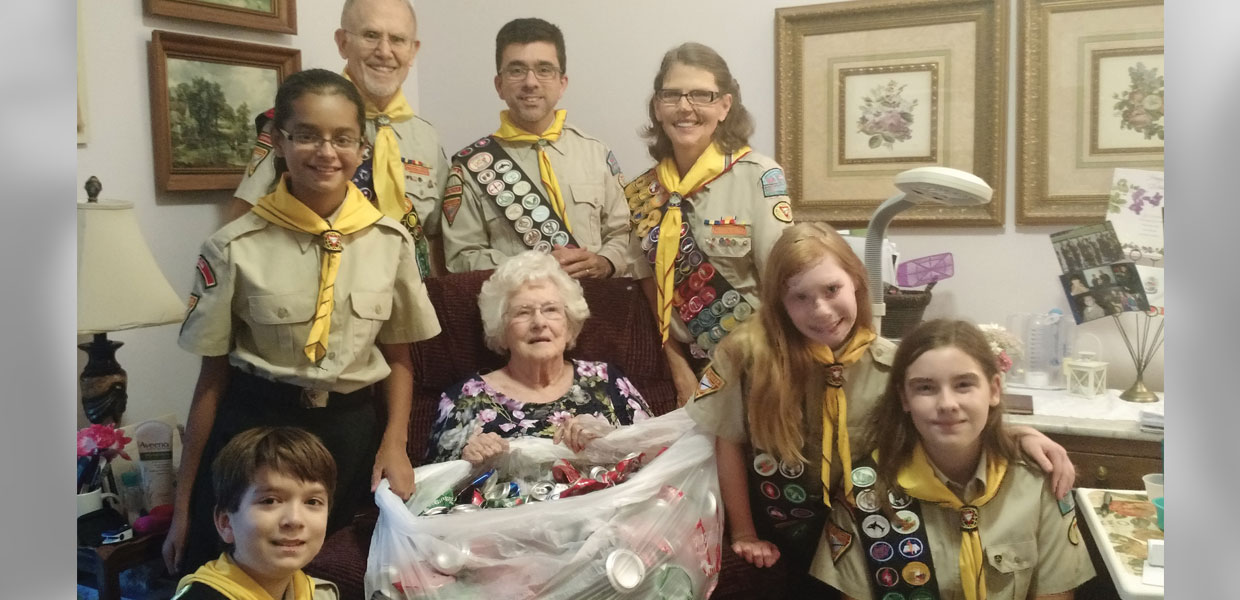 Pathfinders surrounding 102-year-old Mozelle Kubas, an avid fund raising and supporter, from left to right: Jaden, Anna, Ted, Angel, Betsy, Emma, and Parris.
Photo contributed by Angel Segarra
Mozelle Kubas, 102, heard last March that the Apison, Tenn., Church Pathfinder Club was having a fundraising campaign collecting aluminum cans. The funds would help Pathfinders earn money to attend the Southern Union Camporee at Camp Kulaqua on October 12, 2016. She enlisted.
Although she does not drink sodas, Kubas asked the employees at the facility where she resides to give her their empty soda cans.
Since March 16, 2016, she has averaged 100 cans per week, and as of September 8, 2016, she has donated 2,339 cans.
After the cans were crushed and bagged, she had a courier, Edna Bird, deliver them to the church to be sold.
Kubas has always been involved in missionary service. She served as the community services director in Richmond for many years, later volunteering at the Samaritan Center in Ooltewah, Tenn. Her example encouraged her daughter, Ann, to become a missionary, serving 24 years in South America and Sudan.
Angel Segarra, Pathfinder director, reports the club has sold about 900 pounds of cans, earning more than $400. Kubas is their largest donor.
Georgia-Cumberland | November 2016