BY Jennifer Bergherm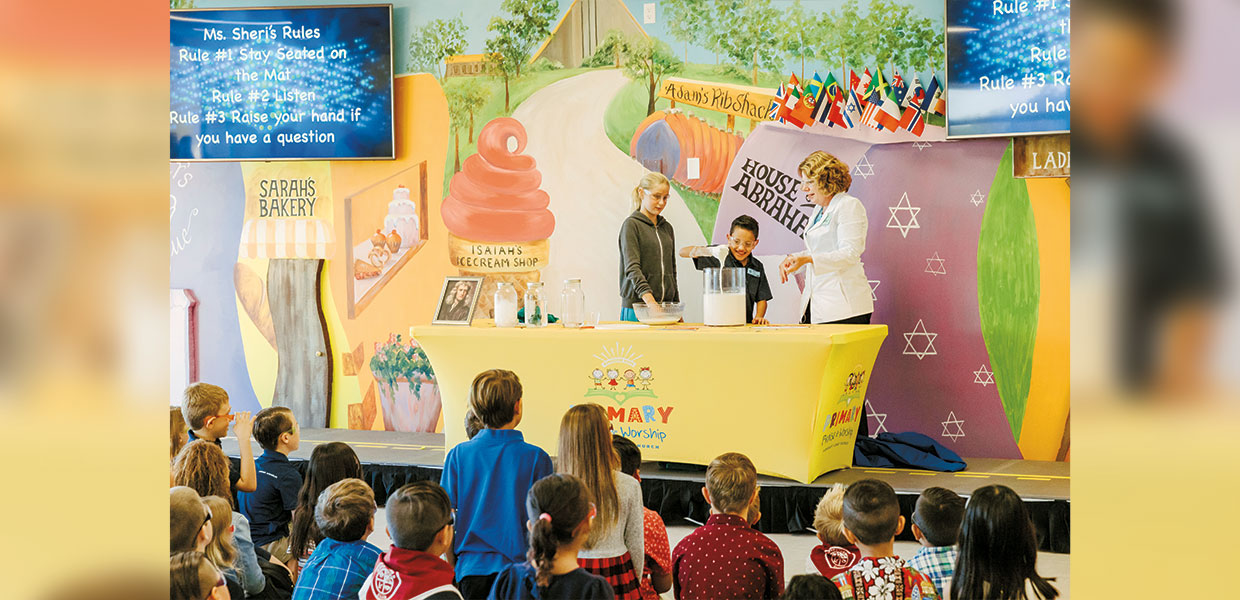 First- through fourth-graders experience Science Wonders with helpers Lindsey Ottati (left) and Adrian Prieto, and "Ms. Sherri" Bond leading the new Primary Praise and Worship room of the Children's Ministry Center at Forest Lake Church in Apopka, Fla.
Blak Walters
Primary Praise and Worship is a new dynamic program for first- through fourth-graders, under the direction of Jennifer Bergherm, at Forest Lake Church in Apopka, Fla. Part Sabbath School and part Children's Church, the children come together each week in the worship room of the new Children's Ministry Center to praise the Lord and learn more about Jesus.
Children enter the worship room transformed into "Praise and Worship Town" every Sabbath. The praise and worship music is led by teen leaders using Vacation Bible School style music. One Sabbath a month, live music is provided with camp songs with "Mr. Scott" and "Ms. Jessica," where children sing and move to summer camp-style songs surrounded by a fun camp atmosphere complete with tent and campfire props. Each month is also based on a theme, including worship, service, community, and grace.
Programs rotate from week to week:
Science with "Ms. Sherri" is a fun and engaging way to connect the children with everyday science lessons and the beautiful world the Lord has given them.
Games with "Ms. Corey" provides a fun and engaging time for children to connect and play while learning about the monthly program theme.
Mission Spotlight and Object Lessons: With Mission Spotlight, a new church/community member will come in and share with children how they served the local community or in the world mission field. This helps children to understand how they, too, can serve. Object Lessons with "Ms. Misty" further connect children with the monthly theme.
The new Children's Ministry Center has provided "a sacred place for worship, a sacred place for forgiveness, a sacred placed for growth, a sacred place for love, and a sacred place for Jesus Christ to become known to children and families as friend and Savior," says Barbara McCoy, who has worked for children's ministry/family life for more than 30 years at Forest Lake Church.
Florida | April 2020