BY Kathy Lankston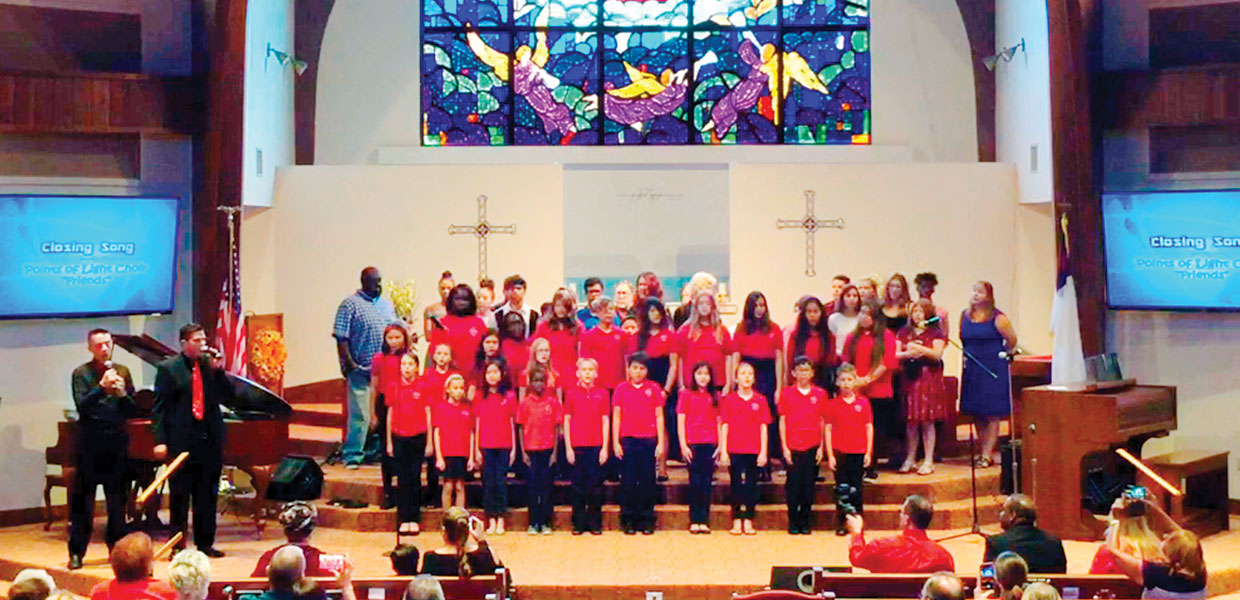 Points of Light Choir members and former students joined in singing "Friends," by Michael W. Smith. The selection featured alumni of Adventist Christian Academy: Nathan Cortes, a self-taught pianist, and Justin Rivera and Bryan Lankston singing the lead vocals.
Kathy Lankston
Adventist Christian Academy in New Port Richey, Fla., celebrated its 50th anniversary on October 27, 2018. While volunteering at the school, Marjorie Boyd, parent of two graduates and one of several founders of the school, noticed that 2018 marked the anniversary of the school. She began planning a special weekend celebration to commemorate the occasion.
The church service brought 50 years of Adventist Christian Academy students together. Graduates from as far as California returned to visit their former school and reunite with friends. The special service included a documentary of the school created by former student Bryan Lankston. Each of the school choirs performed selections for the occasion. Bryan Johnson, associate superintendent from Florida Conference, delivered the message on Christian education and its impact on youth. The service concluded with a special musical arrangement of "Friends," by Michael W. Smith, performed by the Points of Light choir and students from the past. The selection featured Nathan Cortes, a self-taught pianist and former student, as well as former graduates Justin Rivera and Bryan Lankston singing the lead vocals.
Vespers was arranged by Uplift Praise, an outreach ministry of the church. Everyone was encouraged to share memorable stories from their time at the Academy. The vesper message was presented by Jonathan Pawson, pastor.
A special festival was held at the school on the following day. Many church groups were part of the event to raise money for the school and other church ministries. At the festival, a softball tournament was organized by Mark Schiefer, obstacle courses were run, and friendly games were played. AdventHealth North Pinellas (formerly Florida Hospital North Pinellas), donated t-shirts for all students and faculty to commemorate the event.
The members of the New Port Richey Church believe that God has truly blessed the Academy with 50 years of providing Christian education. For more information on the school, or to see a documentary on the history, please visit npradventistacademy.org.
Florida | June 2019