Patrice Thomas Conwell, OUC PR/Communication Ministry leader
The child dedication service was led by Debleaire Snell (center), Oakwood University Church senior pastor and Breath of Life speaker/director.
Joseph W. Booth Jr.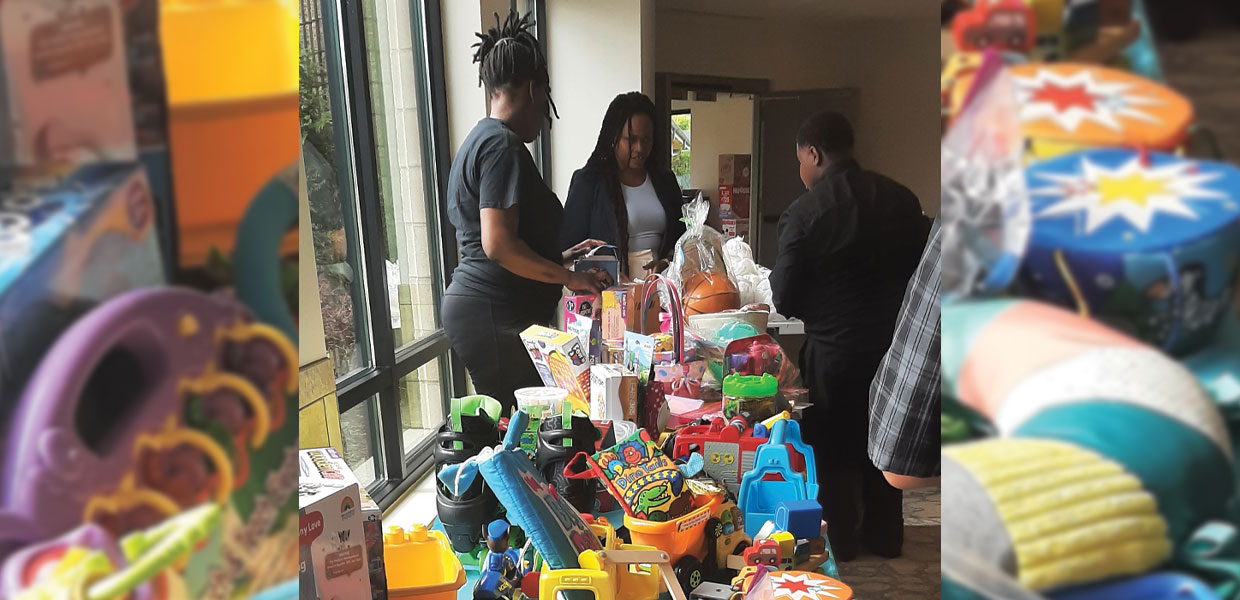 A baby shower was held where the attendees received lunch and loads of gifts.
Patrice Thomas Conwell
"This event showed me that we really do need God inside our lives," said Candice Del Gardo when reflecting on the "Community Child Dedication" event hosted in May by Oakwood University Church (OUC).
Del Gardo, who heard about the dedication from a co-worker — an OUC member — brought her 8-year-old, 5-year-old, and 3-month-old sons to be blessed. She stood onstage alongside 46 other families with children, most of whom were not OUC members.
The Community Child Dedication, a vision of Debleaire Snell, OUC senior pastor, and Kimberly Mann, youth pastor, gave families an opportunity to have their children, ages birth to 12, prayed over. After service, the church welcomed the families to a baby shower where they received lunch and loads of gifts.
"As a mother of three small children, I knew we couldn't stop at just praying over the babies," said Mann. "We needed to give tangible resources to meet the needs of the people we were inviting to our church."
Those resources included diapers, wipes, toiletries, socks, clothes, and toys piled high on tables lining both sides of a hallway. Families could load up as much as they needed, thanks to the sponsorship of Mother-to-Mother, a nonprofit organization based in Nashville, Tenn., the nonprofit Mommy Love Foundation, and donations from OUC members.
Each child also received a Bible; a certificate of dedication; an invitation from Judy Childs-Dent, principal for Oakwood Adventist Academy, to enroll at the Academy; and a $500 scholarship from Leslie N. Pollard, Ph.D., D.Min., Oakwood University president, to jumpstart their future college education.
A single mother, who flew from Florida with her three boys under age 4, marveled at the church opening its doors to her to pray over her children. Del Gardo and her 8-year-old son, Kingston, expressed a desire to return to OUC. These are the results a church hopes for from such an event.
"The Bible says children are a blessing," says Mann, "and we need to give parents the spiritual and physical tools necessary to grow their children into kingdom kids." That's what practical evangelism looks like.
South Central | October 2023