BY Ray Saladino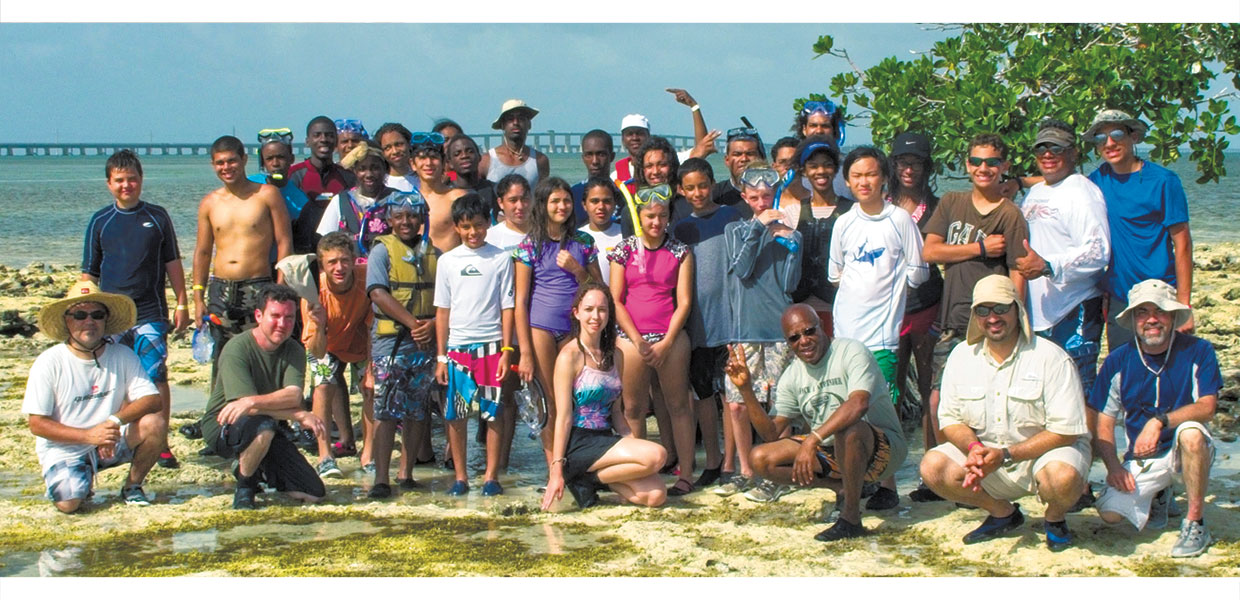 One of the longest-running Pathfinder programs in Florida Conference, Island Navigator trains young people in survival skills and meaningful relationships with each other and with Jesus.
Group photo: Ray Saladino Photo art: Aida Crescioni
Florida Conference's Island Navigator program for Pathfinders will celebrate its 30th anniversary July 21-23, 2017. A special ceremony will be held in the Florida Keys on Sabbath for guests and former participants who wish to honor the long run of this ministry.
The inception of this program began when a special group of visionary Pathfinder leaders, Howard "Howie" Baez, Fred Perlee Sr., Jose "Joe" Rivera, Benny Tillman, and Jeanne Wolfe, explored possible locations for a Teen Challenge under the Pathfinder umbrella. This program encouraged a long-lasting and meaningful relationship with Jesus, and trained young people in survival skills for end-time events.
The Saladino family of Marathon, Fla., was contacted to take these leaders by boat to Molasses Key.
"I drove the group in our boat to the island for a weekend of camping and exploring," says Ray Saladino. "Although raised in the Church, I wasn't an active member at that time. Little did I know that God was going to use this new adventure to reach me. Through a growing friendship with Joe Rivera, I found a new interest in following God, became an active church member, and got involved in helping youth through the Pathfinder program. Several years later, I became director of the program, now called Island Navigator, which used Molasses Key to navigate Pathfinders to a relationship with God through nature."
Under the current leadership of Calvin Brooks, the program continues as one of the longest running in Florida Conference Pathfinders. It is their hope that, with God's leading, this program will continue for another 30-plus years or until Jesus comes again.
You are welcome to join Island Navigator on Sabbath, July 22, to celebrate God's mighty, working power. Please RSVP to path.adv@floridaconference.com if you wish to attend this special ceremony.
Florida | June 2017