BY Jorge Pinto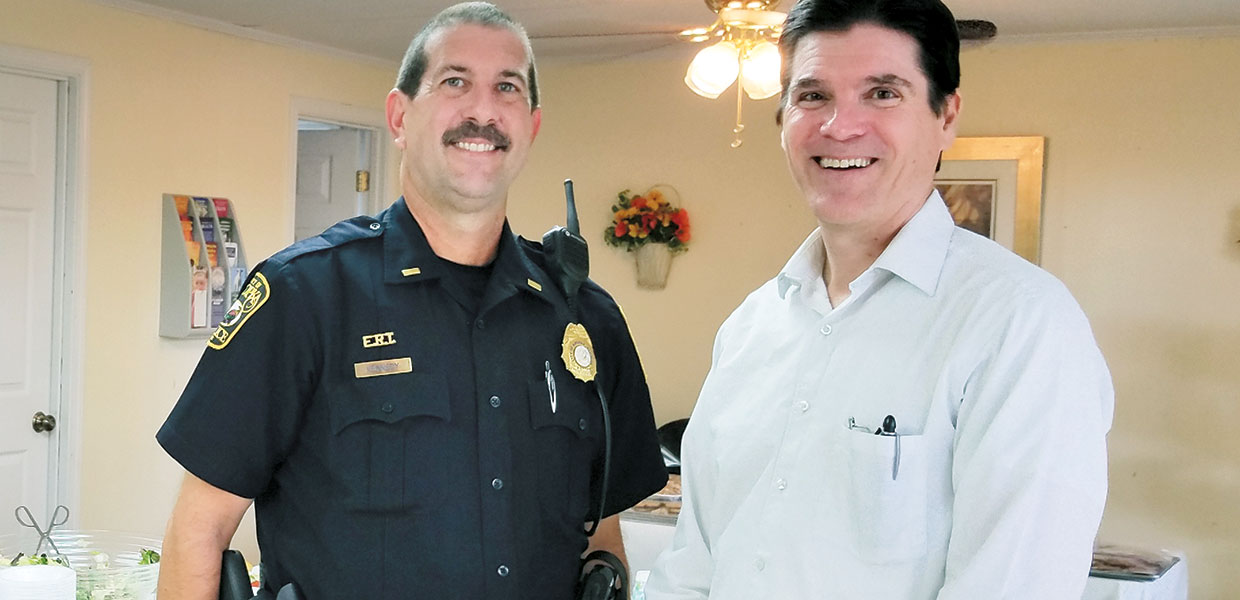 Apopka Police Officer Brian Kennedy (left) explained to Plymouth-Sorrento Pastor Ron Hoffecker that "it was an extremely busy day," making the officers even more appreciative of church members' willingness to go the second mile to get a hot, homemade meal to them.
Jorge Pinto
Members of Plymouth-Sorrento Church in Apopka, Fla., welcomed local police officers to a special Italian dinner to show appreciation and support for the commitment these individuals have made to the community.
The dinner came as a result of a Sabbath School class becoming inspired by third-quarter lessons on "The Role of the Church in the Community." A former policeman suggested that a dinner be planned to honor the police department.
With a desire to care for and minister to their local department, Plymouth-Sorrento members extended an invitation to the Apopka police. They also invited police who were family members, friends, and neighbors.
Chef Eddie Garcia, church member, prepared an Italian meal for 15 officers at the church. Another 15 officers were unable to attend the dinner, so dinner was provided for them at police headquarters in Apopka. Ron Hoffecker, pastor, assisted where needed, and the members made dozens of cookies and brownies to share and help facilitate the program. Each officer received a survival kit which included candies and a small devotional book.
The officers enjoyed meeting and interacting with Kyle Becker, one of the city commissioners who attended the dinner. When originally asked by Garcia to attend, Becker replied, "I would love to come."
"This is good for us," one of the officers was heard to say at the close of the meal. "We really like this."
Florida | March 2017