Laura Dancek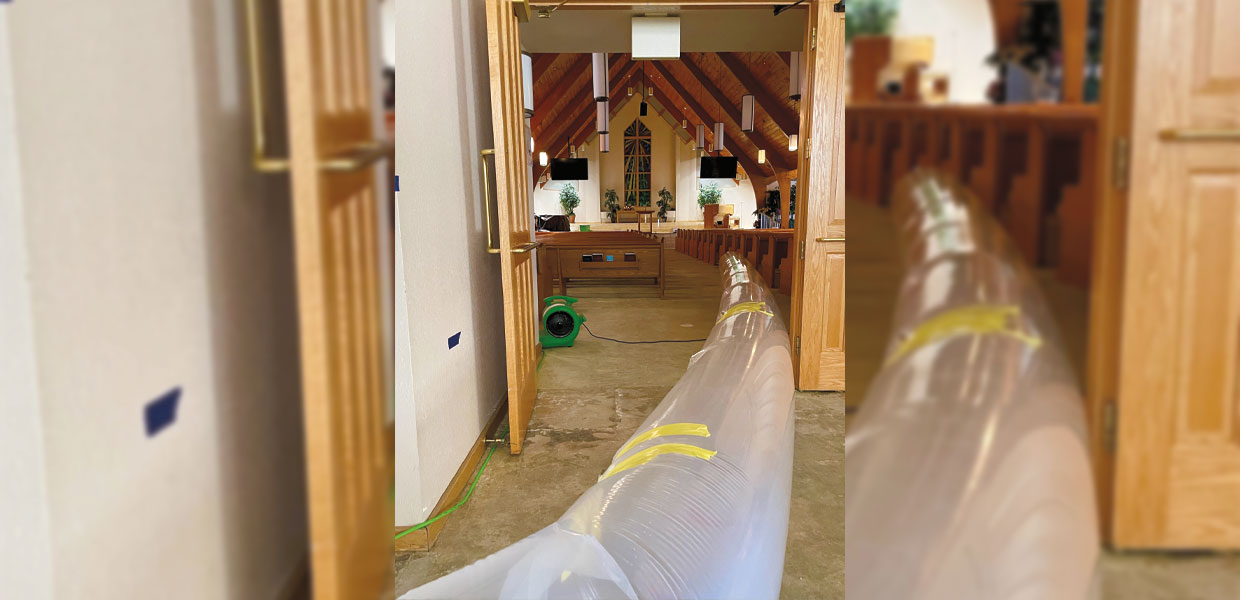 Port Charlotte's beautiful sanctuary is recovering from 12 inches of water.
Laura Dancek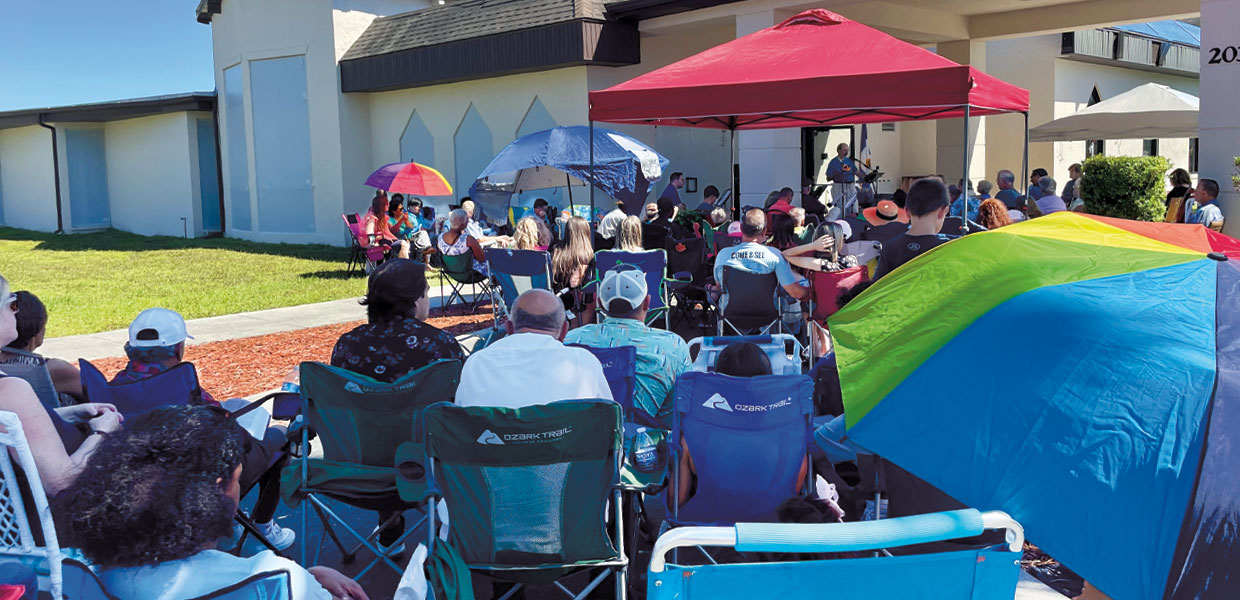 Church members gathered for an outdoor Sabbath service to praise the Lord 10 days after Hurricane Ian brought devastation.
Laura Dancek
Port Charlotte Praises God
in the Eye of a Hurricane
Hurricane Ian, which ravaged Florida on September 28, devastated much of Charlotte County and significantly impacted Port Charlotte Church, school, and members' homes. The entire church campus was already badly in need of new roofs, which were slated to be installed prior to the hurricane but repeatedly delayed.
Most church members hunkered down bracing for Category 4 winds and flooding, while Diane Sedgwick, church board chair and head elder, stayed at the church to make it available to members who needed shelter. With roofs already in poor condition, the hurricane forced the reported 12 inches of rain to pour down into the sanctuary, as well as into most spaces of the church. In addition to the church, school, and community service buildings, nearly all members suffered damage to homes, with some losing homes entirely.
Sedgwick knew it was God who led a ServPro manager to the church office the day after the storm to put the church first on a list for assistance. More than 60 workers began getting the church dried out — an undertaking that lasted a month.
The most important news was no loss of life within the church family. Members met outdoors for a Sabbath service 10 days after the disaster. Harry Selent shared how an adult daughter was providentially not at home when two-by-fours from the barn roof became projectile missiles, piercing house walls, and with one going right across the daughter's bed.
Two weeks later, Ben Shurtliff, the new senior pastor, was welcomed. God's hand was evident in the timing of this relocation. Had the Shurtliffs already moved before Ian, the impact of the storm would have hindered the ability of the family to provide the help and support that benefitted the members and community.
The Lord turned external circumstances into blessings. Nothing is a total loss because of all the good that comes from a storm, including the shared experience which was unifying to the church and community. "And we know that all things work together for good to those who love God, to those who are the called according to His purpose," Romans 8:28 NIRV.
Florida | January 2023