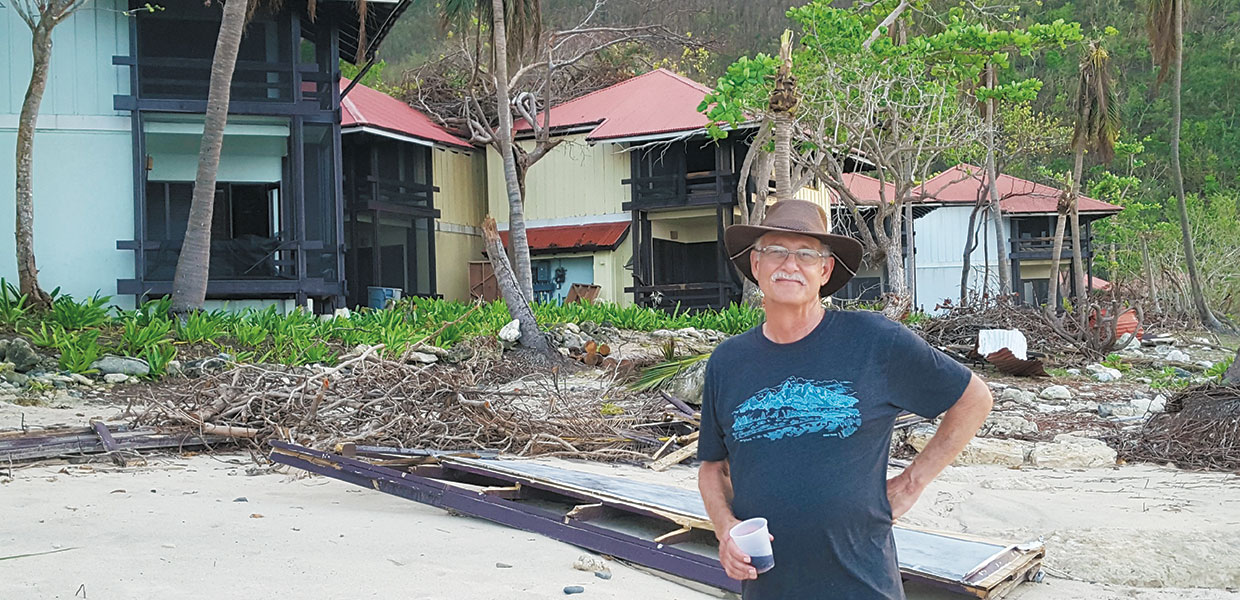 Richard Edward Bradley is pictured in front of devastation from Hurricanes Irma and Maria in St. Croix, Virgin Islands.
Connie Bradley
Richard (Rich) Edward Bradley, 64, passed away suddenly on October 15, 2017, while working for FEMA to help victims of Hurricanes Irma and Maria in St. Croix, Virgin Islands.
In 1982 he attended an evangelistic meeting held at the Marathon, Fla., Church by Louis Torres, pastor, and was baptized by Eugene Torres, pastor. Bradley got involved with youth and became the Pathfinder director after moving to central Florida and attending Windermere Church.
He assisted youth ministries with clean-up from Hurricane Andrew in Miami, Fla., and he was honored by Florida Pathfinders for outstanding service during the February 1998 tornadoes. He also assisted the Adventist Community Services Disaster Response team.
Bradley became area Pathfinder coordinator for central Florida, where he planned and assisted with many local and state camporees. While attending the 2004 International Pathfinder Camporee in Oshkosh, Wis., he was called to the Florida Emergency Operations Center in Tallahassee, Fla., to assist with the disaster from Hurricane Charlie. He also managed donated goods for Hurricanes Frances, Jean, and Ivan.
In January 2005 he was transferred to the FEMA joint field office in Orlando, Fla., and from there, he was hired by FEMA as a volunteer liaison coordinator. He received awards of appreciation from state and federal levels for many disasters in which he responded.
While others were trying to get out of devastated St. Croix in the aftermath of hurricanes Irma and Maria, Bradley was going to the island. He worked with Governor Mapp's staff to finalize efforts to open a warehousing space for donated goods from all over the world.
"Mr. Bradley was a very dedicated public servant who cared deeply about his work," said Governor Mapp. "He continued to share his passion helping disaster survivors recover throughout his years of service."
"Rich never wanted credit for what he did," said William Vogel, FEMA coordinating officer for the Virgin Islands. "He worked tirelessly to help those in need."
Bradley also connected with ADRA and the conference office on the island. On his last Sabbath, he gave a testimony of the God he served and loved at the local Adventist church.
He is survived by his wife of 18 years, Connie; one son, Nathan of Clermont, Fla.; two stepdaughters, Amber (David) Mead-Dye of Miami, and Heather Mead of Gotha, Fla.; and two sisters, Arlene (Matt) Fisher of San Antonio, Tex., and Susan (Ronnie Power) Bradley of Elm Grove, La.
A celebration of life conducted by Erskin Bell, Ph.D., at Forest Lake Church in Apopka, Fla., may be viewed at vimeo.com/241254534.
Florida | January 2018