BY Betty Kossick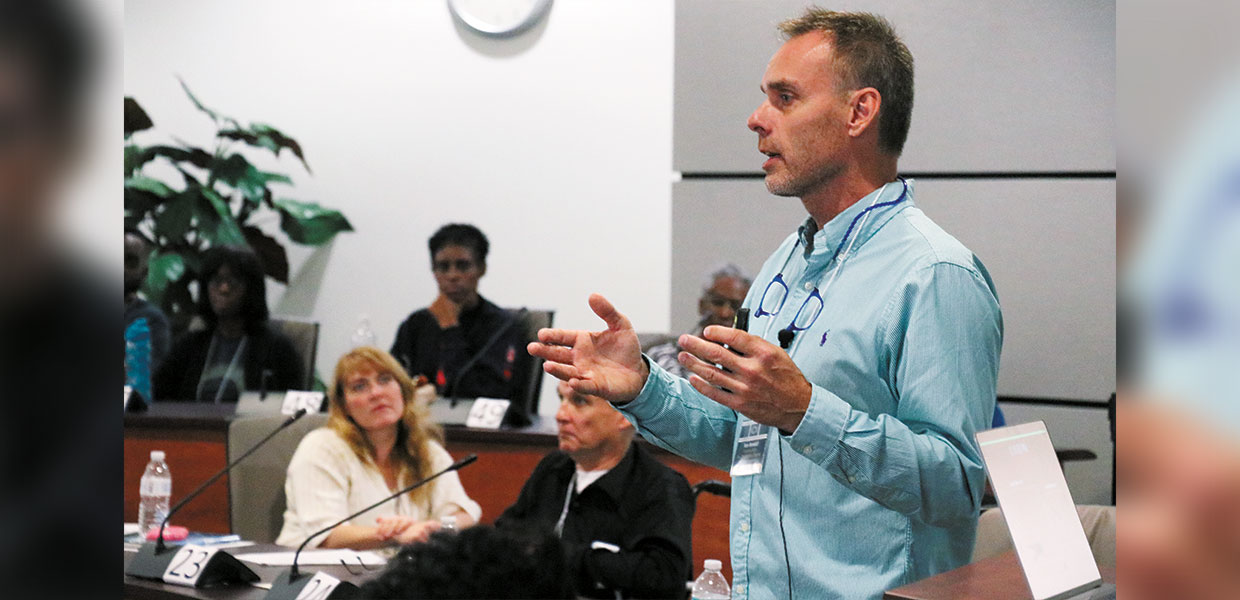 Terry Benedict, award-winning Adventist filmmaker/producer, was the featured speaker at SONscreen | Ignite, sponsored by the Florida Conference Communication Department.
Martin Butler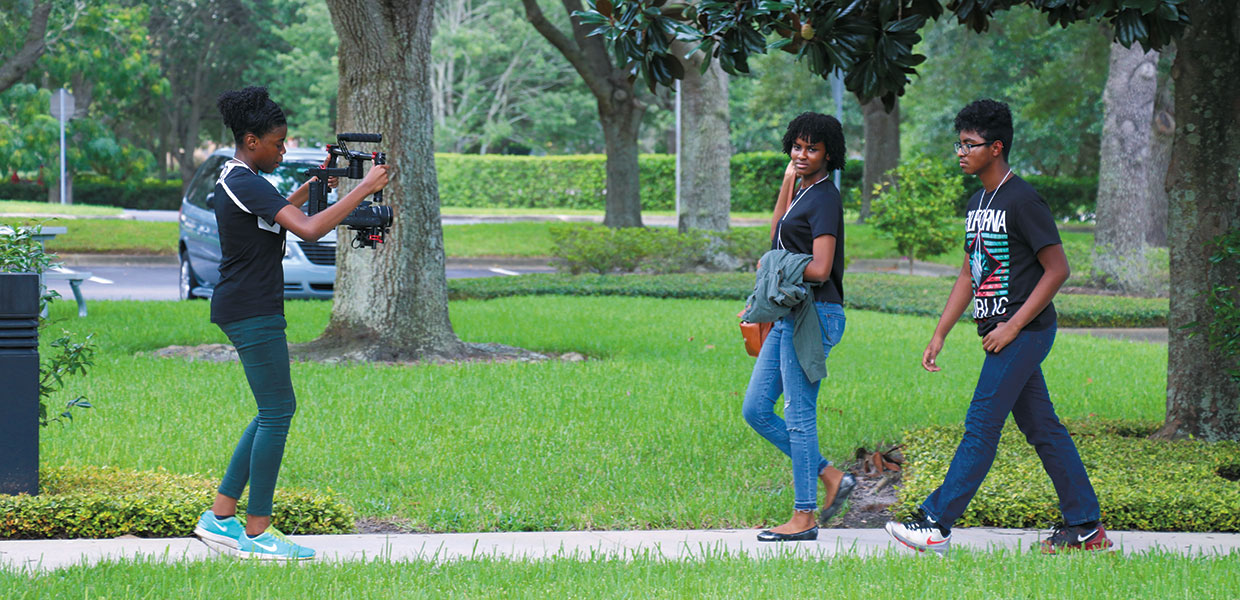 Attendees from Plantation Church film a scene during the Mini-movie Challenge. The team won the Challenge's Best Movie award.
Lee Bennett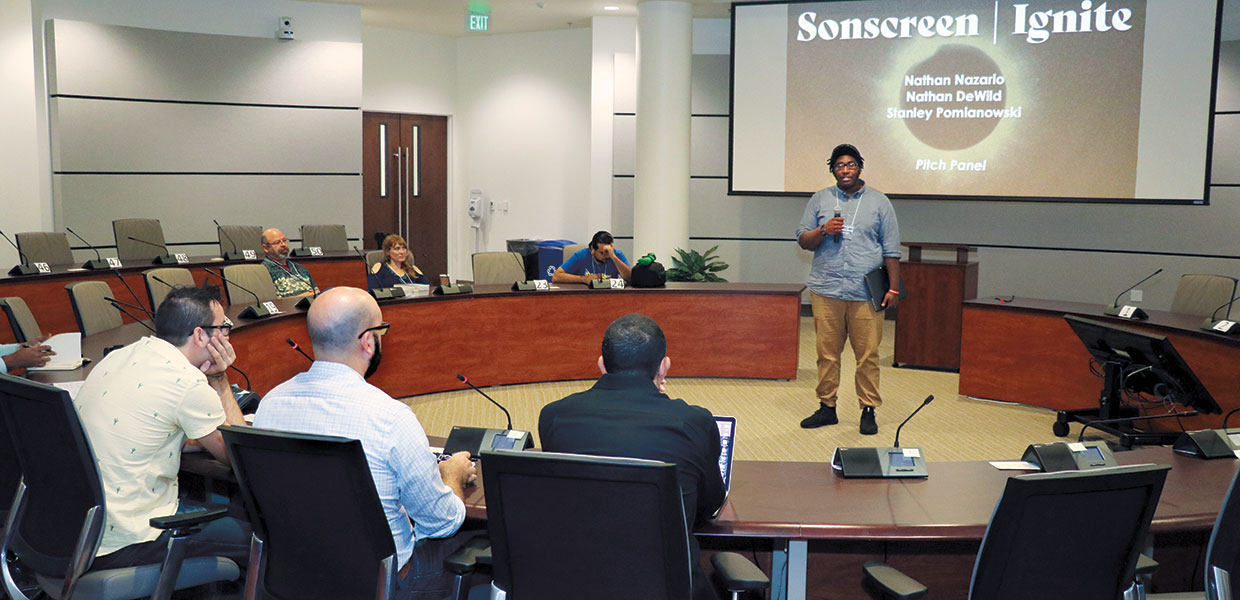 Justin McLaughlin won the Best Pitch award following his presentation in the SONscreen | Ignite pitch panel.
Lee Bennett
The SONscreen | Ignite film workshop was hosted July 29-30, 2017, for the third consecutive year by the Florida Conference Communication Department at the Altamonte Springs, Fla., headquarters.
The featured speaker was Terry Benedict, the Seventh-day Adventist award-winning filmmaker/producer of Hacksaw Ridge, producer/director of The Conscientious Objector, and founder/CEO of The Shae Foundation. Benedict's Christian enthusiasm to serve others was infusing. He spotlighted Genesis 2:19, when God asked Adam to name the animals, as the first work of man's creation. "Man was made in His image," Benedict reminded. "Learning to create is a part of that image, like a prism reflecting God," he noted, while describing faith-based filmmaking as "art with accountability."
Benedict stressed the importance of mining emotion to tell a story. Films, especially those about social issues, are outstanding examples of the call of Christians to serve the need of humanity with stories that stir the human soul. "There is a need for filmmakers of faith," Benedict encouraged, "to get involved in causes that make a change with positive impact."
A screening of the conscious-pricking film, Freedom, displayed the outstanding creativity of upcoming teenage filmmakers from Plantation, Fla., Church, along with Collin Williams, their seasoned mentor and owner of Studio 1080.
Eager to learn how stories are transformed into film, authors Terri McEndree, Jane Allen Quevedo, and Sperantza Adriana Pasos pitched their books with story lines ranging from a seemingly impossible dream to become a physician, to Félix Millán becoming an All-Star Major League baseball player and Seventh-day Adventist, to the personal story of intrigue and harrowing escape of a mother and her teenage daughter from the Romanian KGB.
Nathan DeWild, freelance producer, and Nathan Nazario, Motion Picture Pro Studios, joined Benedict to serve as evaluators, suggesting ideas to pull the emotion from these published books to the movie screen.
Workshops on Sunday morning provided many facets of filmmaking:
Nathan Nazario, Motion Picture Pro Studios, addressed the marketing side of the filmmaker's role.
Nathan DeWild, freelance producer, gave a presentation on how to make professional-looking videos on a low budget, and how to craft stories that give videos a purpose and meaning.
Lynda Stein, actress/model, explained what brings acting, directing, and good writing together to make top-notch films.
Stanley Pomianowski, owner of OrlandoFilmmaker.com, taught systems he uses to make powerful testimonial videos.
Collin Williams, Studio 1080, discussed how to start a successful film ministry.
The short film Without Expectation, written and produced during the weekend's mini-movie challenge, received top recognition in the winner's circle of hands-on projects completed by attendee teams. Workshop participants also had the opportunity to pitch their film project ideas, with Justin McLaughlin receiving the Best Pitch award from the pitch panel.
Steven Norman, Southern Union Conference communication director, who attended the workshop with his associate, Nathan Zinner, related, "I am extremely proud of the SONscreen | Ignite program planned by Martin Butler and his able team. The valuable insights from stellar speakers and practical workshops gave uncommon value to the weekend. We left informed and equipped."
Adventist filmmakers literally minister to the world by creating stories that make a difference — stories that find seed in the greatest ministry ever served — the Jesus story. The 2017 workshop is an example of creative talent forging with their art to tell the story of Jesus, the One who told relatable parables to reach into hearts and change lives.
Florida | October 2017