BY Zachary Boyd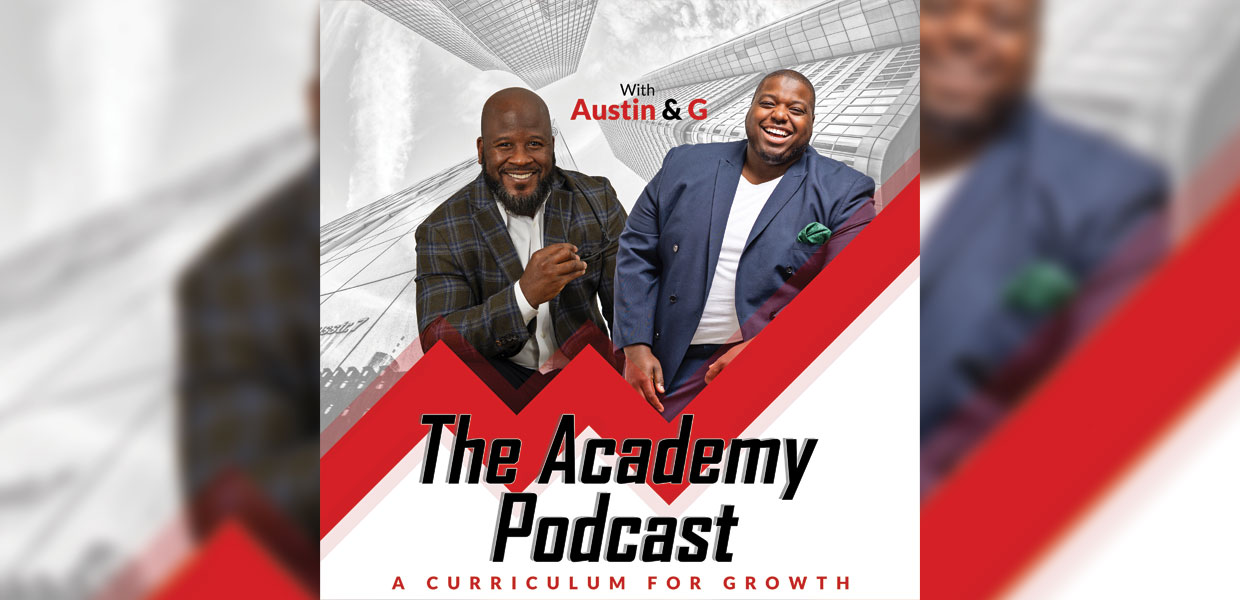 Pastors Austin Humphreys (right) and Kaggia Scott discussed the role of faith in surviving COVID-19, and other challenges with L'Tonya Jackson, a COVID-19 survivor, on The Academy Podcast.
L'Tonya Jackson, a COVID-19 survivor, was interviewed by the leaders of The Academy Podcast.
The novel coronavirus has shut down many ministries and given birth to others. One new ministry is The Academy Podcast with Austin & G.
The Academy Podcast was created by Austin Humphreys and Kaggia Scott, who pastor churches in North Carolina.
They have used The Academy Podcast to allow many people to share their success stories. The list includes gospel singers Virtue; James Doggette, D.Min.; Carlton Byrd, D.Min.; Freddie Russell; Brenda Bellingy; Gianna Snell, and others. Each of these guests has shared insights, tools, and perspectives on Christian success that have been a blessing to viewers.
On episode four, Austin & G discussed COVID-19, divorce, and single-parenting with L'Tonya Jackson, who has survived a 17-day solitary bout with COVID-19, thrives after divorce, and is successfully single-parenting college-aged children Niya and Noah. Jackson works at UPS. During her 33-year career with UPS she has worked her way up from loading and driving trucks to management positions in human resources and sales. She is also a chaplain at UNC-Rex Hospital. During the interview, Jackson shared several takeaways with listeners to Austin & G.
One: "Do I Crumble?"
This is the question Jackson asked after her divorce. She decided that the loss of a spouse, income, and career adjustments do not define her. "When you are now solely responsible for the lives of your children, then ages 7 and 3, crumbling is not an option. You kick into survival mode and a strong prayer life." She would trust God.
Two: Deciding How to Process Life Challenges
After Jackson was tested for COVID-19, she says, "I immediately self-quarantined in one room so my children would have the rest of the house." She prayed, hoped, and waited 10 days for her test results. Once test results confirmed she had COVID-19, she thought, "I know that all things work together for good, but where is the good in this?" She also wondered, "How do I process this and move forward?" After prayer and reflection, her mental process led her to two choices: "I am going to either get delivered and have a testimony, or I have a short window to get right so I can be saved." When God healed her, she immediately posted a praise report on her Facebook page.
Three: Hope for Those Affected by COVID-19
Families of COVID-19 patients can remember, "God is in control. God is with them. The hospital staff is there. You may feel they are alone, but God is with them. Families want to be with them, but sometimes the noise of family prevents their loved one from talking with God. This period is a window of time they can talk with God and prepare. Many who died of COVID-19 probably used that window of time to make things right and are saved."
To COVID-19 survivors, Jackson says, "God has spared you for another chance. Use it for His glory."
Seeing how Jackson has survived many things the enemy has thrown at her, Humphreys exclaimed, "You are a survivor!"
The Academy Podcast with Austin & G is available on iTunes, YouTube, and Facebook. In just a short time, they have more than 500 subscribers, and hundreds of people have been encouraged through their weekly podcast.
Through The Academy Podcast, Humphreys and Scott have shown that even though you can't physically be inside of a church building, you can still bring a message of hope and inspiration to others through the power of social media.
South Atlantic | October 2020