BY Claude Hardcastle II
Flames devoured the Windermere Church's 20-year-old mortgage on December 10, 2016.
Richard Smith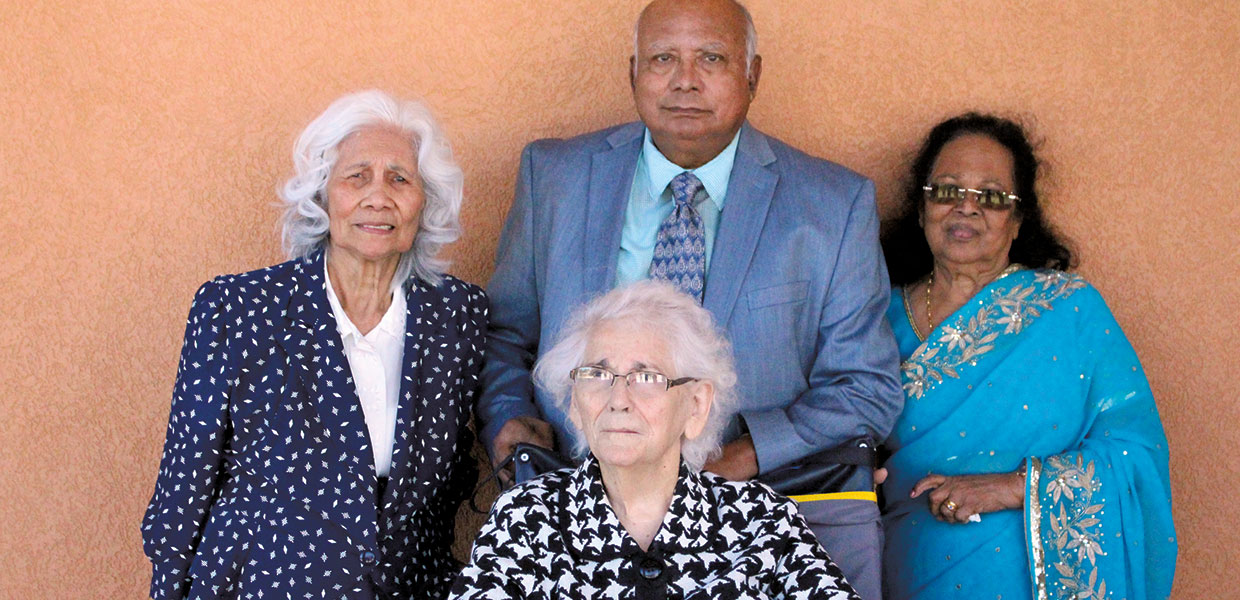 Longtime members celebrate their church's milestones (clockwise from left): Espie Lops, Promod and Dorothy Gayen, and Anna Lee Gilliam.
Richard Smith
Windermere Church's pastoral family led the children's story on mortgage-burning Sabbath: Pastor Claude and Martina Hardcastle II and their children, Benjahmin, Sabriyyah, and Joshua.
The Windermere, Fla., Church celebrated two milestones on December 9 and 10, 2016: the last mortgage payment and the 20th anniversary of the church at this location.
The Sabbath morning guest speaker, Tim Nichols, Florida Conference vice president for pastoral ministries, delivered a sermon with an emphasis on Matthew 16:13-18, which reminded the believers that "the gates of hell shall not prevail against [the church which Christ has built]."
Kathy Deering, Florida Conference property development director; and three of Windermere's long-time members, Espie Lops, Anna Lee Gilliam, and Promod Gayen, helped set the mortgage ablaze. The prayer of dedication was given by Tim Goff, pastoral ministries field associate.
Claude Hardcastle was installed as Windermere's seventh pastor on August 20, 2016, and he immediately met with leadership in order to visualize the church's trajectory. "Windermere is a warm and friendly church with a rich history, says Hardcastle. "Achieving this milestone of burning the mortgage is one of the most significant things in recent history."
Originally, the congregation formed a church in Winter Garden. In the 1990s members decided to relocate and found the current property with 5.72 acres for $453,600 in Windermere. Construction included a school which opened on January 8, 1996. On May 11 that year, the first church service was held in the new sanctuary.
Hardcastle expressed gratitude to former leadership of the church, and the faithful giving of each member and supporter. He also emphasized that it couldn't have been done without the vision of the treasurer and treasury team. "I give thanks," says Hardcastle, "for the best is yet to come."
Florida | April 2017