rosia A. parker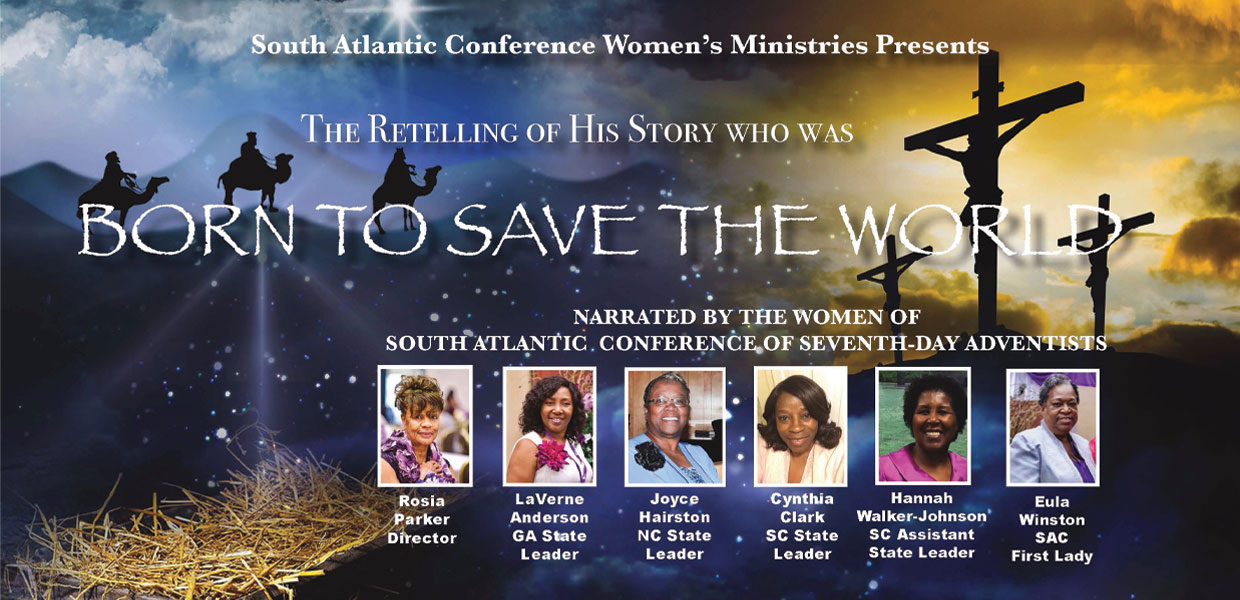 Born to Save the World" is the story of the celebration of the advent of the Lord. The women of the South Atlantic Conference under the direction and production of Patricia Campbell, blessed thousands in a virtual production, as they experienced the story, music, dance, and the retelling of the night that Christ was born.
Eula Winston, South Atlantic Conference's first lady, opened with a heart-warming welcome and also offered closing prayer. Praise and worship was provided by Lolo Harris, singing evangelist. Many were blessed by an inspirational musical selection by Kenesha Ryce, violinist, with Canon in D. Sarah Grant, flutist, blessed many as she provided the Spirit-filled ambience for the production with her rendition of "Mary, Did You Know."
Serving as narrators were Rosia Parker, Conference women's ministries director; Hannah Walker-Johnson, South Carolina assistant women's ministries leader; and state women's leaders P. LaVerne Anderson for Georgia, Joyce Hairston for North Carolina, and Cynthia Clark for South Carolina.
Traditional Christmas carols were sung by Lolo Harris to begin the Cantata. Viewers enjoyed the score which was created specifically for the show by Jonathan Curry. The Godhead was represented by William Green Jr., pastor, as The Father, Carl Brown as The Son, and Luther Rowland as The Holy Spirit. April Watling Smith, Conference women's millennium leader, as Mary, mesmerized the audience by singing "Be Born in Me." Kevin Sampson provided a stellar performance with "Joseph's Lullaby," with baby Jesus, Christian Brevett, in his arms.
The Angel, which heralded the glad tidings of joy, was played by Sonya Floyd, with shepherds Keynayoka Benton, Eric Cook, David Jeter, Colin Lloyd, Leon Wesley, and Ferris Riggins.
The Three Kings, portrayed by Avrey Anderson, pastor, Gregory Clemons, and Eddie Parker, followed the star and arrived from the East to bring gold, frankincense, and myrrh to present to King Jesus. Additionally, Herod was played by John Hathaway.
To welcome Jesus, dancers from both Atlanta Maranatha and New Jerusalem churches, clad in white, provided a breath-taking performance of "O Come, O Come Immanuel."
The sacrifice of Jesus "Who was Born to Save the World" was the most dramatic aspect of the show as three tenors, Gregory Clemons, Henry West Cantrell III, and William Luby III, provided a harmonious rendition of "We Three Kings."
The original Women's Voices Virtual Choir performed, with an assortment of soloists from all three South Atlantic states: Sopranos – Valerie Best, Prentiss Henry, L'Tonya Jackson, Shirley McClendon, April Smith, and Celeste Thompson; Altos – P. LaVerne Anderson, Charlotte Dunlap, Teresa Hairston, Hannah Nelms, Tresa Norwood, and Shona Robinson; Tenors – Idella Miller, Shayla Parker, Kathy Parks, and Audrey Hogan, ended the show by singing "Handel's Messiah Soulful Celebration." Earlier they sang "Angels We Have Heard on High," both under the direction of maestro Gregory Clemons. The virtual choir parts were mastered by musical engineer Haldane Henry.
Assistant producer, videographer, assistant videographer, sound technician, costumes, and stagehands were William Floyd Jr., Cornell Gayle, Kevin Sampson, Miykal Curry, Allison Hathaway, Serena Benton, Diane Hackney, and Eddie Parker.
Script for the show was taken from the Gospels and The Desire of Ages by Ellen G. White. The premier showing was on Christmas Eve.
South Atlantic | May 2021