BY Valynda Bailey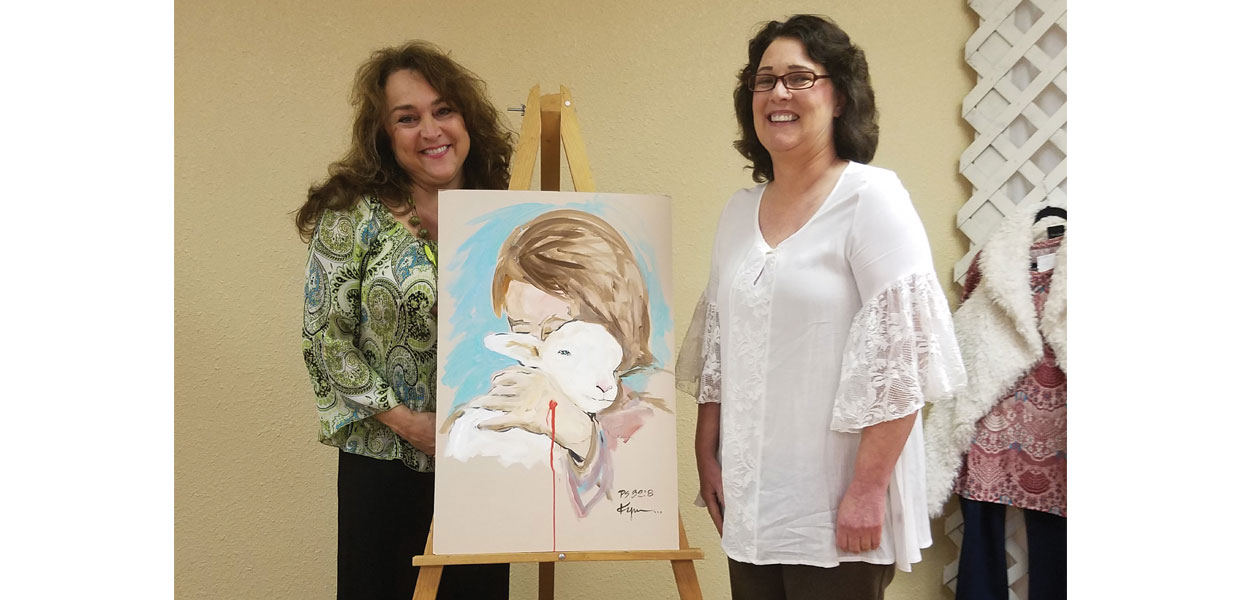 Guest speaker Kym Garroway (left) stands with the winner of the drawing made by Sheri Keith.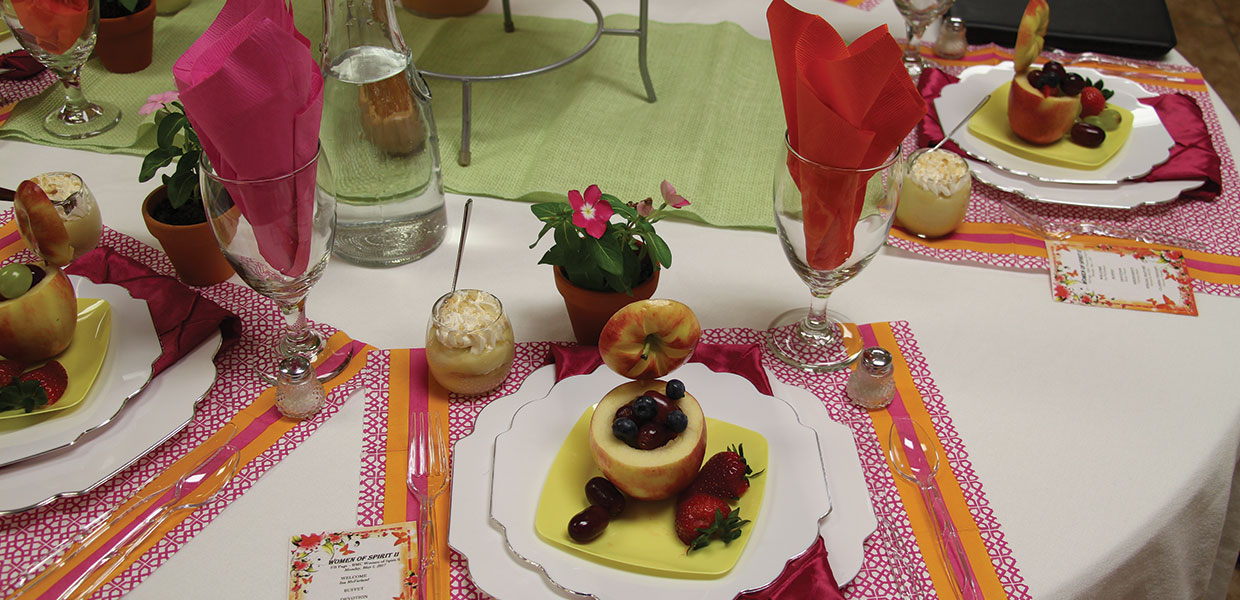 The women enjoyed a delectable spring tea party spread.
Women of Spirit II is a program for all women, 18-108, with a variety of programs to touch a woman's heart socially, emotionally, and spiritually. The women meet the first Monday of October through December, February, April, and May, from 6:30 to 8:30 p.m., in the Bass Memorial Academy Church Fellowship Hall, Lumberton, Miss. Each program starts with a beautifully decorated room to make the women feel special as they enter: a delicious buffet is served, as well as an inspirational devotion, a special feature, and a take-home favor to remember the evening. And on occasion, a small "serendipity" might be included.
Special features have included speakers from all walks of life. One was a local artist who shared her story; she also drew a picture of Jesus to the music "It is Well with My Soul," and then a drawing was held to select one woman who was blessed to go home with the beautiful portrait. Two outreach programs were held in December to help those in need for a better Christmas. A musical program was planned by Christian women and men from all denominations.
One of the serendipity highlights was at Christmas when two elementary students (Lizzie and Louise Ramos) sang "Away in a Manger," with a two-month-old baby Joseph whose family is currently studying God's Word with some church members. It brought tears of joy and happiness to see the realistic remembrance of the Savior's birth before their eyes, something so precious that happened long ago. They continued with three more stages of Jesus' life — as a young toddler portrayed by 11-month-old Josie Shives, a four-year-old boy, and then an eight-year-old boy playing with his dad and reading Scriptures to imagine what Jesus and Joseph might have done.
One of the special feature highlights was in April. Nancy Buxton, women's ministries leader from the Mid-America Union, came to speak to the women about "Silver Boxes — The Gift of Encouraging Words." 1 Thessalonians says, "Encourage one another …" All around are people who need encouragement, people who are hurt and need help. She shared how to become an encourager, making others feel special, and challenged the women to be the best that they can be while sharing the gift of encouragement.
Prior to the April program, the women were informed about a Bass Church member, who no longer lives in the area but still fairly close by, whose house had burned to the ground and they had lost everything. The Women of Spirit II team worked together and raised money. One of the women invited the member to come, and they were able to present her with a "silver box" of $500. Jimmy Brazell Jr., pastor of the Hattiesburg/Columbia district, added additional money with their love offerings. Her heart was touched by the Bass family reaching out to her.
In May, the women wrapped up their second full year of this ministry, and their stories have been amazing.
The women recognize that they are not the same, and it's not an easy job to minister to a diverse group. This has provided a great place to meet other women and also to invite friends, neighbors, and co-workers. There is no charge, but they do ask for reservations, and donations are gladly accepted.
When the women leave after the program, the mission and goal is that their hearts have been blessed.
Gulf States | June 2017