by jennifer audette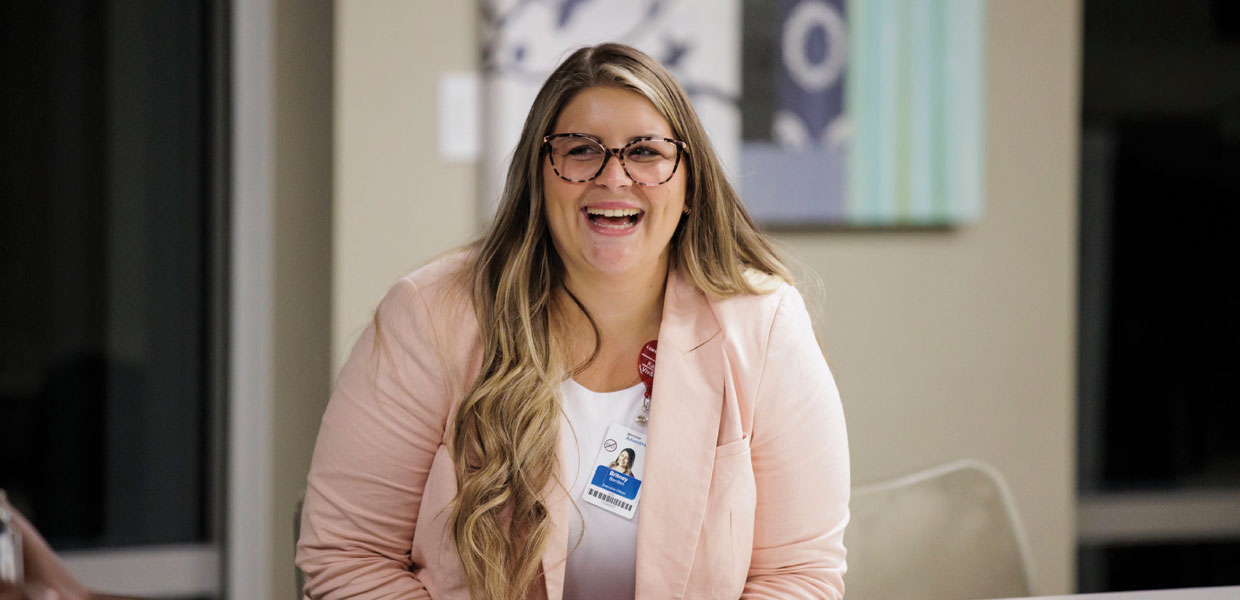 Britney Benitez
Scott Audette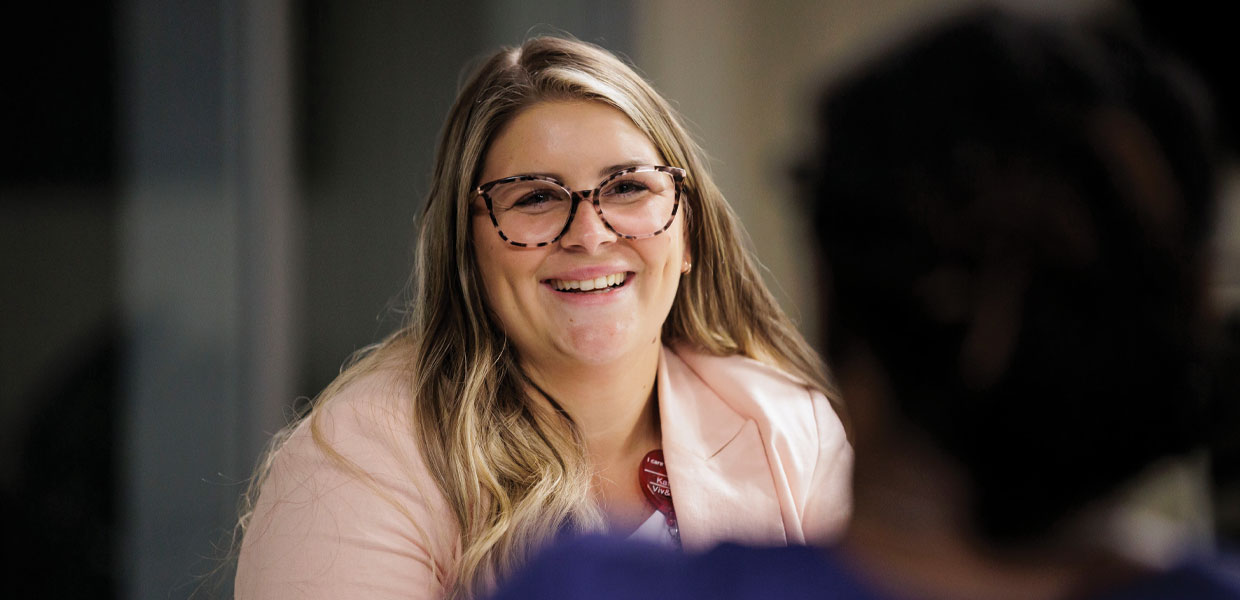 Scott Audette

AHU Alumni Profile: Britney Benitez
I don't mind being a float nurse, but there are some floors that I just am not comfortable serving on," the first-year nurse said honestly during one of two New Nurse Coffee Chats offered monthly at AdventHealth Orlando.
The nurse was amid a judgment-free zone, a safe space for nurses to share their fears, ideas, and concerns. This New Nurse Coffee Chat is the brainchild of Britney Benitez, AdventHealth Orlando chief nursing officer (CNO), who wanted to create a place where first-year nurses could be heard and receive support at the crucial beginning of their careers.
Benitez knows the importance of those early days. After all, her time as a fresh nursing school graduate at AdventHealth University (AHU) wasn't terribly long ago.
"I come from a family of nurses and was born into caregiving," said Benitez, whose father, grandmother, and great- grandmother were nurses. "My grandmother was a director in a long-term care facility. It was incredible for me to watch her with patients. She was genuinely excited to go take care of other people."
A patient care tech during high school in Orlando, Benitez found her way to AHU's nursing program and felt immediately comfortable.
"I fell in love with our mission and culture," said Benitez, who graduated with a bachelor's degree in nursing in 2013. "The philosophy of wholistic care met my personal goals and values."
AHU helped her thrive in other ways as well. "I loved that many of my classmates were working alongside me or were with the organization. I was surrounded by people, both professionally and academically, who were invested in both my education and my career."
She spent several years working as an intensive care unit nurse. Because of her passion for people, Benitez, who is 37 years old and a mother of four, soon found herself drawn to nursing leadership roles: "I like to see people thrive."
Newly named as CNO of one of the largest hospitals in the region, her role may have changed, but her mission has not. She is still helping people, but the recipients of her patience, compassion, and talent are fellow nurses rather than patients.
A pragmatic problem solver and a compassionate listener, Benitez's leadership is welcomed and needed. When speaking to the first-year nurse, also a graduate of AHU, who had expressed some discomfort, she shared, "We can bring that idea up to our nursing team and see how to make it work."
"We need leaders who can support, lead, and guide. It's about mentoring and developing. I'm really excited about sitting down and breaking down barriers. I want to build new nurses into confident caregivers, and empower younger nurses to become the best professional versions of themselves."
Does Benitez miss patient care? Absolutely.
"I love the clinical aspect. I miss seeing someone get better and feel better."
She keeps her hand in patient care by making rounds on the floors and talking with patients. "I can keep that connection, and I can keep that purpose of why I became a nurse."
This is a critical time for the nursing profession, faced with nursing shortages as the elderly population booms and is confronted with the need for a better support system for nurses throughout the U.S. "The nursing profession is highly technical and highly clinical, and then you add in uncommon compassion. The work takes a heavy toll on a nurse. It all weighs on their hearts."
The uncertainty, rapid changes, huge death rates, and long hours were taxing on nurses during the pandemic. "Nurses responded to a calling. They stood up to every fight that COVID brought, but that comes with a cost."
She thought for a second. "I have never been prouder to be a nurse."
"The pandemic pushed health care leaders to reimagine nursing and caregiving," Benitez said. "We have to look at health care differently. The pandemic taught us to be more agile. It also brought to light the need for innovations like telehealth and hospital at home. Now, we need to utilize that spirit of innovation as we move forward in taking care of patients and their families."
Bachelor's Degree for Nurses
AHU encourages all those interested in health care to explore a career pathway as a registered nurse. AHU's RN-to-BSN program is completely online and can be completed in as little as one year. Discover how AHU's Online Bachelor of Science in Nursing program can provide the skills needed for a rewarding career as a nurse today.
AdventHealth University | April 2023