BY Lucas L. Johnson II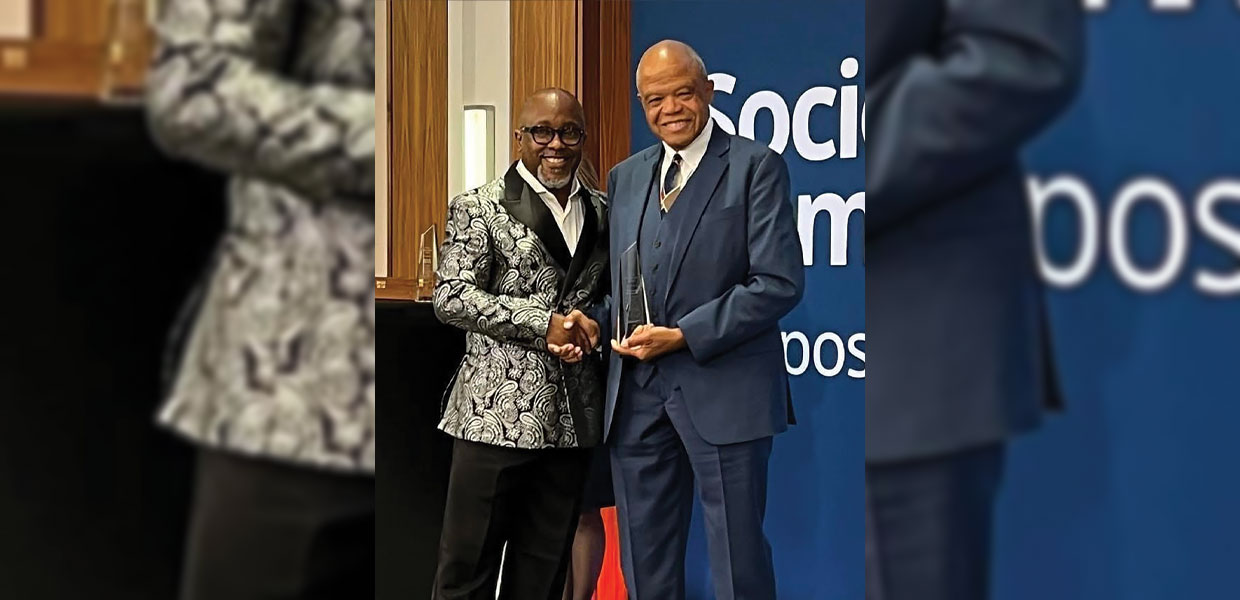 Bryant Taylor, D.Min. (left), will succeed R. Steven Norman III as Southern Union Conference communication director and editor of Southern Tidings.
R Steven Norman III, who will retire as communication director of the Southern Union Conference in February, was recently awarded the Lifetime Achievement Award for Communication.
The Society of Adventist Communicators (SAC) presented the award to Norman in October at the annual SAC Convention held at the North American Division headquarters in Columbia, Maryland. The honor recognizes individuals for their dedication, professionalism, mentorship, and achievements in communication throughout their career in the Seventh-day Adventist Church.
"Elder Norman was nominated by his peers in the communication field throughout the North American Division for his excellence and work, his commitment to mentoring young communication professionals, and for always advancing the work of communication," said Bryant Taylor, D.Min., who succeeds Norman as communication director and editor of Southern Tidings magazine.
Garrett Caldwell, D.Min., executive director of external communications at AdventHealth, called Norman a "giant" in his field.
"When traveling in the western United States it is difficult to get lost as long as you can see the mountains, because the topographic giants serve as reference points along the way," said Caldwell. "Steven Norman has been a giant to me and to many others in the community of Church communicators. A steady point of reference, offering wisdom and counsel as we navigated the challenging landscape of telling the Seventh-day Adventist story in the community and in the Church."
Rebecca Carpenter, Carolina Conference communication director, said Norman has helped her professionally and spiritually. "His wisdom and kindness have gotten me through many a crisis in my career, not only teaching me how to handle difficulties with grace, but how to depend completely on the Savior to get through any situation in life," said Carpenter. "I have witnessed him patiently mentoring the next generation of communicators and sharing the vast knowledge he has amassed during his long, impressive career. He will be greatly missed in our field as a teacher, friend, and inspiring man of God."
Norman has served the Seventh-day Adventist Church for nearly 50 years as a pastor and conference administrator. For the last 15 years, he was communication director for the Southern Union and editor of Southern Tidings. Prior to coming to the Union, he served the South Central Conference from 1973 to 2007 as a pastor, director of archives and history, communication director, and director of numerous other departments.
One of his fond memories, however, is writing his first article for Southern Tidings nearly 40 years ago. The late Isaac J. Johnson, who was communication director for South Central Conference at the time, assigned Norman to photograph and write a feature about that year's Camp Meeting. The feature, titled "Lamps Trimmed and Burning," appeared in the September 1984 issue of Southern Tidings.
"It has been an honor to report the progress of God's work in the Southern Union," said Norman. "In my mind, the Tidings is how we as a Southern Union family gather around the dining room table and talk about the exciting things going on in our schools, churches, and hospitals."
Norman said it is also gratifying to hear and see confirmation that God uses the Southern Tidings to advance His work. He recalled comments made by a mother whose daughter was an avid reader of the magazine.
"I know the Southern Tidings is a blessing because when I saw my teenage daughter reading it, I asked what she was reading," Norman recalled the woman saying. "She said, 'Mom, I love reading the stories in this magazine because they show how the Holy Spirit is using so many people!'"
Norman said he's also grateful for all the local church communication leaders, conference contributing editors, and assignment writers who prepare news photos and stories. Very special thanks, he said, goes to the "dedicated Union communication team!"
"Everyone on our team presses together to sell advertising, edit copy, design eye-catching spreads for the magazine month after month," he said. "We all count it a privilege to be chosen of God to reveal Christ and tell His story."
So, what's next after retirement? "I am looking forward to life without the monthly deadlines that have driven me for the past 30 years," said Norman. "I plan to write the history of the Southern Union and the Southern Tidings for the Encyclopedia of Seventh-day Adventists, travel with my wife, and focus on some personal photography and writing projects."
Taylor said Norman has been a great mentor, and he is honored to take the reins as the Union's new communication director and editor.
"Elder Norman is a tall oak under whose branches I have been privileged to grow in the communication field," said Taylor. "In following a legend like him, I could never fill his shoes, but I can definitely walk in the imprints on the path he left for me to follow."
Lucas L. Johnson II is a freelance writer and author of the book, Finding the Good.
Southern Union | December 2022