by Eddie Schwisow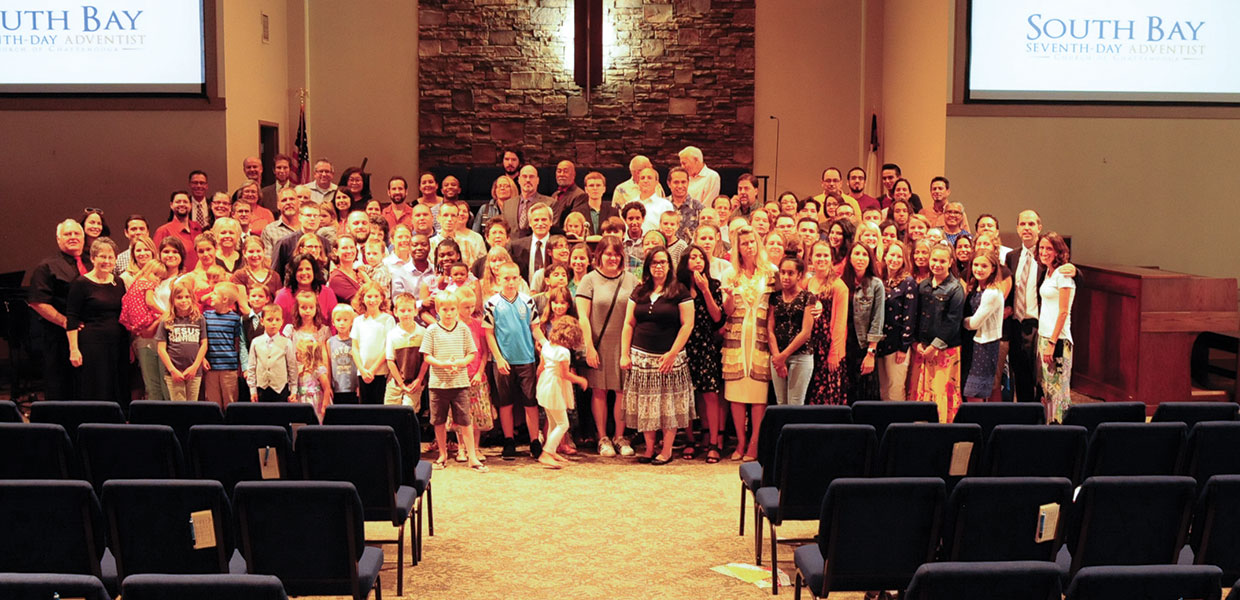 Members of the newly formed South Bay Church in Chattanooga, Tennessee, which was formed on September 8, 2018, gather. South Bay is a church plant from the East Ridge Church, which was originally planted by the McDonald Road Church.
Tamara Wolcott Fisher
South Bay Company in Chattanooga, Tennessee, became an official Conference church on September 8, 2018. The believers celebrated in an inspiring afternoon service of praise and thanks for God's blessings, and the children led congregational singing, with special music offered by the youth.
Members expressed thanks to all who have partnered with them on their journey to become an official church. They recognized the support of the parent churches, East Ridge and McDonald Road, as well as the energy and inspiration of their pastor, Chris Anderson, and his wife, Faith, both of whom were involved from the start.
Ed Wright, Conference president, remarked, "This is a large and vibrant group — the largest church organization of which I have been a part."
Eddie Schwisow, elder, family ministries director, and Samaritan assistance director, gave an account of the congregation's history, sharing that South Bay grew out of the East Ridge Church, which was a church plant from the McDonald Road Church.
The South Bay group began doing outreach in May 2015, and held their first services as a mission group on August 19, 2015, at Northminster Presbyterian Church.
Almost immediately the South Bay team became actively involved with evangelism, including its first major outreach supporting the city-wide "Impact Chattanooga" meetings with John Bradshaw, speaker/director of It Is Written.
In the spring of 2016, the group kicked off its "Dinner with the Doctor" outreach in Hixson, Tennessee, often attracting more than 100 community members to the monthly presentation. In March 2016 it hosted a Global Youth Day.
Already the worshippers had outgrown the Northminster Presbyterian facility, so in April the South Bay congregation began meeting at GraceWorks Church near Highway 153 and Lee Highway. Their first community outreach event there was Vacation Bible School (VBS) in July. This program brought dozens of community members into the church, and helped solidify the connections between South Bay members and those who had been attending only occasionally.
The congregation celebrated its first anniversary as a mission group on August 25, 2016, with a special evening service at GraceWorks Church, and on October 13, 2016, in cooperation with the East Ridge Church, South Bay held its first major evangelistic crusade, "Which Way America?" with Eric Flickinger from It is Written. A team of students from Southern Adventist University's SALT program assisted with those meetings, which led to several individuals cementing their decision for Christ in baptism.
The Georgia-Cumberland Conference transferred the congregation from mission group to company status on February 17, 2017, in recognition of its ability to function outside the supportive umbrella of its parent church, East Ridge.
In late March of the same year, South Bay once again invited the community to learn about Bible prophecy with a series of meetings titled "Mysteries of the Bible," presented by Chris Anderson with support from local elders.
By late summer South Bay Company was notified that, due to upcoming construction at GraceWorks, it would need to find a new host church. After a community-wide search, the congregation was able to rent Wesley Memorial United Methodist Church, located on East Brainerd Road in Chattanooga. The first service was held there on September 2, 2017.
While ministering out of Wesley, the company continued to focus its efforts to minister to the community. Much of the focus during the first half of 2018 was on health evangelism with the Best Weigh program, a follow-up Daniel study, and a Reversing Diabetes seminar presented in sequence. The church also sponsored Neil Nedley's Depression and Anxiety Recovery program, as well as continuing its focus on children's evangelism through a VBS program.
South Bay Church currently has 142 members who are looking forward to finding a permanent physical location for worship, as they consider the opportunities to plant additional like-minded congregations in the future. What a joy to trace God's hand at work in and through South Bay as we celebrate its becoming church number 175 in the Georgia-Cumberland Conference!
Georgia-Cumberland | February 2019