by Shane Hochstetler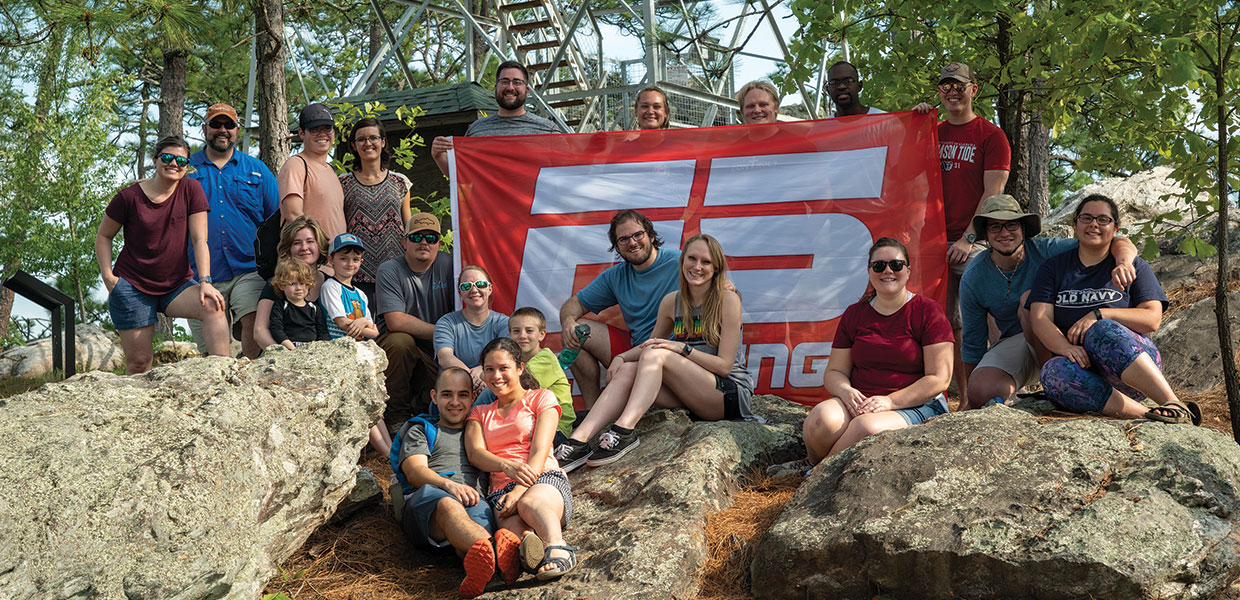 Retreat attendees pause for a photo after summiting Smith Mountain.
Shane Hochstetler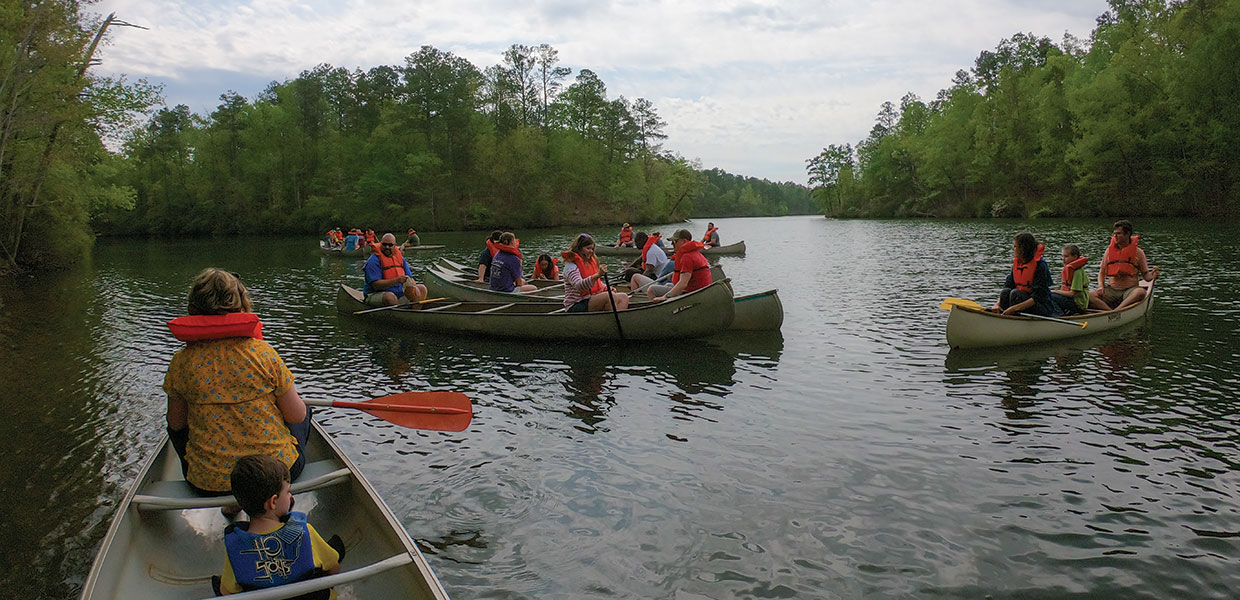 On Sabbath morning the group had worship on the lake.
Finding interesting activities for young adults can be a difficult task. The 18- to 35-year-old age range includes high school graduates, college students, working adults, newlyweds, and even young families. With such a broad group of people, the young adult ministries of the Gulf States Conference has attempted to meet the variety of needs by hosting two retreat-style events each year, one in the spring and another in the fall. The schedule for these events is relaxed, with more time available between sessions and activities, allowing for attendees to enjoy the natural beauty of Lake Martin and Camp Alamisco in Dadeville, Alabama. At the spring event, April 11-14, 2019, about 20 people came, some as early as Thursday night, to take part in the boating, canoeing, and archery activities. A unique challenge and prize were instituted for the archery venture, a free Alamisco T-shirt to the first person to hit a bullseye. This challenge was met with success by one of the female participants. Because the young adult groups are smaller than average summer camp gatherings, the camp kitchen staff is able to prepare more elaborate meals. A nature retreat with deliciously prepared meals is difficult to beat. The devotion and worship times featured discussion topics rather than lecture-style presentations. This allowed for more people to get involved with the subject matter and share their ideas. On Sabbath morning, following a time of worship with music in the lodge, everyone boarded canoes and set off to a nearby cove. Surrounded by beautiful weather and singing birds, the morning topic was presented and discussed from boat to boat. After lunch and a time of rest, the group loaded onto two boats and cruised across the lake to the base of Smith Mountain where they set out to embark on an F5 Challenge: ascend the mountain and climb the fire tower that proudly stands at its top. The F5 Challenge is a community of like-minded adventurers affiliated with the Adventist church. F5 stands for faith, fitness, fellowship, fortitude, and fun. Jason Shives, member of the Bass Memorial Academy Church and F5 Challenge, partnered with the young adult ministries to make the Smith Mountain climb an official F5 event. Although the length of the hike is only a couple of miles round-trip, Smith Mountain features the tallest elevation along Lake Martin's shoreline. Once at the top, hikers were greeted with a cool breeze, and an additional 90-foot climb up the stairs of the fire tower. The views from the tower were spectacular, an incredible example of God's creatorship on display. Watch the video of the climb and learn more about young adult ministries at www.gscsda.org/yamf5.

Shane Hochstetler is the communication director at the Gulf States Conference in Montgomery, Alabama.
Gulf States | June 2019