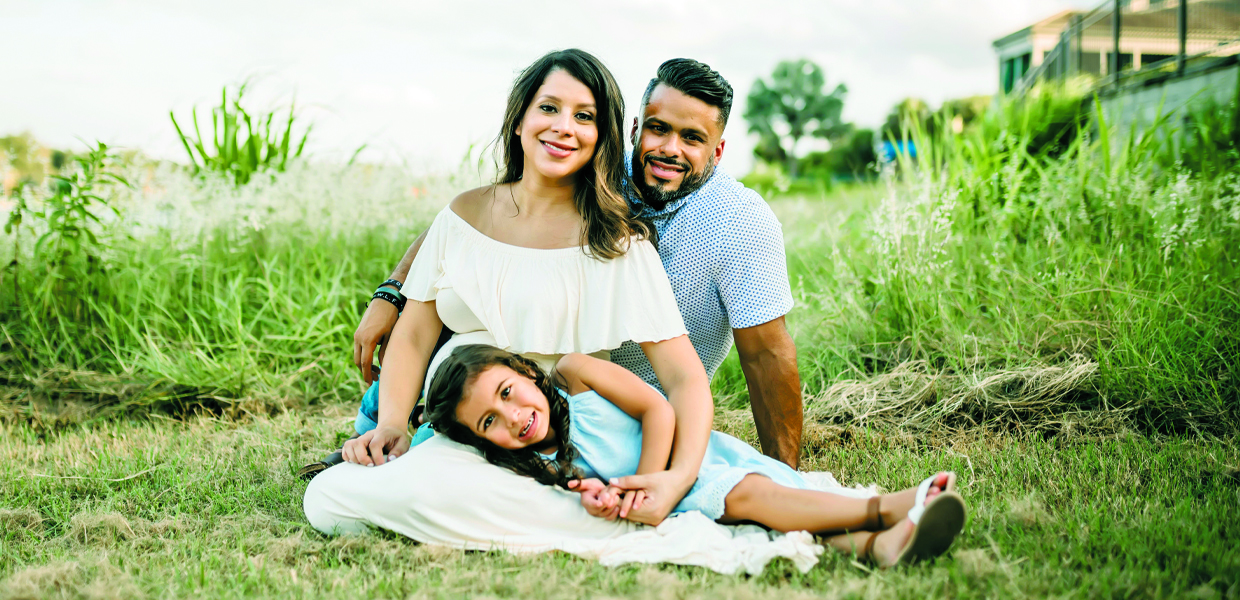 Kathy, Angelo, Emma, and Eliah Grasso
Vanessa, Juan, and Adeline Martinez (daughter Ila born since photo)
Angelo J. Grasso
Angelo Joseph Grasso was born in Santiago, Chile, to Joseph and Maria Grasso, and spent most of his childhood in New York City, N.Y. At the age of 13, Angelo's parents enrolled him in Garden State Academy in Tranquility, N.J., where he deepened his relationship with God through Christian teachers and mentors. There he also met his future wife, Kathy Reyna, whom he married in September 2002 and with whom he shares two wonderful children, Eliah and Emma.
Grasso accepted his calling to ministry at the age of 17 during a summer of literature evangelism. Since then, he has traveled throughout the United States and abroad, sharing the love of
Jesus Christ and God's plan of redemption through preaching, teaching, campus ministry, and, most recently, as pastor of Gainesville Church. Kathy Grasso has pursued her calling in the healthcare field, earning a master's degree in public health and serving as a physician assistant in the pediatric surgery department at Nemours Children's Hospital.
Grasso's journey in ministry has been shaped by teachers, pastors, mentors, and friends. But, those who have formed his ministry the most have been the students and church members he was honored to serve, and his own family — especially his wife — who have encouraged him through all of the ups and downs of his calling with grace and love.
Juan Enrique Martinez II
Juan Enrique Martinez II was born in Worcester, Mass. Soon after this his family relocated to Apopka, Fla. He was raised attending Forest Lake Church and was baptized by Barbara McCoy, pastor, at the age of 11. Martinez also attended Forest Lake Elementary Center and Forest Lake Academy, where his calling to ministry began with large investments by his Bible teachers and youth pastor at the time. In 2006, Martinez attended one semester at University of Central Florida before heading to Southern Adventist University, where he fully committed to his call to ministry. At Southern, he met his beautiful wife, Vanessa Martinez, who grew up in Chicago before attending college.
After interning at several churches in the Chattanooga area, he accepted a call to be a chaplain. Martinez then attended Andrews University to fulfill his M.Div. There is where his heart for pastoral ministry began to grow. He later accepted a call to become a youth and young adult pastor in Atlanta. While there, he received a call to be the young adult pastor at Forest Lake Church.
He now serves at the church where he was baptized, and has the opportunity to work alongside pastors McCoy and Mark Reams, who both served him as a youth.
Martinez attributes a lot of his success in ministry to his parents and wife who invested so much in him. Vanessa Martinez has taken upon the calling in ministry as well, to support and connect with others in whatever way she can. They have two daughters, Adeline, 4, and Ila, born October 30, 2020.
| December 2020