December Southern Tidings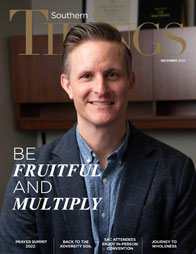 BE FRUITFUL AND MULTIPLY
Growing up the son of an evangelist in a family of evangelists, I guess you can say that church growth is a family business. As a child, evangelism wasn't optional. I participated in every aspect of church growth. It was mostly a positive experience. (I'm sure if you asked 16-year-old Richie, he might say otherwise.) But, even during those years when it was the last thing I wanted to be involved in, I could not deny the transformative work of the Holy Spirit through the uplifting of Jesus Christ through personal and public evangelism. I've seen so many lives changed, even my own, as a result. This is why I consider it the greatest privilege to serve the Southern Union as director of church growth and revitalization. My greatest desire and goal is to see a thriving church of mission and compassion transforming lives, communities, and the world.
This has always been God's goal for His people. Throughout Scripture, we hear God telling His creation to be fruitful and multiply. We first hear it in Genesis 1:28 to Adam and Eve, and then repeated to Noah, Abraham, Isaac, Jacob, Jacob's sons, Moses, and Israel. God is constantly reminding His people of their calling to be fruitful and multiply. "I will bless you so that you can be a blessing to the world around you," Genesis 12:2. Centuries later, changing the wording a little, but essentially saying the same thing, Jesus calls the disciples and says, "I will make you fishers of people," Matthew 4:19 NIV. >Read More!
SOUTHERN STUDENT MAKES IMPACT IN ZAMBIAN INDUSTRY
Ashley Blake, member of Spartanburg, S.C., Church, first joined Southern Adventist University's Enactus chapter during her freshman year. Housed in the School of Business, its mission is to engage the next generation of entrepreneurial leaders to use innovation and business principles to improve the world. During her sophomore year, she became a project manager, and led a project that raised funding and increased sustainability for a doctor in India who performed cataract surgeries. During her junior year, she became the president of Southern's Enactus team.
One Friday afternoon, Blake received an email highlighting an interesting project. A student missionary from Southern had started the Akuna Soap Industry at Riverside Farm Institute in Zambia, which was helping to create local jobs. Riverside grows soybeans, among other things, and since soap can be made from soybean oil, the student had spearheaded a miniature soap production industry to benefit the community. The operation was very successful but very basic. Employees would create soap using buckets, mixers attached to electric drills, and molds, and the team wanted to upgrade the operation by building a factory. >Read More!
KENTUCKY CHURCHES ORGANIZE FUNDRAISER TO SEND YOUTH TO GYC
The LaGrange, Pewee, and Shelbyville churches in Kentucky hosted "Taste of the World" on October 2, 2022 — a food fair meant to sponsor young adults who wish to attend this year's Generation of Youth for Christ (GYC). This is the 10th year the churches have raised money to support GYC participants.
Jean Shephard, LaGrange Church member, organized the event. Shephard first attended GYC in 2011, and was inspired by the impact the program had on young people. >Read More!
HOMELESS MINISTRY AT RIVERSIDE NASHVILLE PROVIDES FOOD, CLOTHING, HOPE
A homeless ministry at Riverside Church in Nashville, Tennessee, is providing those less fortunate with food and clothing, as well as hope for a better life by showing them the love of Jesus Christ.
The inspiration for Riverside Outreach Services came about three years ago following the 2019 execution of Tennessee death row inmate Donnie E. Johnson, who made a religious transformation behind bars, became an elder in the Seventh-day Adventist Church while incarcerated, and led prayer services for his fellow inmates. In Tennessee, condemned inmates can spend up to $20 on a special last meal before they are executed. Johnson refused a last meal, and instead asked his supporters to donate meals to the homeless. >Read More!
JOURNEY TO WHOLENESS
Each year during the Advent season, we turn our attention to amazing stories that help us reflect on God's love for each of us and bring a measure of hope, joy, and peace to our hearts. This year is no different as AdventHealth relives the season in new ways. In this year's Advent series, AdventHealth explores the theme, Journey to Wholeness, an experience that will bring new insights, shared from Mary's unique perspective.
The Advent signals the arrival of someone of great significance — the anticipation of healing, restoration, and wholeness. When we think back to the story of Jesus' arrival on Earth, we read about the moment Mary was told she would give birth to the Messiah, the long-awaited Savior. After generations of people waited on this very message of the Messiah coming down to Earth and completing the promise God made to humanity, the time finally arrived. >Read More!