September Southern Tidings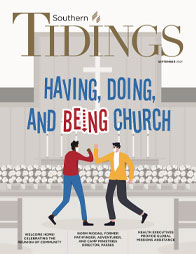 HAVING, DOING, AND BEING CHURCH DURING THE PANDEMIC
Without question, 2020 and 2021 have been tough years. In the eight states that compose our territory, the pandemic has led to 7,086,697 COVID-19 cases, and 123,900 deaths as of August 7, 2021. In addition, the same period has seen our nation tested by insurrection and a racial reckoning, along with deep divides over politics, vaccines, and mask wearing.
Since national affairs affect us as a Church, we wanted to know how our pastors and congregations have been affected. The Southern Tidings recently interviewed numerous pastors across several conferences in the Southern Union. We knew the tithe and offerings were strong, but what matters is you, so we wanted to learn how you, our readers, are. It was our way of asking, "How are you doing? Is everything alright?" After all, we are a caring Church. We worship and work together, but we also weep together. >Read More!
SOUTHERN STUDENT STARTS HIKING "LIFEGROUP" ON CAMPUS
From exploring the Blue Ridge Parkway to hiking Bent Creek, Jake Miller loved growing up in Asheville, N.C., and partaking in all of the outdoor activities that surrounded him. A long-time member of the Foster Church, Miller loved to find ways to spend time in nature on Sabbath afternoons. When it came time to choose a college, he knew he wanted to go somewhere with a vibrant outdoor scene, and that was one of many reasons that he chose Southern Adventist University.
Miller settled in easily at Southern. The professors were encouraging and supportive, and the students were welcoming and friendly. He was thriving, but he still made it a priority to find time to recalibrate in nature. He wanted to share this experience with those around him, so he and his friend Caleb Raymond, a theology major, started the Hiking LifeGroup. Every Saturday afternoon during the school year, they met at the University's Village Market and headed to different locations such as the Ocoee River, Benton Falls, or Racoon Mountain. The group varied in size, some weekends reaching up to 30 people. >Read More!
SOUTH ATLANTIC ADAPTS "FINISHING STRONG 2021" SCHOOL EVANGELISM PROGRAM
At a time when students have become untouchable due to pandemic mandates, it's nothing short of a miracle that approximately 4,500 school-based viewers each day were touched by the unmasked Gospel of Jesus Christ during "Finishing Strong 2021" — a South Atlantic Conference school-based evangelistic initiative, hosted by It Is Written, in conjunction with the North American Division's Department of Education.
For the second consecutive year, May 3-6, 2021, thousands of school-aged children in the North American Division and Canada set aside the ABCs of algebra, biology, and chemistry to tune in to a week of virtual spiritual emphasis, hosted by John Bradshaw, president and speaker/director of It Is Written. Watchers tuned in directly to Itiswritten.tv, the South Atlantic Conference's website, YouTube, and Facebook, for a total of more than 20,000 views. Breath of Life hosted the nationwide school evangelistic effort, May 2020. >Read More!
LAKEVIEW FOOD PANTRY PROVIDES FOOD TO COMMUNITY
The Lakeview Church Community Food Pantry has been in operation since September 2007. They serve communities in northwest Georgia. At the start of the COVID-19 pandemic, many families lost their jobs. Children were home because schools were closed. Lakeview decided to keep their food pantry open so they could continue to provide much needed food assistance to the families of the community.
The members were not fearful of the pandemic. God said trust Him, and He will deliver from "the snare of the fowler and from the noisome pestilence," Psalm 91:3. Like soldiers, they put on their armor of prayer and claimed Isaiah 41:10, "Fear thou not for I am with thee; be not dismayed for I am thy God." They girded themselves with mask and gloves as required by the CDC, and changed their method of food distribution from client choice to drive thru. >Read More!