March Southern Tidings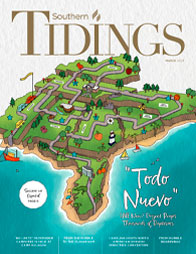 "ALL NEW" PROJECT REAPS THOUSANDS OF BAPTISMS
Last year we witnessed great victories for the Hispanic Ministries Department in the Southern Union. Through various campaigns and caravans, we had almost 3,000 baptisms and professions of faith.
As a department, we held evangelistic meetings in six metropolitan areas where all, or most of, the area Hispanic churches participated. Each congregation had a guest evangelist invited by the Southern Union and united under the theme "Todo Nuevo" (translated to "All New"). The evangelists emphasized the idea that, with God, everything can be new. >Read More!
NASHVILLE ZOMI CHURCH CELEBRATES GROWTH CHURCH STATUS
Members of the Nashville Zomi Church, along with friends, and Kentucky-Tennessee Conference officials, rejoiced in a special dedicatory service as the company transitioned to church status on Sabbath, January 28, 2023. More than 200 people joined the celebration.
The Nashville Zomi Church started meeting on January 4, 2014, at the house of Lam Dal, current Nashville Zomi Church treasurer. The church started with only five members, but doubled their numbers within one year. >Read More!
STUDENTS WORK DURING WINTER MAGABOOK PROGRAM IN CHARLESTON
The Magabook program for winter 2022-23 took place from December 6, 2022, to January 11, 2023, in Charleston, S.C. The theme was "I Will Go: Spreading the Three Angels' Messages," and it brought together a group of 15 students from across North America and Inter-America to do this special missionary work.
Twice a year, these students gather somewhere in the Carolinas to sell Adventist books door-to-door, and this winter season was a special blessing for the Magabook program. The students impacted the city of Charleston with literature, prayers, and Bible studies, as well as engaging in the World Church initiative of spreading The Great Controversy book in every city of their territory. >Read More!
ACS PARTNERS WITH NURSING ORGANIZATION, TRAINS COMMUNITY HEALTH WORKERS
The Adventist Community Services (ACS) at Mount Sinai Church, Orlando, Fla., does more than distribute food and clothing; it shares hope and restores wholeness in many ways.
The primary function of ACS is to respond and meet the essential needs of people in everyday situations and during disasters. Considering the health disparities and inequities existing among specific groups in society, Mount Sinai ACS considers it a moral imperative to implement proven approaches to the societal disaster. >Read More!
CHINESE NEW YEAR CELEBRATED
In Jesus Christ, we are all family" are the words sung each Sabbath morning at the High Point Chinese Church in Ooltewah, Tenn. "These words bring us together, reminding us that despite our cultural differences, we are all brothers and sisters in the heavenly family," explained one member. The pews are filled with the bright faces of diversity: students attending Southern Adventist University — many of Asian descent — local Chinese families, and others who have been drawn by the hospitality and evangelistic energy of this church. But it is the Chinese culture that sets this little church apart.
For four years now, the High Point Church has hosted a Chinese New Year festival. Chinese New Year, or Lunar New Year, is celebrated in East Asia and welcomes all who wish to join in, regardless of their culture, focusing on appreciation of cultural diversity, connection, unity, and hope. Building on this theme, the church unites culture with the example of Jesus. Beginning with a paraphrase from The Ministry of Healing, page 143, Dennis Li, pastor, says, "Christ's method alone will give true success in reaching the people. He teaches us to mingle with people as one who desires their good. The Chinese New Year festival is not only a cultural presentation; it is community outreach. Hosting the event in a neutral setting away from our church, where people from different denominations and backgrounds can feel more comfortable, allows us to build a connection with them, show people who we are, and win their confidence in us for future outreach." >Read More!