January Southern Tidings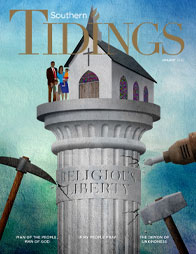 THE CHANGING LANDSCAPE OF RELIGIOUS LIBERTY
Looking back over the last two years of religious liberty challenges and triumphs has brought sobering thoughts about the work the Adventist Church does in this field. As Seventh-day Adventists we should all take time to reflect on the reality of where we are in history today.
In my early years of religious liberty work, I learned the importance of keeping the scales balanced when it comes to both the separation of church and state and the free exercise of religious liberty. One reason we as Seventh-day Adventists have valued religious freedom is because we recognize how quickly it can become unbalanced. To put it plainly, our right to religious liberty is not an absolute. The Constitution does not guarantee that, no matter what our religious beliefs may be, they will be allowed. Additionally, religious liberty does not operate in a vacuum. All these issues have been brought into focus during the pandemic. >Read More!
THE DEMON OF UNKINDNESS
Something has been infecting us lately, and it isn't just COVID-19. It's been around for much longer and has led to more death and destruction than even an epidemic. You can't mask against it, and there is no tangible medical solution for it. To make it appear, you just need to read or hear the right word or two: Vaccine, Government, Democrat, Republican, Social Justice. Do you feel that? The disease is anger.
This disease is spreading farther and faster, on every news channel, in casual conversations, everywhere and anywhere we can think, maybe even inside your church. Anger, on any side of any hot topic, is infecting us. We have the disease, and we've been infected. I dare say we may even be possessed. The enemy is succeeding. >Read More!
WOMEN'S MINISTRIES DIRECTOR LEADS BIBLE STUDY, BECOMES FRIENDS WITH IRELAND WOMEN
During October and November, Gail McKenzie, Kentucky-Tennessee Conference women's ministries director, completed a Bible study series with a group of women in Ireland. According to McKenzie, the meetings led to newly formed, long-distance friendships and future plans to meet in person.
McKenzie came in contact with the Irish group after she was asked to lead their spiritual online retreat back in June of 2021. The original speaker had to back out due to personal reasons. After the retreat ended, the women wanted to continue meeting. >Read More!
PRAYER RESULTS IN $60,000 MIRACLE
How in the world can the work of God get finished? Roy Rugless, retired pastor and department director for the South Central Conference, received an advertisement from Remnant Publications in Coldwater, Mich., with an invitation to join them in getting the book The Great Controversy to the nation. Rugless got excited and enlisted Ephraim Pembleton, personal ministries leader for Trinity Church in Athens, Ala., and Sandra Price, Ph.D., personal ministries leader at Athens Church in the same city, to plan and initiate mailing the book to the entire county of Limestone, Ala.
The group decided to respond unitedly to the invitation of Remnant Publications. Both churches would work together; however, it would take $60,000, more than what these two small churches could handle. It was then suggested that instead of trying to do all the zip codes of the county at once, to just do one or two in increments, and perhaps the project could be completed within a couple of years. But, God had another plan. >Read More!